Horsehead Holding Corp. (ZINC) is on schedule to complete a transformational process by Q3 2013, from which the company will emerge as one of the lowest-cost producers of zinc metal products in the world.
The company is only months away from opening a new plant that will increase EBITDA by 300%, independent of the price of zinc. The increase in EBITDA will be driven primarily by cost savings, carrying very little in execution risk. Additionally, 95% of the plant financing is in place and cash flow is materially hedged, as Horsehead owns zinc put options with a $0.85/lb. strike price through Q4 2013. The new plant will also expand Horsehead's addressable market, enabling it to enter the market for higher grades of metal that have more applications.
ZINC's under-followed stock is unreasonably cheap and does not reflect the imminent transformative change that will occur before the end of 2013. Once the new plant opens and begins operations, we expect investors to rerate Horsehead, resulting in material multiple expansion. At a conservative 6.0X 2015E EBITDA of $200mm, Horsehead should trade at ~$21.00 per share, representing ~72% upside from the current share price. Our blended valuation, using a DCF and an EV/EBITDA multiple of 6x results in a share price of $19.49, ~60% upside from current levels.
Apparently, value investing luminary Mohnish Pabrai, whose recent buying has made him ZINC's largest shareholder, shares our conviction that shares of Horsehead provide for an incredibly asymmetric risk/reward -- a large margin of safety against zinc price declines and immense upside leverage in the case of zinc price increases. The phrase he is known for coining would seem applicable in this case: "Heads I win, Tails I Don't Lose Much!"
Business Overview
Horsehead Holding Corp. is the largest zinc oxide and prime western (PW) grade zinc metal producer in the United States. The company is a fully integrated producer that uses cheap recycled electric-arc-furnace (EAF) dust and recycled zinc feedstock to produce zinc and zinc-based products.
Horsehead has three segments:
Acquiring EAF dust - Horsehead is paid by steel mills to gather EAF dust. EAF dust is a waste product rich in zinc. It cost less for steel mills to pay Horsehead to collect the EAF dust than if it were to pay landfills to take the dust due to environmental regulations.
Recycling Zinc waste (over ~75% of the waste Horsehead recycles is EAF dust) - Horsehead recycles the EAF dust and converts it into zinc metal and zinc oxide which it sells at a premium to the LME zinc price. The majority of Horsehead's input cost is EAF dust which it acquires through long-term contracts (~10 years) with steel manufacturers such as Nucor (NYSE:NUE). Horsehead derives the majority of its revenues (greater than 75%) from the recycling and sale of zinc.
Recycling and converting nickel bearing waste into nickel products which it sells for prices that track the price of nickel. This division operates as INMETCO (acquired from Vale in 2009).
Horsehead's New Plant
Horsehead is building a new plant in Rutherford County, North Carolina to replace the existing zinc smelting capacity of its primary zinc processing plant in Monaca, Pennsylvania. The company anticipates that its new facility will be capable of producing in excess of 150,000+ t/y of zinc metal with the ability to increase output to 175,000 t/y with no additional capex required(1). The new plant will increase Horsehead's EBITDA by 3x, primarily through cost savings.
By enabling Horsehead to produce higher-margin metals with a broader range of applications, the new plant will also serve to expand the company's addressable market. Currently, most of Horsehead's zinc is of the lowest grade (i.e. Prime Western, or PW, Grade) that sells at a lower premium to LME prices. The new plant will focus on Special High Grade (SHG) and Continuous Galvanizing Grade (CGG) zinc, which sell at a higher premium (~$60/ton or $0.03/pound over PW zinc). The CGG addressable market is 10x the PW market(2).
95% of plant financing is in place. The estimated capital outlays are currently $450M vs. Horsehead's market capitalization of ~$545M. The company is using liquidity from a combination of a convertible offering, export financing, revolver, cash on hand, & expected cash from operations to fund the new plant's operations. The plant cost estimate is $450mm, with roughly 75% of the project cost already having been booked, and the remaining based on firm quotes(3).
All the zinc produced by the new plant will be sold as metal. The oxide business will become incremental & will be shifted to the Zochem facility (Canada's largest zinc oxide manufacturer).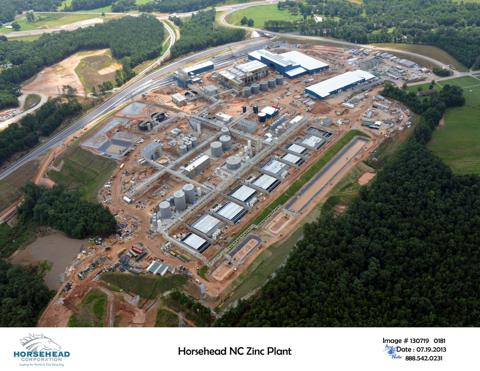 Click to enlarge
Incremental Benefits Resulting from New Plant Opening
Upon operation, the new plant should provide annual incremental EBITDA of $90-110mm, with its return on investment primarily driven by cost reduction rather than revenue growth. It is important to note that the incremental EBITDA forecast does not require any increase at all in the price of zinc.
The new plant is expected to reduce annual operating costs by $60mm to $70mm due to a higher zinc recovery, lower energy usage, and reduced freight costs. Horsehead's existing, 80-year-old Monaca zinc smelter has a zinc recovery of 92%, while the new smelter will have a recovery of 97%-98%, resulting in fewer zinc units coming in per zinc unit going out (materially lower cogs)(4). $40-$50mm of the cost benefit is expected to result from the elimination of conversion costs currently incurred at the Monaca smelter. For example, the new plant will not require metallurgical coke, for savings of roughly $26mm per year; and, it will employ 250 people, half the number of employees at the Monaca plant, resulting in another $20-25m in savings.
Horsehead measures the conversion costs of raw materials to final product on a zinc-contained basis, which enables the comparison of different zinc products having varying levels of zinc on an apples-to-apples basis. Its conversion costs should be in the low-to-mid $0.20s per pound range at the new plant(5). Horsehead's current breakeven on a zinc contained basis is a mid-$0.70s per pound. After the new plant is operational, Horsehead's breakeven will be in the low $0.40s per pound(6).
The new plant will also increase revenue by roughly $30-$40mm, primarily from the recovery of metals such as silver and lead from the EAF dust, increased premiums on special high-grade zinc, and increased metal shipments.
Management has indicated that commodity price swings in lead and silver can easily move the incremental EBITDA contribution by ~$5-$10mm. We are assuming a lead price of $1 per pound, a silver price of $30 per ounce, and 95% recoveries.
Proven ZINCEX Technology
The new plant uses a patented solvent extraction process called ZINCEX - developed by Tecnicas Reunidas -- that offers ~5-10% higher production of SHG zinc at ~15% lower capex. A corollary solvent extraction process has been used for decades in the production of copper.
This process is currently being successfully used for zinc production in Japan and in Namibia. The most recent implementation of the technology was by Akita Zinc in Japan, with the installation having gone smoothly and on schedule. In Namibia, the technology has been implemented in the Skorpian Project, the eighth largest zinc mine in the world, commissioned in 2004. The successful application of the ZINCEX process at Skorpian to consistently produce zinc has demonstrated the technology's robustness(7). Horsehead management has made two trips to the Skorpian facility, focusing on operations, maintenance, and management, for guidance in operating the Horsehead's Rutherford County, North Carolina facility post-completion. Additionally, ZINC has put in charge of operating the new process someone who comes from a copper extraction background.
ZINC Metal
While the impending catalyst underlying our thesis does not depend on the price of zinc, an increase in zinc prices would dramatically benefit Horsehead. Zinc is a commonly used metal with strong, long-term fundamentals supported by numerous structural trends.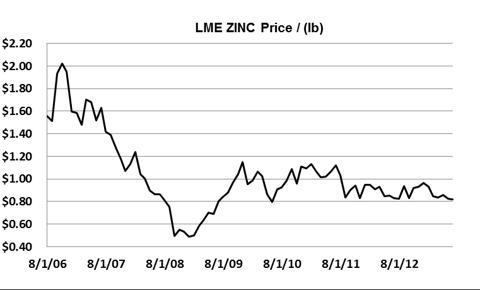 Click to enlarge
Zinc demand will rise due to an increase in worldwide auto production(8) and an increase in the volume of global construction output(9). Zinc is often used to galvanize steel as it is the most cost-effective way to prevent corrosion. Further, zinc is showing impressive demand growth as an additive to fertilizers. Zinc has been incredibly successful at increasing crop yields when used in fertilizer, particularly in Asia(10). These trends underpin our confidence in the stability of zinc prices and serve as a tailwind for possible price increases.
Competitive Landscape
Long-standing customer relationships and close geographic proximity to customers provide Horsehead with distinct competitive advantages in its end markets.
Zinc is sold at a slight premium to the LME price depending on the grade & product (oxide versus metal). Premiums to the LME price are pretty much the same across the market. End customers tend to base zinc supplier selections based on the transportation costs passed on to them, amongst other factors. By virtue of being the largest U.S. producer, located in North Carolina, and having facilities strategically located close to its customers, Horsehead enjoys competitive advantage to its Canadian peers. Horsehead's four company-owned EAF dust recycling facilities are deliberately located near EAF operators, reducing transportation costs. This enables Horsehead to pass the savings on to its customers(11).
The company's main competitor in the U.S. is Nyrstar NV's plant in Clarksville Tennessee. Its other competitors are located outside the U.S., primarily in Canada, and as such, operate at a competitive disadvantage in supplying US steel plants with Zinc raw material. Canada-based suppliers include Teck Cominco, HudBay (NYSE:HBM), and Xstrata.
Heads I win, Tails I Don't Lose Much! Mohnish Pabrai Now ZINC's Largest Shareholder
Astute value investor Mohnish Pabrai is often compared to investing luminaries such as Warren Buffett, Joel Greenblatt, and Seth Klarman. A recent 13F reveals that Pabrai's investment vehicle, Dalal Street LLC, has accumulated over 5 million shares of Horsehead, equating to >11% of the company's shares outstanding.
Apparently, Mr. Pabrai shares our conviction that Horsehead is incredibly mispriced in light of the coming low risk, transformational catalyst that will increase the company's EBITDA, providing for an asymmetric risk/reward from the current price -- a large margin of safety against zinc price declines and immense upside leverage in the case of zinc price increases. In accordance with the phrase he coined, "Heads I win, Tails I Don't Lose Much!"
Valuation
ZINC trades at 4.1x our 2015 EV/EBITDA estimate of $200mm. We use 2015E EBITDA as it reflects the maturation of revenue potential from the Rutherford plant. This represents a substantial discount to specialty metals peers trading at 8.2x. At 6.0x our 2015 EBITDA estimate, ZINC would trade at $21.00 per share, representing 72% upside and a 13.5% FCF yield.

Valuing ZINC using a DCF methodology affirms our price target. We use a 12% WACC and assume a growth rate of 1.5% which values ZINC at $17.80 per share. Our blended price target of $19.49 per share represents an average of both methods.

Sensitivity Analysis
Zinc is currently trading for $0.88/lb on the LME. For conservatism, our analysis assumes a constant zinc price of $0.83/lb(12).
Horsehead is highly levered to changes in the spot price of Zinc. Horsehead's EBITDA has a $25-$30M delta to a $0.10/lb. increase in the price of Zinc(13). A ~10% increase in the price / lb. of ZINC results in a ~50% increase in the share price.

DCF Valuation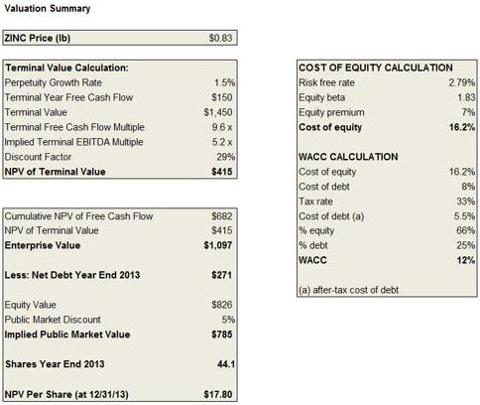 Free Cash Flow Estimate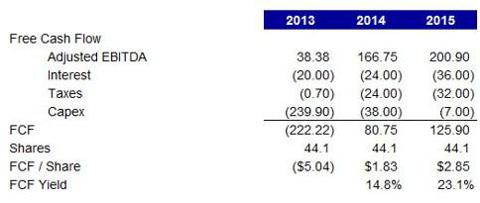 Investor Relations Correspondence
Question I - Horsehead's current breakeven on a zinc contained basis is a mid $0.70's per pound. After the new plant is operational Horsehead's breakeven will be in the low $0.40's per pound. Is this firm wide? Should I apply this roughly $0.33 difference to total firm zinc & zinc oxide production?

IR Answer - This is EBITDA break-even and total company.

Question II - After Zochem picks up Monaca's share of zinc oxide production, Horsehead's firm-wide zinc oxide production will decrease from roughly 90k tons per year to 70k tons per year?

IR Answer - Correct

Question III - Horsehead's EBITDA has a $25-$30M delta to a $0.10/lb or 200/ton increase in the price of Zinc? Does that sound roughly correct to you?

IR Answer - Correct

Question IV - What is the cost per pound of the zinc units coming into the new plant? Can you hold my hand here and walk me through the new plant economics in terms of input costs, conversion / operating costs, and output pricing?

IR Answer - 30-35 cent feed cost, 25 cent conversion; sell at 5-8 cent premium to the LME

Question V - In determining the incremental effect of the new plant, I am subtracting your current breakeven from the new breakeven and multiplying that by the premium of SHG over PW ($0.03), and then multiplying that number by an output of 150,000 tons. I get 108,000,000. What am I doing wrong here? ($0.33 * $0.03 * 2000 * 150,000)

IR Answer - .33 x 2000 x 156,000 = 102,960,000 this approximates our estimate of $100 million

Illustrative ZINC Economics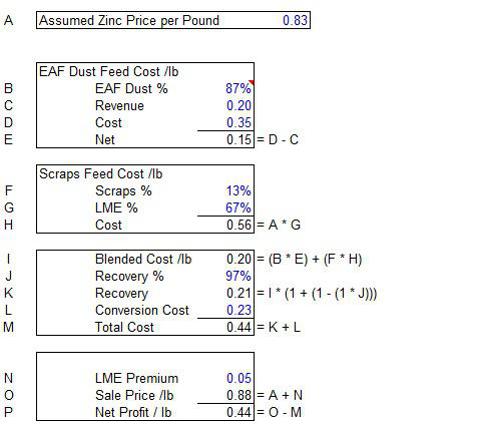 Assumptions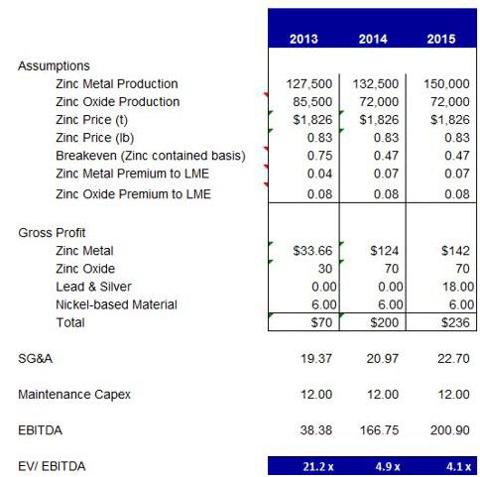 Horsehead's current breakeven on a zinc contained basis is in the mid ~$0.70s per pound. After the new plant is operational, Horsehead's breakeven will be in the low $0.40s per pound. This is EBITDA break-even for the entire firm.
In Q3 2013, firm wide zinc oxide production will decrease due to the closure of the Monaca facility
Feedstock from EAAF dust could reach 85%+ if domestic steel output increases
Downside protection on zinc prices is in place until Q1 2014 ($0.85 put options for 8,000 metric tons per month for FY 2013, and 4,000 metric tons per month for Q1 2014)
From a timing perspective, the plant's zinc production circuit and the lead recovery circuit should be analyzed separately. The lead and silver recovery circuit will be delayed two to three months (management guidance per the Q4 2012 earnings call). The ramp-up of the zinc circuit should take roughly six months before operating at full production (150,000 ton rate). The ramp-up of the lead & silver recovery circuit will take twelve months to reach full production. Management guidance indicates that it could take until the end of 2014 before the new plant produces $90-110mm of incremental EBITDA.
1 Horsehead Holding Corp. Investor Presentation, June 2012:
2 Horsehead Holding Corp. Investor Presentation, August 2013 pg. 10:
3 Horsehead Holding Corp. Q2, 2013 10-Q pg.49:
4 Horsehead Holding Corp. Q3, 2012 Earnings Call:
5 Horsehead Holding Corp. Q4, 2012 Earnings Call:
6 Horsehead Holding Corp. Rating Agency Presentation:
7 Skorpion Zinc: Mine-to-metal zinc production via solvent extraction:
8 KPMG Global Auto Executive Survey 2013:
9 PwC: Global Construction 2025:
10 International Zinc Association (IZA), Zinc in Fertilizers
11 Horsehead Holding Corp. S-1, pg. 45:
13 Horsehead Holding Corp. Investor Presentation January 2013:
Disclosure: I am long ZINC. I wrote this article myself, and it expresses my own opinions. I am not receiving compensation for it. I have no business relationship with any company whose stock is mentioned in this article.