The 13 closed end fund (CEF) types on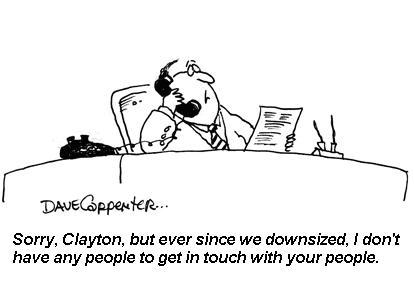 average were down 0.8% for the week ending 10/16/09. On an aggregate unweighted basis, the weekly average price change for 618 CEFs was down 1.6%.

The weighted 49 CEFs comprising the Claymore CEF Index registered an average advance of 1.0% for the week.

The S&P 500, as measured by the SPDR S&P 500 ETF (NYSEARCA:SPY), registered an increase of 1.5%.

(Click here for YTD CEF performance. The table is based on a 275 CEF sample size as all the data fields are not available for the CEF universe.)
click to enlarge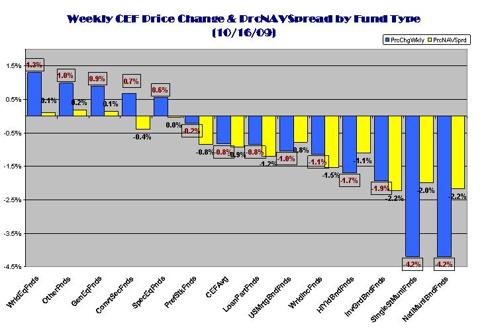 The Eqcome CEF Fear Index moved into negative territory (greater perceived risk) as share prices declined (-1.6%) greater than NAVs (-1.2%). The CBOE Volatility Index (VIX), which typically moves inversely with the stock market, while rising earlier in the week, resumed its downward trajectory ending down 7.3% for the week.

The VIX acted in a fashion contrary to the assessment here last week of a likely increase in volatility. This was based on the perception that the stock market would gyrate in response to discrete earnings announcements and option costs would rise.

However, investors appeared non-plus. Investors appear more confident near-term that the stock rally will likely continue. Some distortion for the week may have been due to option expirations.

CEF Weekly Fund Type Performance: CEF fund type weekly performance was bifurcated with equities advancing and fixed-income declining. Both muni bond fund type (national and single state) losses accelerated this week to add to last week's poor performance.

The decline in the muni ETF, iShare S&P national Muni Bond (NYSEARCA:MUB), for the week was a moderate 0.3%. This is compared to a 4.2% decline in the NatlMuniBndFnds CEF fund type. This could be a function of the leverage employed by the CEFs or the perceived lower quality of the CEF holdings. In either case, this divergence warrants investors' attention. If investors "turn on" equities, this group is usually the beneficiary.

Additionally, you can see some investors hedging their equity bets with the OtherFnds (a preponderance of buy/write option funds) and ConvtSecFnds appearing in the "plus" column.

CEF Spread Changes: Changes in PrcNAVSprds generally follow the trend of price movement. This is typically the case when markets generate meaningful price changes. Bucking the trend this week was ConvtSecFnds. While the average share price advanced, NAV advanced at an even greater rate. On the flipside, despite munis' plunge this week, the decline in NAVs was less than half as bad.

I continue to express concern regarding HiYldBndFnds CEFs. According to Merrill Lynch Master II High yield Index, junk bonds returned 50.2% YTD. This is compared to a 20% advance in the S&P 500. Many of the broker/dealers who purchased junk bonds at the depths of the market are beginning to pare their positions. This could potentially cause a decline in valuations for the balance of the year.

There is concern that retail investors will be seduced by the high yields and forget about the potential for defaults in junk bonds—which is a lagging phenomenon. Remember, there have been 99 bank failures so far this year—so, we know there are credit problems out there and it's not all real estate related.

Individual CEF PrcNAVSprd Changes: The largest PrcNAVSprd was for Gabelli Utility Trust (NYSE:GUT). GUT generated a positive spread of 13.6%. The spread was generated by a 3.3% increase in the share price and a 10.3% decline in its NAV. While GUT went ex-dividend during the week on a $.06 per share monthly distribution, its NAV dropped by $.35 per share. GUT is trading at a seemingly high premium of 63.5% with a distribution yield of 8.8%. Its peer group of utility CEFs in my database (four excluding GUT) is trading at par and is yielding 7.6%.

(A positive spread between the change in price and NAV could be viewed unfavorably subject to other metrics. This is because the stock has advanced greater than its underlying NAV. All things equal, they should move in tandem. The opposite would also be true.)

Putnam Managed Municipal Income Trust (NYSE:PMM) posted the lowest PrcNAVSprd at a negative 8.9% while its price slipped 8.1% for the week. PMM recently announced its monthly distribution of $.0402 per share which goes ex-dividend October 21st. The distribution yield is 7.1% (tax-free equivalent of 10.9%) and it is selling at a 5.7% discount. The stock trades on average 127,298 shares daily based on a three month average.

Market Perspective: The investment markets received mixed messages this week. Some earnings reports inspired while others disappointed. Consumer confidence dropped greater than expected while oil kept creeping upwards—mostly on speculation. Gold eased from its recent advance and the dollar bounced off its lows. While equities shrugged ahead, it was mostly reflexive. I continue to remain constructive on the equities market because I don't subscribe to a double dip recession. It now becomes a valuation issue. (Click here for next week's economic calendar; click here for earnings announcements and estimates.)

ETFs: (Click here for ETF YTD sector performance.)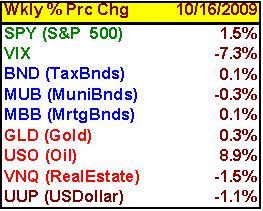 Insider Trading: There was only scattered buying and some selling for Form 4 (insider) filings for the period ending 10/15/09. There was little to indicate any discernable trend in the underlying CEFs.

Tri-Continental Corp (NYSE:TY) director, Leroy Richie, appeared to exercise 5,500 shares and sold 5,700 shares at about the same price—little conviction here. Mark Edward Bradley, Treasurer of Pioneer Muni High Income Advantage Trust (NYSE:MAV), established an initial position of 3,250 shares at a price of $12.30 per share.

Insider transactions for the month of October '09:



CEF Distribution Announcements This Week: The following is a link to a table of CEF distribution announcements announced this week. The list is not intended to be inclusive. While reasonable care was taken in its construction, please confirm its accuracy independently prior to making an investment decision based on this table.

(Click here for weekly CEF distribution announcements)

CEF Focus for the Week: Being a contrarian at heart, consider the muni bond fund types. The sector has taken a recent beating over the past couple of weeks and may have created some buying opportunities.

Putnam Managed Municipal Income Trust (PMM) seems attractive at this level (see section Individual CEF PrcNAVSprd Changes). The Distribution yield is 7.1% (tax-free equivalent of 10.9%) and is selling at a 5.7% discount. The stock trades on average 127,298 shares daily based on a three month average. Its portfolio holdings are national and its portfolio is valued at $634 million making it large enough for portfolio diversification. (PMM has a stock rating of "5" from Joe Eqcome and "3" from Morningstar—for whatever that's worth)

Consider it food for thought.

Disclosures: Long SPY, GLD and a diverse portfolio of CEFs including PMM.