By Taras Berezowsky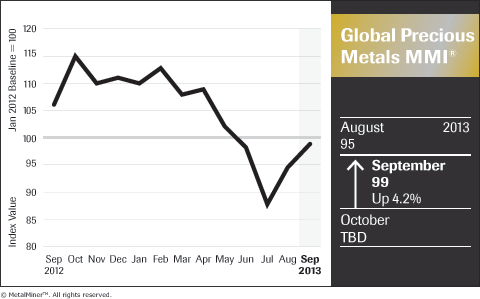 U.S. gold, silver, platinum and palladium prices all appreciated this past month, leading the monthly Global Precious Metals MMI® to an increase of 4.2 percent in September over August.
The Gold Story
The downward spiral of India's rupee value, Middle Eastern tensions (ahem, Syria), and a looming U.S. debt ceiling debate in Congress all helped push gold prices and silver prices up in the month of August.
Last week, U.S. Treasury Secretary Jack Lew warned that the current debt ceiling of $16.7 trillion will be reached in mid-October – action seems to be impending.
China and India have been importing record quantities of gold, India buying 310 tons in the second quarter of 2013, up 71% from the same period in 2012 and 21% above first quarter purchases. Bulls suggest both India and China could be on track for 1,000 tons of imports this year, although there are many problems in India (the currency valuation of the rupee among them) that shouldn't be ignored.
The Biggest Indicator?
We'll have to wait and see what comes out of the Federal Reserve meeting over bond buying, which is scheduled for Sept. 17-18. If the Fed tapers buying, then gold prices may fall off again…
Platinum, Palladium Outlook
"Platinum and palladium are among the few commodities with supply/demand deficits, expected to remain in place through 2014," according to our friends at ETF Securities. "Continued labor strife in South Africa, improving economic data, particularly in Europe, increasing emissions regulations, and declining production are all supportive factors for PGM prices."
Price Highlights
The price of U.S. gold bullion rose 6.3 percent over the past month, the second straight month of gains. The price of U.S. silver rose 20.5 percent over the past month, also the second straight month of gains.
Meanwhile, for the second month in a row, the price of U.S. platinum bar increased, rising 5.4 percent.