Skullcandy (NASDAQ:SKUL), a designer, distributor and marketer of stereo and gaming headphones, has fallen from its July 2011 IPO price of $20.00/share to $5.32/share as of this past Friday's close. Despite all the competition SKUL faces, some investors think SKUL is a cheap buy. A few recurring bull case investment points are made:
Cheap valuation at an EV/LTM adjusted EBITDA multiple of 3.6x
Strong, top four headphone brand
Elevated levels of SG&A spend that can be brought down to drive earnings growth
Potential acquisition target of Bose or Sony
Expansion into gaming headphone market where barriers to entry are higher is augmenting defensibility of SKUL's business
Management change marks the beginning of a turnaround
What needs to be kept in mind, though, is that Skullcandy was the most shorted Nasdaq stock in 2012 -- and for good reason. Competition from 1) Beats by Dr. Dre and other similar high price point, aspirational brands (e.g., SMS 50 Cent, Sol Republic, Fanny Wang, Monster headphones, Soul by Ludacris, and Sony Xperia Z); 2) low-end earbud manufacturers (e.g., JVC Gumy, iLuv, and iFrogz); and 3) smartphone manufacturers bundling high-quality headphones (e.g., Apple, HTC, and Samsung) has resulted in a severe loss of market share for SKUL. So far the new CEO, Hoby Darling, has not set a clear and differentiated strategic course from the former strategy that has failed to address the threat of competition. Until then (or, rather, if), the bulls cheering for a turnaround story are premature.
Below are five points any investor considering buying SKUL should be aware of:
1. SKUL is not cheap and its true valuation multiple is ~10.0x.
The EV/LTM EBITDA metric is wholly misleading for a seasonal company that generated 67% of its 2012 adjusted EBITDA in the second half of the year and is undergoing severe earnings deterioration. First-half 2013 net sales are down 30.1% from the prior period a year ago, which -- paired with the high operating leverage of the company -- results in first-half 2013 adjusted EBITDA of negative $2.3 million, down 114% year over year. Unless second-half 2013 adjusted EBITDA matches second-half 2012 levels (unlikely, given Q3 2013 net sales were guided down by mid- to high 20% year over year), the EV/LTM EBITDA metric is useless.
Rather, a forward or annualized EBITDA multiple is necessary to gauge valuation. My own analysis results in a $12.0 million FY 2013E adjusted EBITDA and 9.9x EV/FY 2013E EBITDA multiple. Consensus equity research analyst estimates per Capital IQ is FY 2013E adjusted EBITDA will be $11.5 million, or a 10.3x EV/FY 2013E multiple. Compared to publicly traded comparables, a ~10.0x EV/EBITDA valuation is a full valuation. Thus, any investment on the premise of a turnaround in SKUL is done with a low margin of safety.
Click to enlarge images.

2. SKUL's gaming headset sales are likely only to grow at less than 20% for 2013, despite published growth rates of 80% and 44% for Q2 2013 and Q1 2013, respectively.
SKUL's gaming headset growth rates are one of the few bright points management can point to on the earnings call, but there are two major caveats to the gaming sale growth rates.
First, Q1 and Q2 2013 growth rates are making an unfair comparison due to the retail launch of SKUL's gaming headsets in Q3 2012, which supercharged sales. First-half 2012 sales of gaming headsets were $4.6 million. Post the retail roll-out, second-half 2012 gaming sales were $27.8 million. Accordingly, the published gaming growth rates in Q1 and Q2 2013 are comparing gaming headset sales with the benefit of national retail distribution against sales with a narrow, direct-to-consumer distribution model. Actual growth rates in Q3 and Q4 2013 will be much lower.
Second, considering the fourth-quarter seasonality in the gaming business, FY 2013 gaming sales are likely to grow less than 20% for 2013, which stands in stark contrast to the large published growth rates in first-half 2013. To illustrate this, if we assume second-half 2013 gaming sales grow 10% over last year, then FY 2013 gaming sales would grow 17% over 2012, despite 80% growth in Q2.

Investors looking to buy into SKUL based on a thesis that the gaming business is augmenting the defensibility of the company should wait to see what the gaming growth rate is in the third quarter to determine how meaningful gaming really is.
3. SG&A increases has been driven by long-term strategic shifts that management has shown no signs of reversing.
In addition to an expected ~30% decline in 2013 sales, an elevated level of SG&A spend has further exacerbated the steep earnings drop. First-half 2013 SG&A, after adjusting for one-time expenses, is only down 2% from the year-ago period. Some bulls believe this elevated level of SG&A spend can be reversed to historical levels to drive large EBITDA growth, but this is a naïve assumption given the strategic focus of the SG&A increases.
SG&A has increased primarily due to three long-term strategic initiatives:
The build out of an in-house design team, which resulted in design and development personnel increasing from 39 full-time employees (FTEs) to 79 FTEs;
The opening of sales offices in Canada, China, Japan, and Switzerland as SKUL transitions its international business from a distributor model to a direct-to-retailer model; and
Increased "marketing and demand creation" spend via in-store advertising, in-store displays, and trade-show attendance.
As a result, SG&A spend has increased 101% from 2010 to 2012. Only $4.5 million of the $47.7 million increase in SG&A spend from 2010 to 2012 is attributable to increased advertising and sponsorship spend, an area of expenditure that could be argued to come down in the future if competition abates.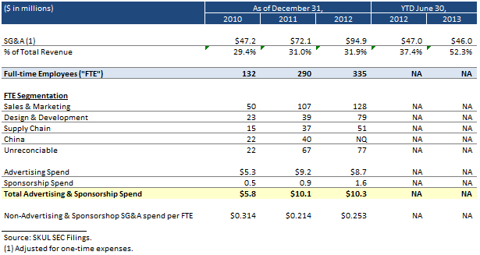 The rest of the increases though are tied to long-term investments and Hoby Darling has shown no signs of reversing any of the strategic initiatives that his predecessor set out to do. Q2 2013 marketing spend actually increased $0.6 million year over year, offset by $0.7 million in travel expenses. Without either layoffs or a full reversal in the in-house design team, marketing team or international direct sales offices, investors in Skullcandy must hope the SG&A spend will yield a positive ROIC, a bet that so far has not played out.
4. Brand strength is insufficient for SKUL's success; just look at Pets.com.
SKUL is a top-four brand in the U.S. and a compilation of stereo headphone brand social media presence directionally indicates that this is indeed the case.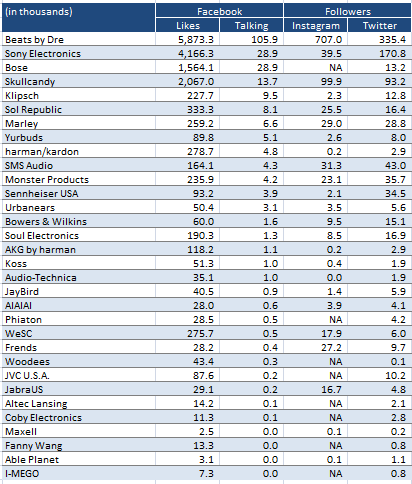 However, investors should understand that brand strength does not necessarily translate to commercial success. Brand advertising/strategic positioning only augments the awareness and consideration phases to the marketing process/funnel. "Below the line" is enquiry, trial/buy and repeat sale. Investors evaluating SKUL's brand alone would be making the same mistake as investors did in Pets.com.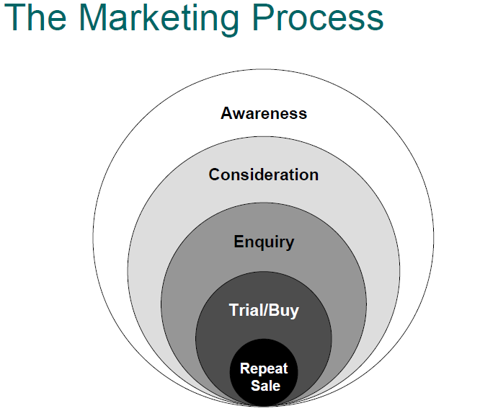 At its IPO in 1999, investors in Pets.com got comfortable with its $100 million of annual advertising spend because of the high awareness (100% brand awareness) and consideration (60% consideration rate) the brand achieved. Below the line, however, conversion rates at enquiry, sales and repeat sales were 1%, 0.1%, and de minimis, respectively. Investors who bought the stock at its IPO lost all their money 268 days later when the company shuttered its operations.
With that in mind, SKUL's ability to win below the line is not clear. In Q4 2012, SKUL guided toward a 30% decline in sales due to a poor change in packaging design. If SKUL cannot show improvements at the lower levels of the marketing process, its top four headphone brand will mean nothing to investors.
5. SKUL's current positioning is stuck between customer segments.
The headphone market has three major customer segments: customers who purchase headphones primarily as a fashion statement, customers looking for a cheap pair of headphones, and audiophiles. SKUL serves none of the three categories particularly well.
For customers who purchase headphones primarily as a fashion statement, SKUL is not matching the number of celebrity endorsements that Beats by Dr. Dre has. While SKUL has a deep bench of action sport athletes, the popularity and number of pop musicians and NBA and NFL athletes who have signed on with Beats by Dr. Dre dwarfs the popularity of any professional snowboarders, skaters, and surfers. In fact, the number of musicians sponsored by SKUL has dropped from 22 musicians -- including Snoop Dogg, RocNation (i.e., Jay-Z and others), and Metallica in 2010 -- to four musicians in 2012 (the only musician endorsement of any popularity remaining being Wale). As a result of the pervasive celebrity endorsements for Beats by Dr. Dre, the Beats headphones have become the de facto "cool" brand that consumers purchase to make a statement.
For customers looking for a cheap pair of headphones, SKUL is priced above JVC Gumy, iLuv, and iFrogz headphones. SKUL's cheapest headphone, the Ink'd 2 earbuds, retail as low as $14.95 a pair. JVC Gumy earbuds can be bought for $4.95 a pair, iLuv earbuds can be bought for $6.00 a pair, and iFrogz earbuds can be bought for $10.00 a pair. These low-end brands also feature a selection of colors that allow the wearer to stand out more than a pair of black headphones and have received favorable reviews from CNET.
And, for audiophiles, SKUL has never been a brand to trust. Posts on head-fi.org, a forum for audiophiles, regularly label SKUL as a brand bought for looks and not for sound.
That said, SKUL should be applauded for seeking its own, unique positioning that's different than Beats by Dr. Dre, JVC Gumy, and SHURE. But the question remains: What is SKUL's positioning and in which customer segment is SKUL the best? Without a strategic positioning that SKUL can clearly claim as the best, it's hard to believe that SKUL can ward off the intense competition in the headphone industry.
Disclosure: I have no positions in any stocks mentioned, and no plans to initiate any positions within the next 72 hours. I wrote this article myself, and it expresses my own opinions. I am not receiving compensation for it. I have no business relationship with any company whose stock is mentioned in this article.