On September 10th, Apple (NASDAQ:AAPL) will be revealing an update to the iPhone. The upgrade cycle has seen two new models every year, one a re-design, the second keeping the design, but with new and improved internals. If Apple keep with naming conventions it will be called the iPhone 5s.
If reports are accurate Apple is going to change the script, and this time it will be releasing a budget model, the 5c, to sit alongside the premium offering. It will be made out of plastic with a slower processor and weaker camera than its big brother, the 5s.
Apple created the smartphone market with the release of the original iPhone in 2007, and for a time it had the market sewn up with huge profit margins and a dominant market share. It held onto the profit margins but the market share has been steadily eroded with the equally rapid growth of the Android platform. It managed to beat the street in the last quarter for units sold, at just over 31 million, but it still lost market share due to the market expanding faster than the increase in sales. This led to conflicting press because journalists could spin the story from either perspective; Apple announce record sales! Apple's market share is collapsing! Take your pick.
It appears that Apple execs are concerned with the market share narrative, despite healthy sales, and it is time to shake things up by adding a new wrinkle to the winning formula. Let me pause for a second to emphasize how big a winning formula the iPhone is, it is responsible for as much as two thirds of the profit at Apple, an outsized portion indeed. It was inevitable that there would be fierce competition with such profits at stake, and just as quickly as the iPhone took over the world, it was relegated to the number two spot.
The low end
Currently Android owns the low end, with Samsung (OTC:SSNLF) having the largest share, and recently a lot of no-name brands are finding success with budget friendly phones that don't compromise on specs. Nokia's (NYSE:NOK) recent growth has been on the back of budget phones, with the most successful model in the extensive Lumia portfolio being the 520. This model jumped to the number one seller in a very short period of time, which underlines how important this budget smartphone segment can be.
With the new iPhone, could Apple recapture share lost to Android and Windows Phones? This is certainly a possibility but it really depends on pricing, a low end phone for Apple is a different beast than a low end phone for Android or WP. The Lumia 520 is selling for as low as $99, and there are similar offerings from Android. It is extremely unlikely that the budget iPhone will approach these prices. Recent estimates put it at a high $300 to mid $400 phone. This seems more in line with previous Apple pricing.
Looking back to the future
Recent history can provide some clarity to this situation, the release of the iPad mini demonstrates a near identical scenario. The iPad mini was announced on 23rd October 2012, and released on the 2nd November 2012, to tackle the rise in Android tablets and falling market share.
Let's take a look at the chart during this period: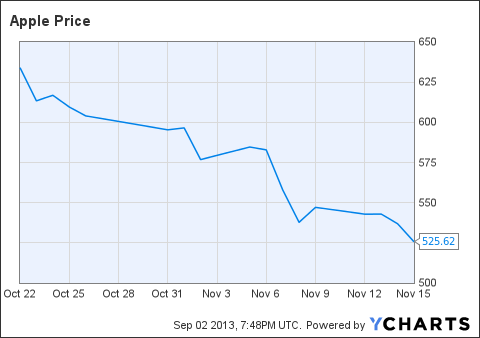 After the announcement and subsequent release, the stock price rapidly decreased in to the low 500's, the market was not impressed.
If history is anything to go by, the budget iPhone isn't going to have a positive effect on the share price, if anything it could be a negative.
For further analysis, let's take a look at the market share:
Top Five Tablet Vendors, Shipments, and Market Share, Second Quarter 2013 (Shipments in millions)
| | | | | | |
| --- | --- | --- | --- | --- | --- |
| Vendor | 2Q13 Unit Shipments | 2Q13 Market Share | 2Q12 Unit Shipments | 2Q12 Market Share | Year-over-Year Growth |
| 1. Apple | 14.6 | 32.4% | 17.0 | 60.3% | -14.1% |
| 2. Samsung | 8.1 | 18.0% | 2.1 | 7.6% | 277.0% |
| 3. ASUS | 2.0 | 4.5% | 0.9 | 3.3% | 120.3% |
| 4. Lenovo | 1.5 | 3.3% | 0.4 | 1.3% | 313.9% |
| 5. Acer | 1.4 | 3.1% | 0.4 | 1.4% | 247.9% |
| Others | 17.5 | 38.8% | 7.4 | 26.2% | 136.6% |
| Total | 45.1 | 100.0% | 28.3 | 100.0% | 59.6% |
From 2012 to 2013, Apple's share has almost halved in the tablet market. From this data, it would be a reasonable conclusion that a cheaper iPhone is a defensive move and it is likely that the iPhone will continue to decline in market share even while continuing to increase units sold.
How to position yourself
This is not a good buying opportunity for an investor with a short-term horizon, the announcement is already priced in to the stock and we may see some profit taking pushing the stock back to the mid 450's.
Unexpected surprises could create upside potential, but this is unlikely, Apple have turned into a leaky ship of late and is no longer able to keep products under wraps before announcements. Apple, with Jobs at the helm could create massive media events with revolutionary products described as the best ever, and were taken at face value by an enthusiastic audience and media. With Tim Cook in charge, that halo has been pushed askew, bringing the company closer to mere mortal status, and now these events are viewed with a more critical eye.
Disclosure: I am long NOK. I wrote this article myself, and it expresses my own opinions. I am not receiving compensation for it (other than from Seeking Alpha). I have no business relationship with any company whose stock is mentioned in this article.