Vodafone (NASDAQ:VOD) is one of world's largest mobile telecommunications companies, offering a very attractive dividend yield of 5%. However it recently reached an agreement with Verizon (NYSE:VZ) to sell its 45% stake in Verizon Wireless, one of its most valuable assets. Vodafone's dividend was partially supported by dividends received from its stake in Verizon Wireless, so to access Vodafone's dividend sustainability going forward it is extremely important to consider its financial profile after the Verizon deal is completed.
Company Overview
Vodafone is a U.K based company providing a wide variety of services, including voice, messaging, data and fixed broadband. Voice represents about 60% of Vodafone's revenues, but data has the highest growth at more than 20% per year. It has more than 400 million customers, and employ over 91,000 people. Vodafone has a market capitalization of about $131 billion, and is listed on the London and NASDAQ stock exchanges. In the U.S., it is listed through its ADR program with one ADR representing 1/10 of ordinary shares.
Vodafone is very well diversified geographically, being present in over 30 countries across 5 continents. The majority of its customers are located in emerging markets, namely in India and Africa. It has exposure to the U.S. through its 45% share in Verizon Wireless, which represented about 54% of Vodafone's adjusted operating profit in its fiscal year 2012/13. By revenue, its largest single market is Germany having a weight of 18%, followed by the U.K with a 12% weight. Vodacom (VDCMY) is 65% owned by Vodafone and has several operations throughout Africa, including in South Africa and Tanzania.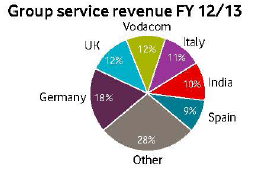 On the negative side, its exposure to peripheral Europe is relatively high given that Spain and Italy together account for about 20% of Vodafone's revenues. These markets have faced a challenging economic environment over the past couple of years, putting pressure on Vodafone's growth and profitability. Nevertheless, due tot its high geographic diversification Vodafone is not overly dependent on any specific market like some of its European peers, such as Orange (NYSE:ORAN) or Telefonica (NYSE:TEF).
Regarding its financial performance, Vodafone has achieved during its last fiscal year, which ended in March, revenues of almost $69 billion. Compared to the previous fiscal year 2011/12, revenues declined by 4.3% impacted by a strong fall of 11.6% in Southern Europe. Its EBITDA was above $20 billion, a decline of 8.3% from the previous year, representing an EBITDA margin of 30%. Its adjusted operating profit, which includes $10 billion profit from its stake in Verizon Wireless, was $18.6 billion. For the next year, Vodafone's guidance is for revenue growth in the range of 1%-4% and its EBITDA margin to stabilize.
Verizon Deal
Vodafone announced recently that it is selling its 45% stake in Verizon Wireless to Verizon for $130 billion. This was Vodafone's most valuable asset given that it represented more than half of its operating profit during its past fiscal year, and had an above-average EBITDA margin. In the past year, Verizon achieved an EBITDA margin of almost 45% compared to only 30% at the group level. Moreover, Verizon's growth was impressive given its size, as revenues increased by 8.1% to more than $69 billion during Vodafone's last fiscal year.

Of the $130 billion at which the deal is valued, Vodafone will distribute $84 billion among its shareholders through Verizon shares and cash. Vodafone will pay about $5 billion in taxes, and $3.5 billion to buy Verizon's minority stake in Vodafone Italy. About $7.5 billion is related to debt assumed by Verizon and loan notes. Vodafone also announced that it will allocate close to $10 billion over the next three years to organic infrastructure investments, to improve its competitive position. Therefore, Vodafone will retain almost $22.5 billion in cash, which it can use to reduce debt or finance growing dividends for the next few years. The transactions (for Verizon Wireless and Vodafone Italy) are expected to complete, and shareholders are expected to receive the return of value, in the first quarter of 2014.
However, there is still some risk the U.S. tax authorities decide to challenge the assumption that the sale would be a capital tax gain exempt transaction, which Vodafone protected itself by a termination clause stating that "Vodafone can terminate the agreement in case of an adverse ruling or statement, which would impose a material tax cost." Thus, Vodafone's management appears to have reached a good deal with Verizon, which protect its shareholders' interests.
Although Verizon Wireless was a extremely valuable asset, the price tag is very high and the huge value returned to Vodafone's shareholders clearly justifies the deal. Moreover, Vodafone's recent decision to acquire Kabel Deutschland, the largest German cable-TV provider, for $10 billion also gave the company a reason to accept Verizon's bid as it would put pressure on Vodafone's finances.
Dividends
Vodafone has a very good dividend history, delivering a growing dividend over the past five years. For the fiscal year ended 31 March 2013, Vodafone paid an annual dividend of $1.58 per share, an increase of 7% from the previous fiscal year. Additionally, Vodafone's shareholder returns were boosted by share buybacks and two special dividends, partially financed through dividends received from Verizon. Over the past three years, Vodafone has returned more than $35 billion to its shareholders which is a considerable amount.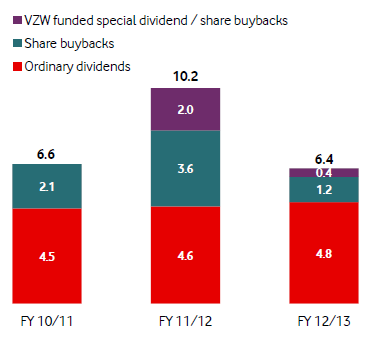 For the last fiscal year, the dividend payout ratio was 64% which is an acceptable level given Vodafone's relatively stable business and good profitability. Moreover, Vodafone's operating cash flow covered its capital expenditures and ordinary dividend payments before dividends received from Verizon ($2.4 billion in fiscal year 2012/13). Vodafone's controlled free cash flow amounted to $8.7 billion, which is slightly higher than its $7.44 billion dividend cash outflow. After the deal agreed with Verizon, Vodafone stated that it aims to increase the 2014 financial year dividend per share by 8% with the intention to grow it annually thereafter. Even tough without the dividends received from Verizon its dividend coverage is lower, Vodafone should be able to maintain its dividend policy over the next few years, especially if the European economy recovers from its recent depressed activity.
On the other hand, also considering share buybacks the company's organic free cash flow is not enough to cover the entire shareholder remuneration, so if Vodafone does not want to leverage up its balance sheet it may put on hold the share buyback program. At the end of March, Vodafone's net debt was $41.9 billion, representing a net-debt-to-EBITDA ratio slightly higher than 2x. After the cash proceeds received from Verizon, Vodafone should be able to reduce its net debt to about $19.3 billion, which will lower the leverage ratio to only 0.94x EBITDA. Its stronger balance sheet is clearly supportive for Vodafone's dividend policy and therefore its dividend seems safe over the next couple of years, even without its stake in Verizon Wireless.
Conclusion
Vodafone is a good income investment, offering an attractive dividend yield of 5% when considering only its ordinary dividend. However, after the $130 billion agreement with Verizon for its 45% stake in Verizon Wireless, Vodafone's shareholders will receive about $84 billion in cash and Verizon shares in the next few months. This is a huge value and according to the company represents almost half of its current share price. Therefore, Vodafone is a clear buy on a relatively low valuation given that it is trading at only 12.7x forward earnings, a safe and growing dividend, and a huge windfall from the Verizon deal.
Disclosure: I have no positions in any stocks mentioned, but may initiate a long position in VOD over the next 72 hours. I wrote this article myself, and it expresses my own opinions. I am not receiving compensation for it (other than from Seeking Alpha). I have no business relationship with any company whose stock is mentioned in this article.