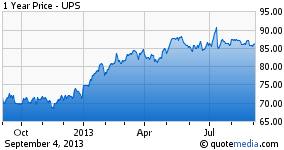 Over the last 2 years, Shares of United Parcel Service, Inc. (UPS) are up 40%, which sounds like a decent return. However, the Dow Transports have outperformed UPS over the same time frame. Some analysts say that the underperformance might be due to UPS' international exposure. While rival FedEx Corporation (FDX) stock recently broke out and made new yearly highs, UPS stock has not recovered from a failed break out attempt in July. With that said, should investors be buying or selling UPS stock?
UPS has added two new logistic distribution facilities in Chengdu and Shanghai in China. The two new facilities are part of the company's plans to expand its health care business and add health care distribution facilities in China. The company plans to capture the growing opportunities in the emerging markets with health care distribution facilities. UPS now boasts 130 distribution facilities across 87 cities, and is looking to benefit by adding this rapidly expanding market for shipping companies. Recently, the company has established various distribution facilities dedicated to health care in both North and South America. This news could help offset some of the international exposure issues, but UPS still has heavy competition to fend off going forward.
The financially struggling U.S. Postal Service (USPS) is revamping its priority mail program to raise revenue and drive new growth in its package delivery business. The agency is now offering free online tracking for priority mail shipments, free insurance and date-specific delivery so customers know whether a package will arrive in one, two or three days. Postal officials said they expect the changes to generate more than $500 million in new annual revenue. Day-specific delivery will be a very compelling feature and attract new business for USPS, which means it could draw volume away from FedEx and UPS from their two-day and three-day deferred air express services and ground service.
The expansion into China has tremendous potential for UPS, however the news failed to move the stock higher when it was announced in mid August. UPS stock broke above resistance in early July, but failed to remain above converted support, which raised sell/short signals according to the Stock Traders Daily report. Now, a few months later, the stock is near a test of support. This could be a critical test of support with the U.S. Postal Service growing more competitive, as it looks for ways to turns its faulting business around.
We buy near support, and if support holds, we expect the stock to trade higher. As a rule, we set stops near support to control risk. If support breaks, the otherwise positive bias that exists now, based on the test of support, would dissolve. Treat support as inflection accordingly.
Disclosure: I have no positions in any stocks mentioned, and no plans to initiate any positions within the next 72 hours.
Business relationship disclosure: By Neal Rau for Stock Traders Daily and neither receives compensation from the publicly traded companies listed herein for writing this article.