Though Google (NASDAQ:GOOG) is still the king of mobile ad revenue, according to a recent market report Facebook (NASDAQ:FB) is rapidly gaining market share. eMarketer, a digital marketing research company, estimated in a recent report that the mobile ad market will grow by 89% to, $16.65 billion, in 2013.
Google is expected to retain a 53% share of the web's mobile ad market for the year; however, the big story is the growth of Facebook - from a 5% share in 2012, to 15.8% in the current year.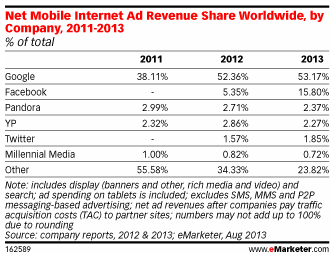 Both Facebook and Google are now the top ad publishers, not only for mobile, but for all digital. Yahoo and Microsoft are quickly falling behind, with 2.97% and 2.49% respectively.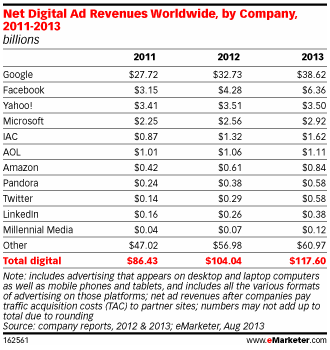 Facebook's ad revenues are expected to total $6.36 billion, while Google's ad revenue is expected to total $38.62 billion for the year.
How Google manages to attract such large advertisers:
Large Network: The Google Display Network is the world's largest display advertising network for placing banner ads on Google web properties (such as YouTube, Blogger, Gmail, etc.) as well as a network of over 2 million other web sites (e.g.: USA Today, NY Times, etc.), whereas Facebook advertising enables advertisers to place text and image ads within Facebook's social media platform, which is comparably much smaller than the Google Network.
Intent of Users: users go to Google web properties and partner sites mostly with an intention to conduct research for upcoming purchases, while users go to Facebook to chat with friends and have fun. Advertisers have noted that engaging in Facebook advertising often raises the number of likes but rarely results in conversions.
Conversion Rate: In the U.S., the typical CTR for a display ad is just 0.01%, whereas the average CTR for Facebook ads was .051% and the average CTR on the Google Display Network is .4% --almost 10 times as high as a Facebook ad. Additionally average CTR on Google Search ads is around 2-3%, almost 10x more than The Google Display Network, and almost 100x higher than a Facebook ad.
Advantage of Facebook over Google:
Unique Target Audience: Facebook advertising prides itself on the unique targeting options possible because of Facebook's collection of personal data. Whereas, Google audiences are interest and topic targeted.
Conclusion:
Facebook has an impressive global reach, giving it the potential to be as much of an advertising powerhouse as Google. Facebook is the world's largest social network, comprising over 845 million monthly active users. This enables Facebook to reach 51% of the Internet and generate 1 trillion pageviews a month.
While Facebook advertisers have more page views, their CTRs are low and have less of a reach across the Internet as a whole since their ads only exist on Facebook. Ads on the Google Display Network have higher CTRs and a broader reach.
Facebook's continued emphasis on mobile monetization, along with its users' ongoing shift toward mobile devices, is resulting in dramatic gains in mobile ad market share.
Disclosure: I have no positions in any stocks mentioned, and no plans to initiate any positions within the next 72 hours. I wrote this article myself, and it expresses my own opinions. I am not receiving compensation for it (other than from Seeking Alpha). I have no business relationship with any company whose stock is mentioned in this article.