From many indications it appears the markets are in for a rough September. In August, the CBOE Volatility Index was up 16.7%; a clear signal of continued investor uncertainty. The Dow Jones Industrial (NYSEARCA:DIA) dropped 4.5% for the month, marking the worst month for the index since May of 2012. All this coming on the heels of ambiguity surrounding U.S. military intervention in Syria.
What we do know for sure is the U.S. government is nearing $17 trillion in debt and an impending debt ceiling is expected in September. U.S. GDP growth continues to be anemic and the long-term outlook remains weak. Despite tapering talk by the Fed, the economic data still does not support the Fed reducing its bond-buying program. Some signs of weakening include the drop in single family home sales by 13.4% in July and durable good sales falling 7.3% during the same period. If the trend continues, we could see investors flocking to precious metals and other safe haven investments.
In a recent article, I discussed coming inflation and few investments I currently like for rising commodity prices. Below is an update on previously discussed companies and a few new additions. In the days, weeks and months ahead, I will be constructing a portfolio consisting of 20 commodity based investments discussed in this series.
Freeport-McMoRan (NYSE:FCX) -
One of the larger mining companies and one of the more diverse; FCX has operations in Africa, South America, Indonesia and North America. It has recently diversified its resource base with oil and gas through the merger with Plains Petroleum. FCX paid close to $20 billion, which turned off many investors and analysts. Due to low metal prices and an increased debt burden (assumed $11 billion in debt with acquisition), shares of FCX have dropped from highs near $61 in 2011 to currently trading at $30 price level. There has also been a lot of insider buying activity following the second quarter, which tends to be a positive sign. Its assets seem to be undervalued and it currently pays around a 4% dividend.
If FCX can resolve union negotiations with workers for its Indonesian Grasberg mine and put together a solid third quarter, Freeport should go much higher. Industry analyst sentiment has tended to be negative on FCX due to the commodity price outlook but I happen to subscribe to a different point of view. Freeport-McMoRan is a buy at these current levels. (I am long FCX. It currently makes up 3.8% of my portfolio)
(Source: yahoo finance)
Rio Tinto Group (NYSE:RIO) -
Rio Tinto is multi-national mining company based out of London, England. It has a market capitalization of $83.35 billion and operates in 40 different countries. Much like Freeport-McMoRan, RIO is engaged in a variety of mining operations. Despite being both heavy copper producers, the mix of metals produced by each company is different. Rio has a more diverse exposure to metals and minerals including aluminum, diamonds, coal, iron ore, and titanium dioxide. Most importantly regarding RIO is its growing presence in Asia. As stated by Rio Tintos CEO after its second-quarter results:
A new milestone was reached in Mongolia, with the Oyu Tolgoi copper-gold mine making its first shipment of copper concentrate to China. Our iron ore operations continue their impressive performance, with period on period productivity improvements. One of our key priorities this year is to deliver our growth projects. Despite some challenging weather conditions, our Pilbara 290 iron ore expansion remains on track to deliver first tonnes by the end of this quarter.
RIO has held pretty strong in a tough, low price environment. In the first half of 2013, RIO posted underlying earnings of $4.2 billion. This was an 18% decline from 2012. Shares of RIO are currently trading around the $47 price level, off from its 52-week high of $60.45. RIO also boasts a current dividend yield of 3.9%, which was increased by 15% following the second quarter. With increased commodity prices to come, Rio Tinto is a solid investment for a commodity portfolio. (RIO is on my watchlist. Looking to open a position).
(Source:yahoo finance)
Statoil ASA (NYSE:STO) -
With its headquarters in Norway, this oil and gas company has incredible international growth potential. As outlined in "Statoil Unleashing Value For Shareholders", STO has established itself as a technology innovator in the oil and gas industry. Its operations in the Norwegian Continental Shelf is expansive, but most importantly is its growth internationally. Statoil is currently trading at $22.65 on close of August 28, and was trading near $30 in early 2012. With increasing oil and gas prices into 2014 along with increased production; I expect STO to retest its 2012 levels. (I am long STO. It currently makes up 4.7% of my portfolio)
(Source:yahoo finance)
Vanguard Natural Resources LLC (NYSE:VNR) -
Formed in October of 2006, Vanguard Natural Resources is based out of Houston, Texas, with a market cap of $2.1 billion. It focuses on acquiring oil and natural gas properties throughout the United States. It currently has a variety of properties in the Arkoma Basin in Arkansas, and Oklahoma, the Permian Basin in West Texas, and New Mexico, the Big Horn Basin in Wyoming, and Montana, the Piceance Basin in Colorado, South Texas, the Williston Basin in North Dakota, and Montana, the Wind River and Powder River Basins in Wyoming, and Mississippi.
The CEO commented on the second quarter stating:
We are excited about the early recompletion results we have seen on the Permian assets recently purchased from Range Resources and our 2013 capital program is on track to generate attractive returns for the Company. With over $850 million of liquidity available, we are well positioned to be very competitive in what we feel will be a very robust acquisition market in the second half of the year.
As displayed in the statement by its CEO, VNR is looking to grow. The key production metrics on the second quarter are as follows:
Natural Gas - 13,175 million cubic feet (MMcf) at a realized price of $3.17 per Mcf; An increase of 616% from second quarter 2012.
Oil - 798 MBbls at a realized average price of $83.61 per barrel; An increase of 16% from second quarter 2012.
Natural Gas Liquids [NGLs] - 326 MBbls at a realized average price of $34.23 per barrel; An increase of 153% from second quarter 2012
EBITDA increased 81% on the quarter from a year prior to $80.3 million. Distributable cash flow was $48.4 million, an increase of 156% from the same period a year prior.
Overall, Vanguard Natural Resources is a growing income investment with annual distribution currently over 9%. The distribution is paid monthly and with VNRs distribution track record, as shown in the chart below, I expect little issue moving forward with its dividend. Vanguard was trading at $27.45 on September 3, below its 52-week high of $30.22 set last November. Vanguard has increased its dividend each year since inception. At current levels, I like Vanguard Natural Resource. (I am long VNR. It makes up 3.6% of my portfolio).

(Source: Vanguard Natural Resources)
Gold & Silver -
In terms of investing in gold and silver I prefer two ETFs; Sprott Physical Silver Trust (NYSEARCA:PSLV) and Sprott Gold Silver Trust (NYSEARCA:PHYS). These funds provide more transparency, security, and offer unitholders the ability to redeem for the physical metal. Although it is rare that a holder would redeem, it does ensure that the fund will have an adequate amount of physical metal. I have discussed both ETFs in recent articles and prefer these smaller funds over the larger precious metal funds SPDR Gold Shares Trust (NYSEARCA:GLD) and Ishares Silver Trust (NYSEARCA:SLV). [I am long PSLV & PHYS. They make up 7.2% & 4.5% of my portfolio respectively.]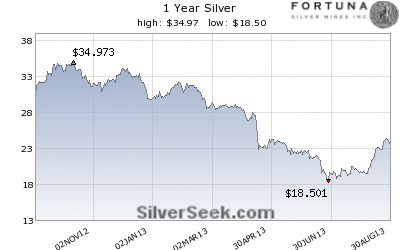 In the next article I will focus on agriculture investments. I have enough cash on the sideline to be ready for a correction. However, from here I expect inflation to begin to tick up and the debt ceiling talks to focus America's attention on the national debt. In the meantime, I will look for attractive entry points during this period of increased volatility.
Disclosure: I am long FCX, STO, PSLV, PHYS, VNR. I wrote this article myself, and it expresses my own opinions. I am not receiving compensation for it (other than from Seeking Alpha). I have no business relationship with any company whose stock is mentioned in this article.