Ambarella Inc (NASDAQ:AMBA) is incorporated in the Cayman Islands and has its headquarters in Santa Clara. With 444 employees, its operations are spread across five countries in the Asia Pacific region. The company is into design and manufacture of semiconductor (system on a chip - "SoC") based solutions which enable the capture, processing, and sharing of high definition videos and images. AMBA raised $30.4 million by way of IPO by offering 6.9 million ordinary shares in October 2012. With the first year anniversary of going public approaching, this article analyzes AMBA share performance to date, core strengths, and future prospects of this emerging company.
What is Ambarella's play?
AMBA designs and sells integrated single chip solutions which help deliver exceptional-quality high-definition videos, images, and audio content at very low consumption of power.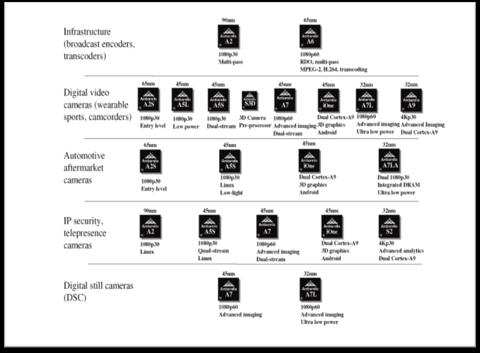 This chip also contains a customized software development kit system which enables equipment manufactures to easily integrate this SoC into their products. These chips go into the making of camcorders, wearable sports cameras, automotive after-market cameras, internet protocol (NYSE:IP) security cameras, digital still cameras, and telepresence cameras.
To whom does Ambarella sell its products?
Since its founding in 2004, AMBA has shipped approximately 33 million SoC. Broadly speaking Ambarella's target segments can be classified into the camera, infrastructure and emerging segments.

Typically AMBA sells its SoC to original design manufactures (ODM) who in turn sell it to end user companies. These are typically original equipment manufacturers like Motorola Mobility (owned by Google), LM Ericsson, GoPro, and Samsung Electronics. In a recent change, AMBA has started to sell directly to the OEM customer profile.
Ambarella growth drivers:
Ambarella growth prospects are inherently tied to the evolving video and image creation trends of today. Low cost digital video capturing devices which use Ambarella products have multiplied over the past five years. This trend is largely driven by the exponential growth in smaller and more compact video and image capturing devices, like smart phones, tablets, and wearable cameras, which enable users to generate their own HD video content. This user generated content then gets shared in real time on social media, like Facebook and YouTube, through wireless connectivity which Ambarella solutions facilitate. The wide availability of broadband is also driving up the viewing of HD video streaming via various content accessing devices mentioned earlier, and is also creating the need for AMAD products. IP security cameras with requirements of high resolution video and efficient video compression are also driving up demand for Ambarella products.
Amberalla differentiators:
Amberalla has a select portfolio of solutions which differentiate this company from competition. It has invested heavily in research and development over the past decade, and has over 30 patents worldwide as its assets. Its human capital consists of leading innovators in the video processing and delivery departments that have, to their credit, several industry firsts, like single chip MPEG 2 encoder. Its proprietary image algorithm, 3D motion filtering and patented video processing architecture has allowed AMBA to forge long lasting collaborations with its customers. These OEM and ODM involve AMBA in critical product design development phases, thus providing AMBA with insights into its customers demand and time lines in advance.
Competition:
AMBA faces off with a wide spectrum of semiconductor manufacturers who vary in size and their product offerings. AMBA's largest revenue earner is the camera market, in which it encounters competitors like semiconductor manufacturers like CSR, Fujitsu, HiSilicon, and Texas Instruments, and OEM's like Canon Inc., Panasonic Corporation, and Sony Corporation. In the infrastructure market it goes head-to-head with Intel, Magnum Semiconductor, and Texas Instruments. Thus AMBA has to counteract against larger competition that has greater financial muscle and brand recognition with its niche best of the breed product offerings.
Amberalla weak links
Long sales cycles
On an average, AMBA supports its OEM and ODM partners for 6 to 9 months through their product design cycles with respect to their camera segment, and between 12 to 18 months for their infrastructure segment before the deal is confirmed. These long sales cycles might not necessarily end in a sale and can constitute a huge drain on operations.
Reliance on Asia for revenue and operations
Amberalla's dependency on revenue generated from Asia is pretty pronounced. 76% of the company's employees are based in Asia Pacific. On an average, 90% of Amberalla revenue has been generated from Asia in the last three years. While most of these OEMs in turn sell their products to customers in the U.S. and Europe, any regional developments in Asia can have negative fallout on AMBA results.
Over dependency on logistic providers
Dependency on a handful of logistic providers is another potential risk for AMBA. 63% of its revenue was derived from its main logistic provider Wintech Microelectronics in FY13.
Stock Market Performance
In October 2012, AMBA started its stint on the NASDAQ global exchange at $6 per share. To this date it has 27 odd million shares outstanding and is trading at $14.74. In the past 11 months, the stock has risen in value by 146%. It has outperformed the NASDAQ composite index, which went up by 17%, and the semiconductor industry by a large margin. Its current market capitalization is $403 Million.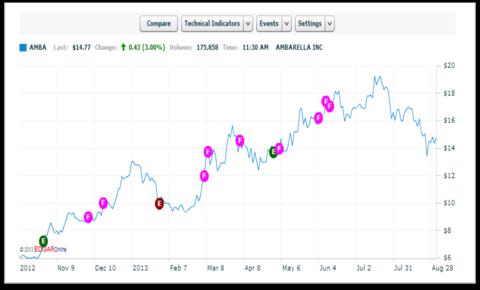 In spite of the appreciation, it has a potential for a huge upside since it is trading at 24% lower than the 48 week high of $19.43. Its cash on hand for the latest quarter (ended April 30, 2013) stands at $104.2 million, up 3.7% from the previous quarter. With zero long term debt or current liabilities, the company is well placed to invest its operating cash into research and development, which would, in turn, help it outpace the competition with new product offerings. Its net sales are up 7.6% compared to the previous quarter. This argues well for a steady cash flow when seen in combination with total receivables, which stand at $24.6 million in quarter ended April 30, 2013. For an investor looking at long term appreciation of the stock, the EPS of $0.16 in the 1Q14 is a good indicator. In comparison EPS was $0.6 for FY13 whole year.
Conclusion
The exponential growth of the high definition video and image content business driven by an increase in social media and portable video capturing devices in the last couple of years has driven AMBA growth. AMBA is well positioned to take advantage of a future expansion of this market thanks to its strong collaboration with its customers and high standard product offerings. Its focus on Asian OE manufactures, which are the de-facto factories of the globe, and continued R&D investments driven by its steady cash flow will keep AMBA ahead of competition with new product offerings. AMBA stocks are a good BUY in spite of no dividend payout plans from its management in the near future. This is because share value is bound to increase primarily driven by the revenue generation and increasing sales of AMBA products.
Disclosure: I have no positions in any stocks mentioned, and no plans to initiate any positions within the next 72 hours.
Business relationship disclosure: The article has been written by an Analyst at ResearchCows, ResearchCows is not receiving compensation for it (other than from Seeking Alpha). ResearchCows has no business relationship with any company whose stock is mentioned in this article. Any analysis presented herein is illustrative in nature, limited in scope, based on an incomplete set of information, and has limitations to its accuracy. The author recommends that potential and existing investors conduct thorough investment research of their own, including detailed review of the company's SEC filings, and consult a qualified investment advisor. The information upon which this material is based was obtained from sources believed to be reliable, but has not been independently verified. Therefore, the author cannot guarantee its accuracy. Any opinions or estimates constitute the author's best judgment as of the date of publication, and are subject to change without notice.