By David Russell
The bulls are targeting QLogic (NASDAQ:QLGC) today, three days before the provider of networking products reports earnings.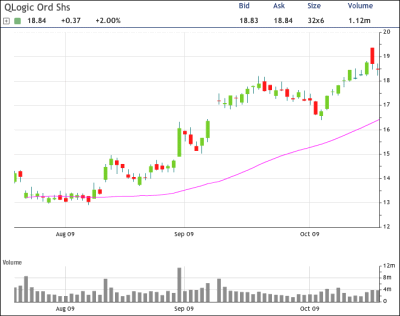 optionMONSTER's Heat Seeker tracking system detected heavy buying of the November 20 calls, with institutional-sized purchases for $0.35 to $0.45. Volume surged to 5,793 contracts, almost six times open interest in the strike.

QLGC rose 2 percent to $18.84 in early afternoon trading and is up 36 percent in the last three months. The shares need to climb another 8 percent by expiration for the calls purchased today to turn a profit.

The shares are gaining despite management's forecast on July 22 for weaker-than-expected sales and earnings. Fiscal second-quarter results are scheduled to be released after the bell on Oct. 21.

Overall options volume in the name is seven times greater than average today, with calls outnumbering puts by 27 to 1.
(Chart courtesy of tradeMONSTER)