Introduction
In my latest article, I discussed the big players of the drilling sector whose revenue is derived primarily from onshore drilling activities. That analysis also showed why Warren Buffett picked National Oilwell Varco (NYSE:NOV) and increased substantially his position into this company a few months ago. My article is here.
In this series, I will discuss the offshore drilling contractors. Offshore drilling is the most complex and expensive way of accessing oil and gas reserves particularly when it comes to ultra-deep water exploration. This complexity has to make any potential investor be mindful of the high risks and the big challenges associated with this industry.
Back in 2010 when the Deepwater Horizon disaster took place and that well spewed more than 4 million barrels of crude into the Gulf, a lot of investors pulled money from the offshore drillers. Since then, the offshore drilling activity has been in an upswing, and demand for offshore rigs has been increasing due to rising oil prices and successful exploration results like the recent discoveries in offshore Brazil and West Africa. Meanwhile, regulations governing offshore drilling have been toughened, creating an additional speed bump for this industry and environmentalists keep worrying that efforts to expand drilling threaten to spawn another environmental disaster.
Drilling Offshore: Statistics and Projections
As shown at the chart below, world offshore drilling production was rising until 2010 when the Deepwater Horizon accident occurred.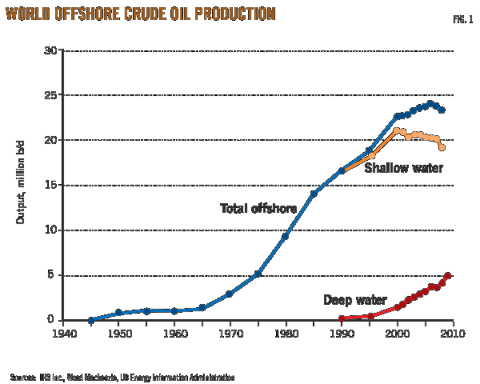 Since then, the trend reversed and the global offshore crude oil production is projected to stabilize at the current levels or slightly decrease during the next 5-7 years according to the chart below: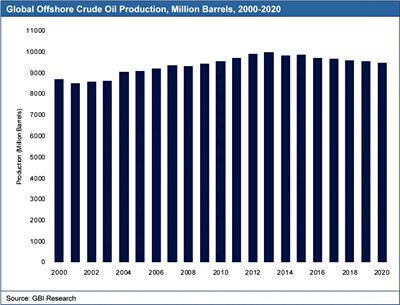 The offshore drilling market, primarily the deep and ultra deep water segments, demands huge capital investments, long-term commitments, high efficiencies and a growing reliance on technology in order to reduce uncertainties. So there are several hazards in this playground and this is why the production growth in this market can not happen overnight.
Regarding the supply-demand dynamics, the market for the offshore drilling rigs (jack ups, drillships, semi-submersibles) is projected to remain tight for the next 2-3 years. For instance, the chart below illustrates the supply and demand in the Ultra Deep Water segment by 2016: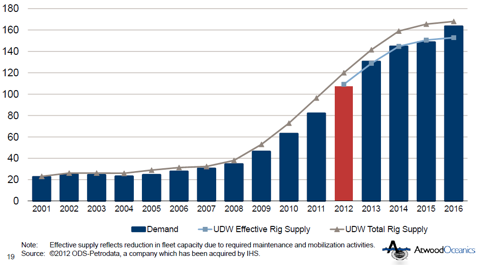 This encouraging short-term outlook does not mean that the competition will never kick in and cause day-rates to soften substantially. The dry bulk and tanker markets have already suffered from overbuilding, and the highly leveraged companies have met severe problems to support their loans and remain solvent during the last couple of years.
Digging Deeper Into The Balance Sheet
The balance sheets always disclose to us the naked truth about a company's financial health. So let's take a deep breath and dig into the balance sheets of the following five offshore drilling contractors. In this Part, I deal with the small players of the sector whose market cap is less than $5 billion. The results are shown below:
Company

PBV

Operating

Margin

(%)

Total Debt

-----

Equity

LT Debt

-----

EBITDA

EV

-----

FFO

EV

-----

EBITDA

Dividend

(%)

Vantage

Drilling

1.15

32

6.64

-

-

-

-

Hercules

Offshore

1.28

41

1.41

2.78

10.8

6.47

-

Pacific

Drilling

0.88

26

1.02

7

17.13

11.42

-

Ocean

Rig UDW

0.79

21

1.14

7.8

12.25

10.89

-

Atwood

Oceanics

1.7

39

0.72

2.53

10.64

8.83

-
FFO: Annual Estimated funds from operations.
EV: Enterprise Value.
EBITDA: Annual Estimated EBITDA.
Among the companies above, Atwood Oceanics (NYSE:ATW) has the best balance sheet. I like Atwood's diversification as its fleet covers both the deep water and the shallow water drilling activity. Although the company's capital expenditures exceeded the operating cash flow in the first nine months of 2013, resulting in negative free cash flow and a growing debt, Atwood does not face any debt problems currently. The debt ratios remain low and the enviable operating margin makes Atwood stand out from the crowd. This positive mix of data has also been priced into the stock, and Atwood currently trades well above its intrinsic value with reasonable EV/FFO and EV/EBITDA ratios.
The company has four units under construction. They are drillships and the expected cost for their construction is approximately $600 million each. Hopefully, this aggressive expansion of the fleet will not boost the company's debt ratios but this remains to be seen.
The worst balance sheet belongs to Vantage Drilling (NYSEMKT:VTG), which enters dire straits gradually. Vantage Drilling has pursued an unstoppable growth strategy, piling up debt for several quarters now. It is the most leveraged company of the sector, and what is truly worrisome is the fact that Vantage has negative EBITDA and operating cash flow for the first six months of 2013. Actually, this trend started since 2012 and I do not expect it to improve a lot any time soon due to the lack of any near-term strong catalysts. Vantage's newest vessel, the Tungsten Explorer, will commence operations this September with a day rate of $750,000 for only 90 days.
This development obviously cannot change the above key metrics substantially. Meanwhile, the growth plan continued in Q2 2013 when Vantage ordered another ultra-deepwater drillship, the Cobalt Explorer, which is scheduled for a Q3 2015 delivery.
What weighs heavily on the negative EBITDA is the high interest expense that Vantage is paying to serve its growing debt. Based on the current debt levels, Vantage pays about $50 million as interest expense on a quarterly basis. After all, I have increasing concerns that the company will not be able to serve its debt in 2014. I believe that the debt holders will keep enjoying the hefty interest rate of their notes for a limited time only, and they will have to convert their notes, if Vantage does not sell part of its assets or refinance its debt during the next couple of years.
The fleet of Hercules Offshore (NASDAQ:HERO) targets the shallow-water drilling activity in the U.S. Gulf of Mexico and internationally. Hercules does not have any drillships or semisubmersible rigs, which are good for deepwater and ultra deepwater drilling. Hercules enjoys a strong operating margin and keeps its debt ratios at reasonable levels. All in all, the company is fairly valued with limited upside from the current levels.
Pacific's (NYSE:PACD) fleet consists of 4 ultra-deepwater drillships targeting the ultra deepwater segment of the offshore drilling. Two additional drillships are under construction at Samsung Heavy Industries for delivery in 2013. A seventh rig is under construction for delivery in May 2014, and an eighth rig is under construction for delivery in March 2015.
The high debt ratios are clearly a drawback here although Pacific refinanced its debt recently and now most of the debt matures after year 2017. Furthermore, the debt maturity dates are more spread out. Before the refinancing, Pacific Drilling had $1.4 billion of debt maturing in year 2015. After the refinancing, the largest amount of debt maturity is $803 million for year 2018.
Ocean Rig (NASDAQ:ORIG) specializes in the ultra-deepwater segment of the offshore drilling industry. The company owns and operates 10 offshore ultra deepwater drilling units, 3 of which are scheduled to be delivered to the company during 2013 and 1 of which is scheduled to be delivered during 2015. So Ocean Rig will most likely see sequential growth in Q4 2013, when the Ocean Rig Skyros and the Ocean Rig Mylos begin work on their first contracts. It must also be noted that Ocean Rig's fleet is effectively fully contracted through 2014.
Pacific Drilling and Ocean Rig do not have Vantage's negative EBITDA and staggering debt ratios. Nevertheless, both companies have to lift their operating margins and lower their debt ratios to deserve a higher valuation. So, I consider both companies to be fully valued currently.
Conclusion
As near shore oil fields are developed, there will be a natural trend to deeper water exploration. If the technology also improves, the offshore rigs will drill deeper than today's depth of approximately 12,000 feet. Based on these assumptions, the growth potential of this industry seems to be significant. However, there is no such thing as a free lunch and this industry carries higher than average investment risks. The primary risk is the volatility of the commodity prices, which applies to all the energy related companies. The offshore drilling contractors carry some additional risks as storm damages and severe accidents can kick in at any time. For instance, an accident occurred a few weeks ago when a rig partially collapsed off the coast of Louisiana, after catching fire because of a ruptured natural gas well. So a potential investor has to think twice before establishing a position in an offshore drilling contractor in order to find out whether such an investment suits his Risk-and-Reward profile.
Disclosure: I have no positions in any stocks mentioned, but may initiate a short position in VTG over the next 72 hours. I wrote this article myself, and it expresses my own opinions. I am not receiving compensation for it (other than from Seeking Alpha). I have no business relationship with any company whose stock is mentioned in this article.