The world's leading energy firm Exxon Mobil (NYSE:XOM) recently released its quarterly results, which came in well below the market's expectations. Exxon Mobil's earnings growth has not been spectacular, its stock generates lower yield than its competitors, and its buyback expenditure has been falling. In these tough times, what should Exxon Mobil do to increase the shareholder value?
Quarterly results
Exxon Mobil's net income dropped by 56.9% to $6.9 billion from $15.9 billion in the same quarter last year. Excluding one-time items, the net-earnings fall was 18.4%. The oil giant's revenue fell from $127.4 billion last year to $106.5 billion in Q2-2013.
Earnings from the upstream segment in the U.S. increased by 61.6% but decreased by 32% in international markets. On the other hand, downstream earnings fell significantly in the U.S. and international markets. In chemicals, there was a slight increase in the U.S. earnings but a significant decline in the rest of the world.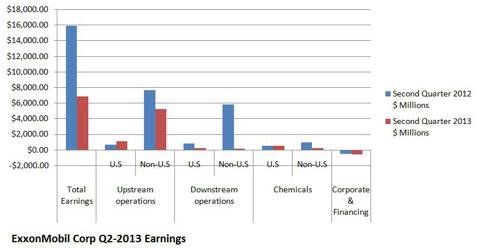 The company's earnings growth over the years is shown in the picture below. As evident, the EPS growth has been modest at best, particularly since Q2-2010.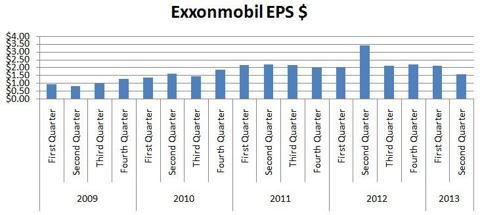 source: YCharts.com
Meanwhile, Chevron's (NYSE:CVX) revenue and net income also dropped by 8.4% and 25.6% to $57.4 billion and $5.4 billion respectively. Chevron's results were also disappointing, but the revenue and income drop was largely due to some short-term setbacks and the long-term outlook is still positive. Its shares now look attractive in terms of valuation since Chevron has a lower price-to-earnings ratio than the industry's average.
Dividend and Buybacks
During the second quarter, Exxon Mobil increased its dividend by 11% to $0.63 per share. But it is still not a high dividend-paying stock. Among its peer group, Exxon Mobil is the lowest dividend-paying energy major. This is shown in the picture below.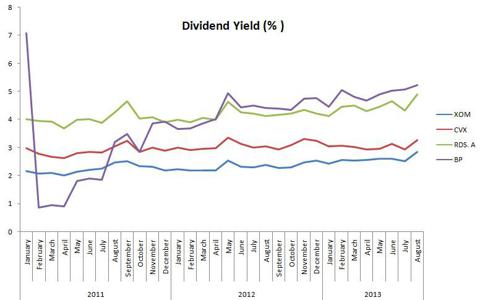 Source: YCharts.com
On the other hand, the European oil majors have been far more generous. Royal Dutch Shell's (RDS.A, RDS.B) yield has remained above 4% while BP's (NYSE:BP) yield has recorded a steady rise after its decline due to the oil spill disaster and now pays more than 5%.
As shown in the picture above, Shell has consistently paid healthy dividends. So far this year, the company has repurchased $3.2 billion of its stock and will buyback an additional $4 billion to $5 billion of shares.
Shell's stock is currently trading near 52-week lows, and this could be a good buying opportunity for long-term investors. Shell has not been able to post any significant increase in its Gulf of Mexico production. Its output from high margin deep-water fields at the Gulf has fallen by 41.2% from 2009 levels to 177,000 barrels per day in the previous quarter. However, Shell will significantly increase its production by 2014-15 due to developments at Mars-B, Cardamom and Stones projects. At their peak, the three projects alone can give a boost of 170,000 barrels per day.
Meanwhile, Exxon Mobil's share buyback has fallen from $5 billion in the first quarter of 2013 to $4 billion in the second quarter, and it has $3 billion planned for the current quarter. This clearly shows a falling trend. In short, low yield and falling buyback shows that Exxon Mobil has struggled to increase shareholder value.
Stock's Performance
Since the beginning of 2011, the U.S. oil majors have easily outperformed both Shell and BP; but Exxon Mobil's performance has not been satisfactory. Both Chevron and the S&P 500 ETF (NYSEARCA:SPY) have given a far better performance than the world's largest integrated oil and gas company. Over the last five years, Exxon Mobil has lagged behind Chevron and the SPDR S&P 500 ETF. A short-term comparison also reveals that Chevron and the SPDR S&P 500 ETF have outperformed Exxon Mobil.

source: Google Finance
Exxon Mobil and Chevron are the second and sixth largest holdings in the S&P 500 ETF. However, the fund itself is not energy-focused as IT (weight of 18.1%), financials (weight of 16.6%) and healthcare (weight of 12.8%) sectors form nearly half of the S&P 500.
If an investor is not sure about a company's ability to beat the broader market, then the safe bet is to invest in the broader market instead -- through the S&P 500 ETF. However, the fund will likely remain under pressure in the near term due to the Federal Reserve's decision to cut back on the stimulus package.
Conclusion
Exxon Mobil is one of the lowest dividend-paying oil major and its stock has also underperformed as compared to Chevron and the S&P 500. To increase shareholders' value, Exxon Mobil should readjust its dividend-buyback balance -- and there is an indication that this might happen in the near future.
An increase in dividend is a better way to boost shareholder value when a company's share prices are depressed as opposed to an increase in buyback expenditure. Oppenheimer thinks that this might happen in the near future. So If Exxon Mobil successfully readjusts its dividend-buyback balance, then, and only then, Exxon Mobil will become an attractive income play. Otherwise, investors are better off investing in Chevron or the undervalued British oil majors.
Sources: Relevant links provided in the article. All other data has been taken from Google Finance, Yahoo Finance, YCharts and Thomson Reuters.
Disclosure: I have no positions in any stocks mentioned, and no plans to initiate any positions within the next 72 hours. I wrote this article myself, and it expresses my own opinions. I am not receiving compensation for it (other than from Seeking Alpha). I have no business relationship with any company whose stock is mentioned in this article.