The Irish company Ryanair (NASDAQ:RYAAY) is not shy of self-publicity, as the two charts below (taken from their presentation to the market earlier in the Summer) show: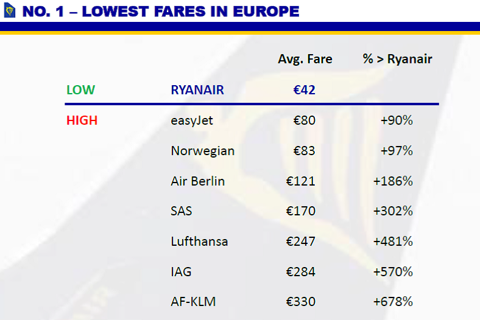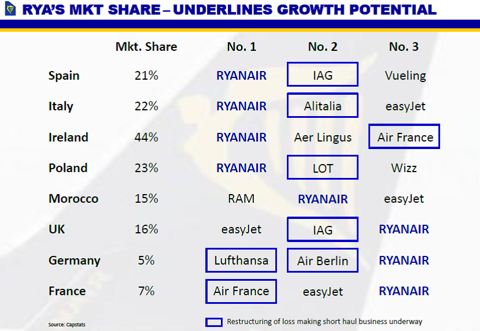 The market appears to have bitten back though, following a surprise trading update from the company where they highlighted that (using quotes from the conference call that accompanied the trading update):
'July bookings weaker than expected...are seeing weakness in September and October'
This meant that the company's profit after tax range estimate of Euro570-600m (equivalent to US$750-790m) was now expected to come in at the bottom end. Additionally, there exists a possibility that the numbers could come in less than Euro570m (US$750m)
So what is going on?
Competition? Yes:
'Lot of price discounting out there...responded with a range of lower fares and going to significantly upweight advertising...frankly what the peers do we couldn't care less'
Austerity? Yes:
'Some impact of austerity' as show by lower yields. Ryanair will also cut back winter capacity growth.
Foreign exchange? Yes, they noted the impact lower £ vs Euro which cut around 2% points off a 4% points fare increase (25% of bookings are in Sterling)
Better Summer weather hitting flight demand? Maybe:
'trying to isolate difficult'
Difficult comparison numbers with post-Olympics bounce last year? Maybe but don't overstate:
'think it is more than that...not huge but definite weakness'
The company was also not helped by the fact that analyst consensus was above the company's own guidance range. Changing these numbers has accounted for much of the 10%+ fall in the shares today.
So what can we grab hold of?
First, the company confirmed that there were no change to the shareholder returns planned (Euro400m or c. US$525m worth in the year to March '14, Euro600m or c. US$790m worth in the year to March '15). That's the benefit of having net cash on the balance sheet. Using the former figure, the company's return to shareholders yield rises above 5% below a Euro5.75 / US$42.50 share price.
Second, below a Euro5.50 / US$40 share price - and assuming that the company's profit after tax lower band figure of Euro570m/US$750m is hit - the company will trade on sub x10 EV/ebit
Given uncertainties remain, I prefer the latter of these two figures as an initial purchase level. There is some technical support/resistance around the (referring to just the US quote) the US$40 share price level.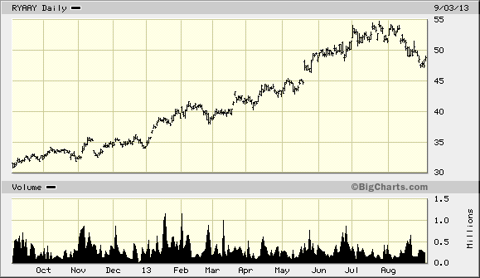 Low cost air fares is a good consumer theme, but it can be volatile especially for a company with patchy customer relations like Ryanair. Volatility can lead to opportunity though as I don't think the model is broken, rather a number of factors have combined to crimp profit hopes short-term.
Disclosure: I have no positions in any stocks mentioned, and no plans to initiate any positions within the next 72 hours. I wrote this article myself, and it expresses my own opinions. I am not receiving compensation for it. I have no business relationship with any company whose stock is mentioned in this article.