Company Overview
Tupperware Brands (TUP) manufactures and markets a wide range of kitchenware, cookware and microwave products, through direct selling. It also offers beauty and personal care products under the Armand Dupree, Avroy Shlain, BeautiControl, Fuller Cosmetics, NaturCare, Nutrimetics and Nuvo brands. Currently, all these brands are sold by Tupperware's independent sales force of more than 2.8 million. A whopping 90% of the company's sales occur outside the U.S. It generates 35% of sales from established markets, and the remaining 65% of sales are generated from emerging markets.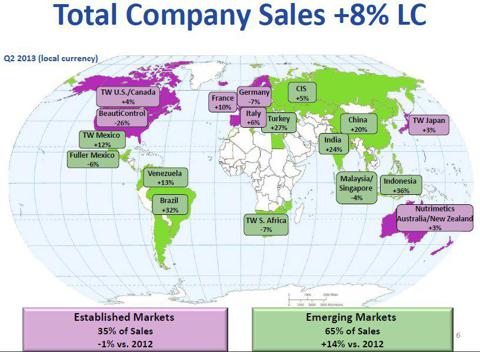 Source: Company data
In the last year, TUP has provided impressive returns to its shareholders. The stock has been trading between $52.36 and $88.18, providing shareholders with over 52%. One of the reasons behind the impressive returns is that it has observed more than 8% year-over-year growth in revenue due to rising demand in emerging markets. Emerging markets posted 14% year-over-year growth in the second quarter of 2013, which also indicates that the business in this region is performing well.
For this year, management has provided revenue growth guidance in the range of 4% -5% from 2012 revenue of $2.5 billion.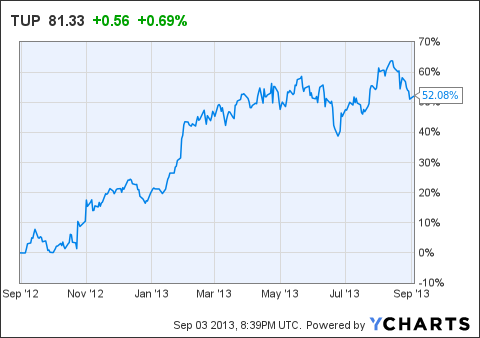 This impressive growth in the emerging markets for Tupperware has also allured some of the big hedge funds to take a position in the stock. Big names such as East Side Capital (RR Partners), managed by Steven Richman, holds the biggest position in Tupperware. It has a $49 million position in the stock, comprising 2.7% of its portfolio. Renaissance Technologies, managed by Jim Simons, also holds $38.8 million position, or the second largest stake in Tupperware. Some other hedge funds that hold large positions include Joel Greenblatt's Gotham Asset Management and D E Shaw.
While 2013 has proven to be a very satisfactory year for Tupperware, we believe there is still ample space for Tupperware's growth story. With long term fundamentals intact, emerging market sales and product innovation will continue driving the stock. Also, the recent fall in its stock price to $80 offers another interesting investing opportunity.
Emerging markets performing well
In the second quarter of 2013, revenue from the Asia Pacific segment was $209 million, up 13% year-over-year. The reason behind this was penetration of its products in the large population of countries including India and China, which have a rising middle class population. The company is experiencing an increase in the demand for its high quality and innovative products in the emerging markets including Indonesia due to the growing middle class population. According to a report by OECD, the middle class population in the Asia Pacific region is likely to grow from 525 million in 2009 to 1.74 billion by 2020. The company depends on the middle class population for sale of its products in the Asia Pacific region where India and China contribute around $100 million annually, and it has tremendous potential for growth in this region. Moreover, as demand grows, the company plans to introduce its high quality products sold in established markets to these markets. We believe this will aid the company in strengthening its presence in these markets among the middle class population.
· Indonesia
Indonesia is Tupperware's most profitable market for its kitchenware, cookware and BeautiControl products in the Asia Pacific region. A strong performance in the Indonesian market primarily drove second quarter results with an impressive 36% year over year rise in revenue. This rise was due to an increased demand from the middle class population in the country. The management believes business is on track to surpass the North America business segment, which is the company's second biggest market around the globe. It offers various brands, which include both the Tupperware and BeautiControl in this region. Sales in the North American region rose by 11% year over year to $99.7 million in the second quarter of 2013.
· China
Another market in the Asia Pacific region where the company has tremendous potential for growth is China. The Chinese market contributes around $90 million in annual sales, or about 3%, to its total revenue. Restrictive laws from the Chinese government on direct selling has forced Tupperware to adopt selling through retail outlets. China is Tupperware's only retail market, where it has around 4,000 outlets currently, which is a 25% rise from 3,200 in 2011. These outlets are owned by Chinese retail shop owners who sell products both by the company's "Party Plan" business model and through general foot traffic in stores. Under this unique business model, these owners market and sell the products by hosting a social event at the stores or at home.
Retail shop owners get started by signing an agreement with Tupperware and making an initial $5,000 investment for signage and initial inventory. Each owner is allowed to own up to 15 different outlets and the outlets are generally small and sell only Tupperware kitchenware and other durables.
Interesting to note here that Tupperware has penetrated only 40% of the Chinese market currently, and it plans to take the total number of outlets to 10,000 in the next two years. We believe that Tupperware can profit from the increasing number of outlets going forward.
Innovation - a key focus
Overall, Tupperware has always been focusing on developing new products and has generated about 25% of revenue from new products introduced in the past two years. The Tupperware brand name is obviously best known for food storage containers, but the company's housewares are much broader than simply food storage. Currently, less than one-third of revenue is generated from food storage containers. We believe, these high quality products along with food storage containers will continue to do well as long as it continues to innovate as they have been doing. Tupperware follows a unique approach to bring innovation to products. It takes suggestions from the distributors (sales force) and the in house employees who use the product. This helps the company alter the new products according to the need of the consumers. This will also aid the company to increase its sales in the Asia Pacific region due to growing demand from the middle class population for high quality products.
Markets With Short-Term Challenges
In contrast to the opportunities from emerging markets, Tupperware has been experiencing weakness in South Africa and Mexico. These effects are creating a negative impact on the sale of its products and the company is facing challenges in observing sales growth.
· Hiccup in South Africa
Following six straight years of growth, sales in South Africa declined in 2012 due to counterfeit products from China. In the first quarter of 2013, Tupperware noted that it was beginning to see an improvement in sales in the first quarter of this year but in the second quarter of 2013 sales declined 7% year over year. To tackle this problem it is working with the South African government to confiscate and destroy the counterfeit products. The company has also accelerated the introduction of new products to stay ahead of counterfeiters. We believe the growth in this market will take some more quarters as Tupperware is still in implementation mode.
· Transition in Mexico causing downfall
Sales in Mexico for the beauty product brand Fuller Cosmetics also declined by 6% year over year. This decline was due to the company's focus shift on transitioning its Fuller product offering to its more prestigious Armand Dupree brand while still maintaining the legacy Fuller brand. Tupperware is targeting the middle class population with its high-end Armand Dupree products. Tupperware is also making the product even more attractive by changing the Armand Dupree fragrance brand into a premium priced fragrance and skincare brand targeting aspiring consumers. As the company noted that this is a multi-year initiative, we believe once the product is popular amongst the middle class population it will result in revenue growth.
Associated risk
· The company might face some challenges to observe further growth in the Indonesian market as the government may increase the fuel price by 44%. As Tupperware products are mainly household products, it will negatively impact the population's consumer spending. The lower the consumer spending, the less the people will spend on household products. The implementation of increased fuel prices is uncertain, but we believe when it happens it may result in a sales downfall in the Indonesian market for the company.
· With 90% of its sales outside the U.S., Tupperware is highly exposed to currency fluctuations. A significant appreciation of the US Dollar against international currencies can negatively impact the company's earnings and margins from international markets. For example, the appreciation of the U.S. dollar against the Indian Rupee is currently impacting the sales from India. In this year, the U.S. Dollar has appreciated by 20% against the Indian Rupee. However, this hasn't affected the company's balance sheet since the business in India posted an increase of 24% year over year. We believe this appreciation will show its effects in the coming quarters of this year.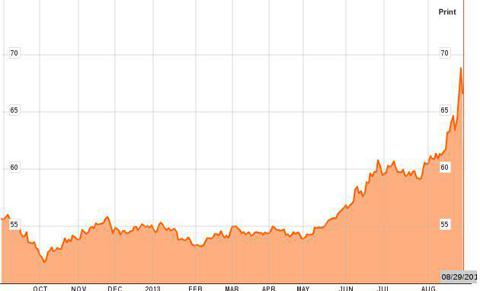 Source: Bloomberg
· We believe a fall in Tupperware's strong sales force size can prove to be a risk and can act as a headwind to secure revenue growth. A fall in sales force can weaken the distribution in the various markets where it follows the direct selling model. In the second quarter of 2013, sales for BeautiControl in North America noted a 26% year-over-year decline based on reduction in the sales force. This implies that the reduction in sales force can have a serious impact on the number of sales.
Efficient cash flow application
The company has been paying dividends over the past 13 years and has doubled its dividend payment from $0.36 in the fourth quarter of 2012 to $0.62 in the first and second quarter of 2013. In the second quarter of 2013, it returned $133 million to shareholders through a dividend payout of $33 million and a $100 million share repurchase. An excellent contribution from emerging markets, especially Indonesia, China and Brazil, has guided the company to observe a 30% year-over-year increase in free cash flow.
Tupperware repurchased 1.23 million shares with $100 million in the second quarter of 2013. It has been continuously engaged in the share repurchase program since 2007; it has repurchased 18 million shares for $1 billion. Going forward, it has $1 billion left under an authorization that was approved by the board in January this year and is expected to complete by 2017. Moreover, the company repurchased $100 million worth of shares in the first quarter of 2013 and has included $400 million of repurchases in its full year 2013 outlook. This reflects management's confidence in its operations, which will generate sufficient cash flow to fund the repurchase program as well as keep paying dividends.
| | | | |
| --- | --- | --- | --- |
| Company | Free Cash Flow (in million) | Outstanding Shares (in millions) | FCF/Share (times) |
| Tupperware | 9.8 | 51.71 | 0.189 |
| Newell Rubbermaid | (3.70) | 288 | (0.013) |
| Avon Products | 128.6 | 433.66 | 0.297 |
Source: Yahoo Finance and MarketWatch
We are comparing Tupperware's Free Cash Flow per Share, or FCF per share, ratio as of the second quarter of 2013, to its peers - Avon products (AVP) and Newell Rubbermaid (NWL). Investors consider FCF per share as one of the most important parameters to measure a company's earnings power because the cash flow per share takes into consideration a company's ability to generate cash. This is one vital ratio to determine whether Tupperware has enough free cash flow to support its dividend payments and repurchase shares. As shown in the table above, Tupperware's FCF per share is 0.189 times, which is high compared to Newell Rubbermaid's 0 times but lower than Avon Products' 0.297 times.
This signifies that Tupperware's business operations have been supporting it to generate an impressive amount of free cash flow in comparison to Newell Rubbermaid. The company is using its cash flow very wisely by distributing dividends and repurchasing shares as well as investing in new, innovative products.
Conclusion
Tupperware's business from established markets is not showing profitable numbers; it was down by 1% year over year in the second quarter of 2013. However, Tupperware has excellent opportunities from emerging markets that will offset the negative effects. Though TUP is currently trading at its peak, we expect it to rise even further this year based on the tailwind opportunities it possess.
Disclosure: I have no positions in any stocks mentioned, and no plans to initiate any positions within the next 72 hours. I wrote this article myself, and it expresses my own opinions. I am not receiving compensation for it (other than from Seeking Alpha). I have no business relationship with any company whose stock is mentioned in this article.