The new Nokia (NYSE:NOK) Lumia 1020, available exclusively through AT&T (NYSE:T) is a great piece of hardware. Running Microsoft's (NASDAQ:MSFT) mobile operating system, the handset merges the phone and semi-professional camera.
This is a marriage all of "us" amateur photographers should love. "Us", you say? Well yes, us. How many pictures (taken with your phone) have you e-mailed, texted, posted to Facebook, Instagram, Twitter, and more? I'd wager at least a few.
But, if you want to post those professional looking photos to Instagram from your brand new Lumia 1020... sorry, app not available yet. With 41 megapixels of camera, wouldn't it be great to send an Instagram, or record a Vine?
The good news is, July reports say an official Vine app is coming, but Instagram is no where in sight and we just lost YouTube. If knock off apps are your thing, they're out there, but I don't think this makes anyone in the Windows Phone ecosystem look good.
Lumia 1020 Channel Checks Disappointing
In August I optimistically wrote, 3 Reasons To Consider Nokia. Two of those reasons were growth in Lumia 1020 sales and Windows OS growth. As time has passed, the story has changed a bit. A lot of a bit, since Microsoft just bought Nokia's devices and services business.
I've visited a couple AT&T stores across the country, and every time I inquired about the Lumia 1020, I felt like the representative was talking me out of the phone. I understand AT&T's goal is to ensure customers are happy with their purchase, but Lumia 1020's aren't selling, and it's the app store's fault.
"If the Windows App Store had more app's we'd sell a ton of these" - Washington D.C area store.

"They make really good quality hardware, but there aren't enough Apps in the Windows OS" - Washington D.C area store.

"I'm not sure if these are selling well only because we are close to Redmond" - Seattle area store.
A Lumia 1020 Sales Opportunity
Here's a visual of the customer's experience entering a store and considering the new Nokia handset.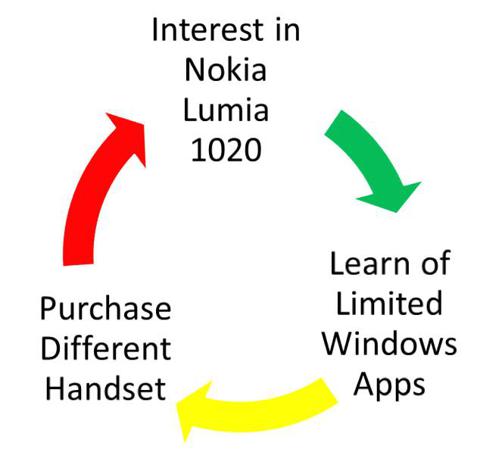 I still believe sales of the Lumia 1020 will grow, but the diagram above paints a troubling picture Microsoft needs to solve.
Dear ValueAct et al.
There is no doubt the Lumia 1020 is being heavily marketed. Unfortunately, ROI on the marketing dollar is lost at the AT&T store. As a result, a lot of people are being introduced to the Windows Phone OS, but they're not buying in (yet).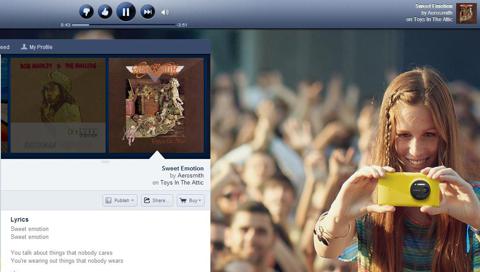 A Lumia 1020 ad, in the background of Pandora's (P) web-based streaming application.
The YouTube app was recently dropped from the Windows App Store, with Google citing a violation of their terms of service. Legal experts aside, isn't Skype available on Android and iOS? Microsoft needs to resolve these issues, and there must be a way.
Hopefully, ValueAct with their new board seat and Ballmer's departure will begin to drive some changes. Now that Microsoft own's the Lumia 1020, the stakes are a bit higher. The acquisition also brings in additional development resources, which if the software turned software-hardware giant leverages effectively, will help solve the problem at hand.
Microsoft App Store Growth
Metrostorescanner.com reported 114,887 apps available in the store as of 9/3/13, of which 196 were new, and 69 were updated. The following chart from metrostorescanner.com shows app store growth; blue is new app count, and green is an updated count.

This data is a bit conflicting based on a May 2013 blog post from Microsoft announcing the Lumia 928 which noted over 145,000 apps. Either way, it paints a clear picture.
As Paul Thurrott, a well know Windows blogger pointed out: the app story may be a quality, not quantity issue. This makes sense given the lack of Instagram, dropped YouTube, and soon to be coming (yet not here) Vine app.
Microsoft Post Nokia Acquisition
I think Microsoft is poised to benefit greatly from their acquisition of Nokia's device and services business. If the company can get their apps in gear, and continue growing Windows Phone OS marketshare, benefits stretch across the entire Win 8 ecosystem.
The following chart is taken from Microsoft's presentation attached to the Nokia acquisition press release.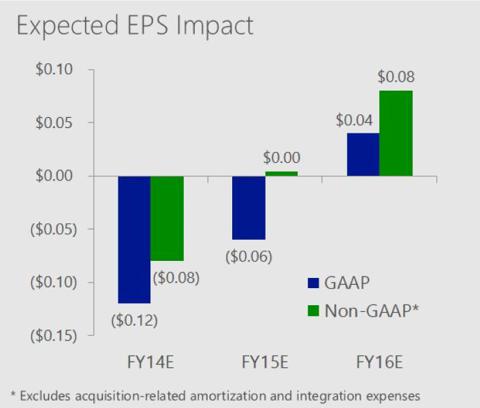 Microsoft may also be able to capture more and re-ignite enterprise customers, especially if consumers start buying the Lumia 1020 or other Windows Phone handsets. Nokia and WP8 are already making headway in the enterprise. Delta (NYSE:DAL) recently added 19,000 Nokia phone's to their fleet.
BYOD Drives Enterprise Adoption
BYOD (bring your own device), is a major force in Apple's (NASDAQ:AAPL) growth of phones and tablets in the enterprise. Consumers are the voice, and most consumers in the U.S today own the iPhone. IT departments fought long and hard since the beginning of the BYOD trend, but it's quite clear they are loosing the battle, and BYOD is gaining traction.
This trend plays a role in fueling Apple's enterprise growth. If the Nokia Lumia 1020, and other WP8 handsets realize their true sales potential, aided by an improved app store, this may help Microsoft in the battle against Apple for enterprise market share.
Consider Scaling Into Microsoft
I don't see any screaming reason to run out and buy Microsoft today. The company has been undergoing a leadership transition for quite some time; impacting employees, projects, and productivity. The short term doesn't offer many upward catalysts, and based on this article, it's clear they have some work to do.
But, with Ballmer moving on, ValueAct moving in, and improvement in app land, Microsoft could be on a completely new growth trajectory a year from now. I'll stay tuned to the story and look for long term buying opportunities.
Disclosure: I am long NOK. I wrote this article myself, and it expresses my own opinions. I am not receiving compensation for it (other than from Seeking Alpha). I have no business relationship with any company whose stock is mentioned in this article.