Oil and gas stocks have been hitting my stock screens the past week or two as oil has been on the rise and light crude is setting up a very bullish looking chart pattern with some big upside potential.
Checking out USO's chart, which is the ETF of the US OIL FUND traded on the NYSE is practically a mirror image of the Light crude futures commodity, we've got a very bullish ascending triangle pattern setting up here with lots of upside potential. I think we could expect USO to hit up the $60 range over the next several months based off of this chart pattern.
Technical Analysis: (Click to enlarge)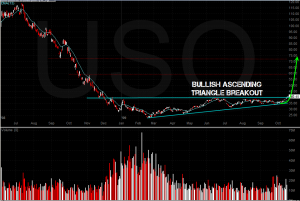 2 Small Cap Stock Picks I'm long in for the Black Service Portfolio : BQI, EXXI
EXXI: Long @ 1.88
Energy XXI (Bermuda) Limited, together with its subsidiaries, engages in the acquisition, exploration, development, and operation of oil and natural gas properties onshore in Louisiana and Texas and offshore in the Gulf of Mexico.
Current year EPS : -.007
Next Year EPS: .31
Current Year Revenue: $378.5m
Next Year Revenue: $578.6M
+53% Estimated Revenue Growth
Fous Fair Value: $4.56
Current Price: 1.88
+145% upside potential
Technical Analysis: (Click to enlarge)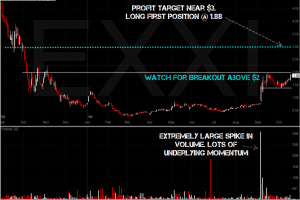 BQI: Long @ 1.27

Oilsands Quest Inc., a development stage company, engages in the acquisition, exploration, and development of natural resource properties in Canada.
BQI has not reported any revenues or profits. This stock is being held up by a bullish industry and is being pumped by stock promoters. On top of that, this stock has a very bullish stock chart setup which is currently bouncing @ support right now where i alerted the Black Service crew for entry @ 1.27. Initial profit target here is around $2/share.
Technical Analysis: (Click to enlarge)