The Chinese Internet market is in a transitional phase. An increasing number of users are shifting from personal computers to mobile devices to access the web. One of the major segments benefiting from this rise is the social networking segment, or SNS. According to the recent iResearch reports, the time spent on mobile SNS apps in May increased 77.7% from November of last year.
Sina (SINA) which is considered as one of top Internet companies in terms of mobile user base is focusing on the mobile platform to tap this growing market. The majority of Sina's revenue comes from advertising. In the past quarter results, advertising revenue accounted for nearly $120million of Sina's total revenue of $152.8 million, which amounts to about 80% contribution. It aims at aggressively targeting the growing mobile Internet usage and time spent on SNS applications to raise its advertising revenue further.
Based on its recent announcement to launch a chat application, it is clear that Sina plans to invest heavily in its mobile development. It is considering all the strategies possible to compete against Tencent Holdings' (OTCPK:TCEHY) -- WeChat, post its launch in the second half of this year.
No doubt, Sina has some strong fundamentals, which I am going to discuss further in this article, but, we at Fusion Research think that these fundamentals aren't enough to equate against the current over-valuation of Sina. Let's compare Sina with two other famous Chinese internet companies -- NetEase (NTES) and Renren (RENN). NetEase is into online gaming, online portal, and the wireless value-added services business.
The market caps of Sina, NetEase, and Renren are $5.25 billion, $9.70 billion, and $1.29 billion respectively. The mobile gaming industry price to book ratio is 4.3 times, while these three companies have 4.78 times, 3.37 times, and 1.15 times. Clearly, Sina is overvalued company in comparison to the other two.
Considering the enterprise valuation, or EV, NetEase has the highest value at $7.22 billion, followed by Sina at $4.25 billion, and Renren being the lowest with mere $499.82 million. Sina's record high EV to EBITDA ratio is an eye-opener, standing at 273.66 times. The reason for this is its low EBITDA, which was around $15 million in the quarter ended in April this year. Meanwhile, NetEase has a stable and impressive ratio at 4.09 times, while Renren continues to post a negative ratio of 5.60 times.
Sina's overvalued characteristics make us cautious regarding any further upside opportunity for its stock price in the coming 6 to 12 months' period, as it recently experienced its 52-week high price of $86 on August 13, 2013.
Mobile strategy remains the key focus area for Sina
The majority of Sina's strategies use the Weibo platform to penetrate the growing number of mobile users. In the past six months, it has taken many initiatives to improve its Weibo mobile application that provide users a better experience and capitalize on the growth opportunity. It started by improving the messaging system. Users will now be able to chat with more than one user on the go. The company is also targeting the popular mobile gaming aspect, and it will enhance Weibo's value added services revenue. It has upgraded its uploading system, where users can now upload multiple pictures in a single go.
In the past three quarters, Sina has been able to increase its share of mobile advertising in Weibo from 25% contribution in the fourth quarter of 2012, to more than 33% in the second quarter this year. We expect this contribution to continue to rise, based on Sina's initiatives to monetize the given opportunity.
When it comes to margins, the revenue growth is efficiently translating into income growth for the company in this fiscal year. The operating margin improved from the previous year's -18.6% to - 7% levels in this year's quarters.
Still, it is difficult to find this type of growth prospect in the coming period. It will definitely see improvement in the margins, but not at the levels projected by the company. Though a positive fundamental, it isn't enough to drive its stock price higher than its current high valuations.
Chinese Internet Giants also focus on this opportunity
The Internet companies in China are struggling to compete in terms of mobile-Internet user base. This also includes the search giant Baidu (BIDU), which is also known as the Chinese version of Google (GOOG). In June this year, it had a market share of 73% in China's search engine market, ahead of Qihoo's (QIHU) 360, which had mere 15.5% market share.
As per its fourth quarter of fiscal 2013, Baidu experienced a 25% growth in daily mobile users from the end of last year and reached to over 100 million users. Its primary focus was to penetrate this growing mobile platform. Its mobile revenue was 10% of its total revenue in the fourth quarter. To grow these numbers further, Baidu acquired 91 Wireless, a third-party mobile app store, last month. Through this acquisition, Baidu will gain access to 91 Wireless's more than 464 million daily users of, indirectly helping to grow its mobile user base. This indirectly indicates the growth prospects Baidu has in the near term, and the opportunity available for Internet companies in China.
Competitors adopting similar strategies
As mobile penetration becomes increasingly important, its competitor Renren has also increased their focus towards the mobile platform.
Of Renren's total traffic, around 65% came from active mobile users in the second quarter this year. To date, the company has only monetized 25% - 30% of its PC traffic. It sees a huge opportunity to monetize this growing mobile traffic with a better advertising inventory. To benefit from the mobile platform, it has already started testing sponsor tweets for mobile advertising. It will take 2-3 months for advertisers to see both the feedback and an efficient educational process regarding the usage.
We can expect more and more advertisers shifting towards this platform upon completion of the testing. Based on its own estimates, Renren will be able to showcase an extra revenue segment on its P&L statement named mobile-advertising revenue by the coming fiscal year.
Continued competition from WeChat
WeChat still dominates Sina's Weibo when it comes to mobile time spent by users. In the period between November 2012 and May of this year, the monthly time spent on WeChat increased from 130 million hours to 440 million hours. Among the social networking site applications, WeChat holds the No.1 position in China. Sina's Weibo holds the second position with 170 million hours' of mobile time spent in the same period, which is a 49.3% rise. This reflects that WeChat experienced 2.58 times more mobile time spent compared to Sina's Weibo.
This can also be due to the fact that, WeChat has gained popularity outside the Chinese market. In May this year it surpassed 50 million users outside China.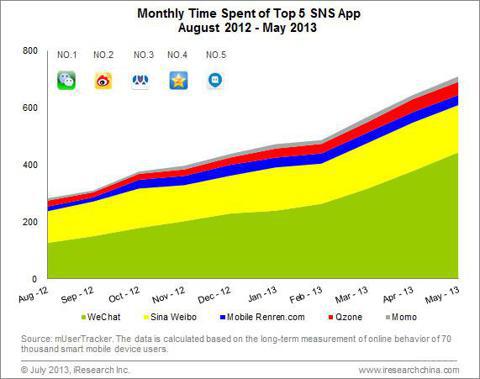 Source: iResearch
In response to this ongoing competition, Sina recently announced the launch of a new communication networking application, called as WeMeet, or Weimi in Chinese, which will be similar to WeChat, WhatsApp, and Kakaotalk. It will have features like a news feed, picture sharing, and chat. We can expect this application to launch in this quarter, and it will provide another monetization opportunity for Sina. This will also help Weibo to compete equally with WeChat once the application launches. However, the success of this initiative is still questionable, seeing the saturation in this market already.
Declining MVAS
Overall, Sina's advertising segment is growing steadily, which has attracted the management's focus. This shift in focus has led to a decline in its interest to improve its mobile value added services, or MVAS, segment. It took five quarters for the company's MVAS segment to post revenue of $19 million in the second quarter this year. During the previous four quarters, the segment posted revenue between $13 million to $15 million, indicating minimal revival. There are various reasons attached to this low-to-stagnant behavior.
Any change in regulations or policies of mobile network providers highly affects this segment. It has to stay highly dependent on network-providing companies like China Mobile (CHL), China Unicom (CHU), and China Telecom (CHA). What also matters here is the network operators' ability to offer new services or channels in order to meet the requirements of new innovations in mobile applications.
Sina faces direct competition from companies like Kongzhong (KONG), TOM Online, and Linktone (LTON), which are similar types of service providers. Each of these companies has good brand recognition and possesses better financial resources than Sina. Additionally, the company faces threat from new entrants, or start-ups, which may incur operating losses in the start to compete and gain market share within the industry.
Sina's interest in this segment has declined due to the past 12 quarters' gloomy revenue pattern. Also, MVAs don't provide high margins compared to the company's advertising segments. Even Sina's CEO Mr. Charles Chao stated last year:
"This business is of very low operating margin. The decline will not have much impact on our bottom line. Given the ever tightening environment and the shift of user base to smartphones, we may see this business further scale back in the future."
Overall, we don't see Sina adopting any strategies to focus or improve this segment. With lower margins and various risks attached to this segment, we don't expect any growth or revenue-boosting opportunity going forward.
Bottom line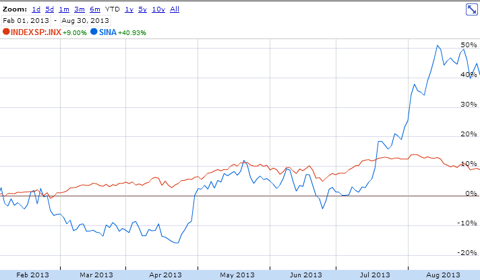 Source: Google Finance
Looking at the eight months period, Sina's stock price has performed well. It outperformed the S&P 500 index, which displayed about 19% growth in the same period. This reflects Sina's ability to achieve investor confidence with its improved results in the June ending quarter. However, we do not expect any similar performance in the upcoming quarters. We recommend a sell on this stock.
Disclosure: I have no positions in any stocks mentioned, and no plans to initiate any positions within the next 72 hours. I wrote this article myself, and it expresses my own opinions. I am not receiving compensation for it (other than from Seeking Alpha). I have no business relationship with any company whose stock is mentioned in this article.