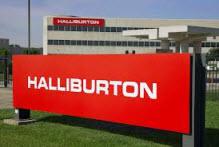 Executive Summary
Halliburton Company (NYSE:HAL) is up 40% year-to-date. In my article published in February of 2013, I suggested buying the stock. The stock was trading for $40.72 at the time. Since, the stock is up over 20%. In the article, I stated the stock was on the cusp of a secular growth cycle impelled by the proliferation of fracking across the globe. The fact of the matter is this is just the beginning of the run for Halliburton. In the following sections I will perform an analysis of the stock and lay out my bull case for the company going forward. See chart below provided by Finviz.com.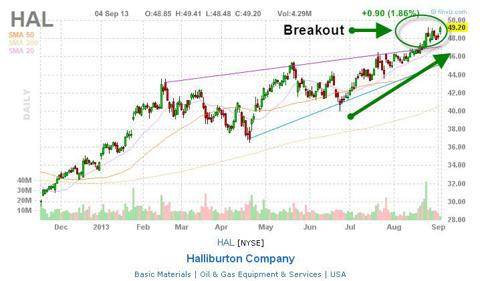 Recent Earnings Results Quick Recap
On 7/22/2013, Halliburton reported second quarter 2013 earnings of $0.73 per share. This result was in-line with the consensus of the 32 analysts following the company and missed last year's second quarter results by 8.75%. The next tentative earnings announcement is expected on 10/21/2013.
Market Comparison

Halliburton looks great in comparison to the industry, sector and the S&P 500. The two major bright spots are Halliburton's forward P/E ratio and its PEG ratio. Halliburton's forward P/E ratio is 13 vs. the industry average of 16 and the S&P 500 average of 17.6. Halliburton is essentially trading at a 30% discount according to P/E comparisons. Halliburton's PEG ratio is 1.2. A company with a PEG ratio of around 1 or less is considered to be highly undervalued. Furthermore, Halliburton's PEG ratio is substantially less than its peers or the S&P 500.
Fundamental Peer Comparison
Please review the following analysis of key fundamentals regarding Halliburton vs. its peers and industry averages. The tables were provided by Scottrade.
Profitability

Halliburton is underperforming the industry and its peers with regard to the net profit margin. With gross margins less than its peers and far below the industry average, Halliburton needs to gain traction and improve profit margins by cutting costs and focusing on the most profitable endeavors. The company is profitable which is good.
Valuation

Halliburton looks good when it comes to valuation. The price to tangible book comparison has Halliburton trading substantially lower than its peers and on par with the industry average. The company is trading for 3.3 times tangible book value while its peers are trading for 4.9 and the industry average is 3.0.
Growth

Halliburton's five-year sales growth outshines its peers and the industry. Nevertheless, EPS growth over the last two months has been abysmal. The company is one of the few in the oil and gas sector that pays a dividend with a current yield of 1.04%.
Financial Strength

The company's long-term debt to equity ratio is on par with its peers and the industry average. The payout ratio appears sustainable. The company is in good shape financially.
Management Effectiveness

Management has been effectively allocating resources. The positive ROI, ROE and ROA statistics prove that out. Nonetheless, there is always room for improvement. Halliburton is on par with its peers and the industry average currently.
Positive Catalysts
North American Fracking
North America is the dominant source of revenue for Halliburton. With the proliferation of new technologies and techniques a vast new market has opened up for Halliburton. Halliburton practically invented fracking. Everyone always knew North America had an inordinate amount of oil and gas locked within shale rock formations for years but no one knew how to extract it profitably. Halliburton was one of the companies on the cutting edge of newly developed fracking techniques that made the extraction feasible. There is plenty of work left to be done. Please review the map below provided by PacWest Consulting partners.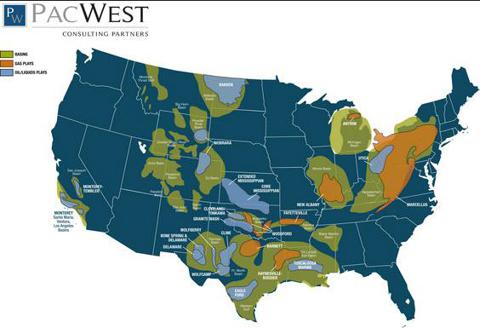 Global Growth
Halliburton has a strong market position in North America but is a global player in the oil and gas industry. In 2007, Halliburton moved its corporate headquarters from Houston to Dubai. This was a smart move. Even though North America has an extraordinary amount of growth in front of it related to oil and gas drilling, the rest of the world is starting to catch up. Halliburton is in a great position to take advantage of this growth. With the experience and knowledge it has gained over the last few years in North America, I am sure its services will be in high demand across the globe for years to come. Furthermore, these new projects should offer higher profit margins as well. The company has had time to work through many of the inefficiencies in the processes at this point.
Highly Diversified
Halliburton does it all. The company has a myriad of products and services for oil and gas companies. The company has expertise in both on and off shore drilling all over the world. Not many companies can say this.
Downside Risks
Reduced Drilling Activity
If drilling activity wanes across the board this will be bad news for Halliburton. This scenario seems unlikely but it is a possibility. If global growth falls into recession, demand for oil and gas will plummet. This causes exploration companies to pull back on drilling which has a direct effect on Halliburton's bottom line.
Political Risk
Hydraulic fracturing or fracking as it is more commonly known has its detractors. There is still a debate going on in the U.S. and across the globe as to whether fracking is bad for the environment. Many people believe it contaminates ground water. It seems as though the science is on the side of the oil and gas industry at this point, nevertheless, you never know what can happen when politicians get involved. This risk is still evolving.
Conclusion
Halliburton's profit streams are stable and growing. The company is one of the oldest and most trusted oil service companies in the business. Halliburton practically invented fracking. With the proliferation of new unconventional shale plays being found around the world, you can bet your bottom dollar Halliburton will be extremely busy for the next several years. Several important fundamentals prove this out. For instance, revenue growth is up 3.5% year-over-year. Furthermore, the gross margin, net margin and return on equity are up 14.6%, 8.8% and 12.7% over the last four quarters, respectively. With the turmoil in the Middle East seemingly getting worse, I don't see a slowdown in drilling or a price drop in oil and gas on the horizon. All these factors taken as a whole paint a pretty picture for Halliburton's future earnings potential. The stock is a buy here. If you chose to start a position I would layer in over time to reduce risk.
Disclosure: I have no positions in any stocks mentioned, and no plans to initiate any positions within the next 72 hours. I wrote this article myself, and it expresses my own opinions. I am not receiving compensation for it (other than from Seeking Alpha). I have no business relationship with any company whose stock is mentioned in this article.
Additional disclosure: This is not an endorsement to buy or sell securities. Investing in securities carries with it very high risks. The information contained within this article is for informational purposes only and is subject to change at any time. Do your own due diligence and consult with a licensed professional before making any investment.