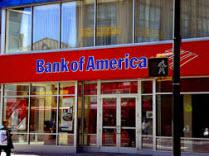 Executive Summary
Bank of America, Inc. (NYSE:BAC) has been moving up at a steady pace this year. The stock is up 22.95% year-to-date, yet has waned in recent weeks. The stock is down 4% over the last month and is currently resting on the 50-day SMA support line. In my article published in July of 2013, I suggested taking profits in the stock prior to earnings. In the article, I gave several reasons the stock may tank. In retrospect, I was wrong. I placed too much importance on short-term factors while not paying attention to the big picture, Bank of America is still trading at bargain basement prices. Please review the following chart provided by Finviz.com.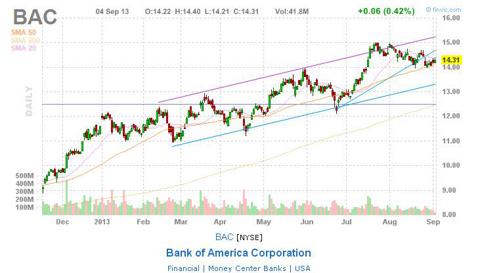 At present, I have recovered from my temporary insanity and I'm looking to get back into the stock. In the following sections, I will perform a review of the stock and lay out my bull case going forward.
Recent Earnings Report Quick Recap
On 7/17/2013, BAC reported second quarter 2013 earnings of $0.32 per share. This result beat the $0.25 consensus of the 30 analysts covering the company and beat last year's second quarter results by 88.24%. The next earnings announcement is expected on 10/14/2013.
Market Comparison

Bank of America looks solid in comparison to the industry, sector and the S&P 500. The discount in Bank of America related to the P/E ratio comparisons is telling. The stock is trading for a 40% discount to the S&P 500. Bank of America's EPS growth rate over the past year has grown by leaps and bounds.
Fundamental Peer Comparison
Please review the following analysis of key fundamentals regarding Bank of America vs. its peers and industry averages. The tables were provided by Scottrade.
Profitability

Bank of America still looks poor when compared to the industry and its peers with regard to profitability. With gross margins less than the industry average and its peers, Bank of America has room for improvement.
Valuation

Bank of America looks good when it comes to valuation. Bank of America has a price to tangible book value ratio of 1.0. This is notably cheaper than its peers and the industry average. With banks historically trading for two times tangible book, there is still plenty of room to run. On the other hand, Bank of America is trading for 19.5 times free cash flow. This is significantly higher than its peers and the industry average.
Growth

EPS and sales growth are the company's main points of concern. Sales growth over the past five years is lacking. Nevertheless, during the past year, earnings growth has outpaced its historical five-year growth rate. This is a good signal management is on top of the issue. The company has done a good job of growing the dividend.
Financial Strength

Bank of America has plenty of liquidity and cash reserves. The issue for Bank of America is how to use the cash wisely and stay on a path to increased profits. Furthermore, an 8.4% payout ratio regarding the current dividend is significantly below its peers and the industry average. Nevertheless, this is an area of opportunity for the bank. As the company improves cash flow and profitability, it will be allowed to return more wealth to shareholders.
Management Effectiveness

Management's effective use of company profits and assets is probably the most important data to analyze when deciding to invest in a company. Bank of America's management is doing a fair job regarding ROA, ROE and ROI, but there is always room for improvement. The company is currently performing somewhat below its peers and the industry average.
Positive Catalysts
Housing Market Beats Expectations
The National Association of Realtors recently stated that existing home sales jumped 6.5 percent to an annual rate of 5.39 million units. The housing market is heating up far beyond expectations. Bank of America's value is highly levered to the home price recovery due to the amount of mortgage assets on the books as well as new mortgages. I posit the housing market is about to heat up much more than current expectations. This bodes well for Bank of America on several levels. The company should experience increasing revenues and profits as well as improving the balance sheet.
Profit Margins are Expanding
The current banking environment involves better loan growth, improving net interest margins and a steepening yield curve. All these factors lead to higher profit margins. This is all good news for Bank of America's bottom line.
Downside Risks
Housing Market Wanes
The U.S. housing market looks strong now, but it is not a slam dunk. If we go into another stock market downturn or mortgage rates spike even higher, Bank of America may suffer. Furthermore, there are a vast number of loans still on the books where people are several months in arrears. If the economy takes a downturn and some of these people get laid off, they may default completely.
The Eurozone Implodes
The Eurozone sovereign debt debacle could finally implode causing another credit crunch large enough to disrupt the global economy. Things are quiet now, but the Eurozone is still in recession for the most part.
Geopolitical Risk
Bank of America's stock may go lower as investors await the resolution of the current tensions over Syria. I see this as a buying opportunity.
Upcoming Debt Ceiling Debate
The U.S. government does not solve its debt issues set for debate in October. This could cause the US to go back into recession.
Conclusion
I see major opportunity ahead for Bank of America shareholders as the efforts by management to turn this behemoth around gain traction. With the yield curve steepening and Bank of America cutting costs, I posit the bank will become much more profitable. As increasing profits begin to pad the bottom line, the bank will be allowed to increase distributions to shareholders. This development could attract an entirely new cadre of investors driving the stock even higher. If you choose to start a position in the stock at this time, I suggest layering in a quarter at a time to reduce risk.
Disclosure: I have no positions in any stocks mentioned, and no plans to initiate any positions within the next 72 hours. I wrote this article myself, and it expresses my own opinions. I am not receiving compensation for it (other than from Seeking Alpha). I have no business relationship with any company whose stock is mentioned in this article.
Additional disclosure: This is not an endorsement to buy or sell securities. Investing in securities carries with it very high risks. The information contained within this article is for informational purposes only and is subject to change at any time. Do your own due diligence and consult with a licensed professional before making any investment.