Results from Cytokinetics (NASDAQ:CYTK) and Amgen's (NASDAQ:AMGN) ATOMIC-AHF Phase IIb trial of the heart drug, omecamtiv mecarbil were presented Tuesday in a late breaking clinical trials session at the European Society of Cardiology Congress in Amsterdam by world renowned cardiologist Dr. John Teerlink from UCSF. The trial was a randomized, double-blind placebo-controlled study of patients hospitalized with acute heart failure (AHF) treated intravenously for 48 hours with omecamtiv mecarbil or placebo. The study enrolled 613 patients with approximately half receiving placebo and the other half divided into three dose escalation cohorts. The trial was carefully and specifically designed to evaluate the safety, pharmacokinetics, pharmacodynamics and efficacy of the IV version of the compound in patients with AHF with the primary endpoint goal being an improvement of dyspnoea (difficulty breathing) in at least one dose level.
Like most investors, I was alarmed when the news headlines appeared declaring the trial a failure for not reaching its primary end-point. In reality, the results were exactly what Cytokinetics, Amgen and others, including Seeking Alpha contributor Smith on Stocks, had anticipated. Having a PhD in the biomedical sciences and having been involved in analyzing clinical trial data, even I sometimes find clinical trial results confusing. I can only imagine how the typical investor feels. For those that understand the latest results, the data is actually encouraging and certainly not worthy of the 25% drop traders inflicted on the stock. To understand why investors should be optimistic of the results, one needs to closely examine each individual outcome.
Wall Street and the press have ignored all secondary goals of the study, which were all positive, and focused their attention on the failure to achieve an improvement in dyspnoea. To have achieved this goal in AHF patients after only a 48 hour treatment with the drug would have been groundbreaking. At first glance the results illustrated that the omecamtiv mecarbil treatment groups were not statistically different in dyspnoea than the pooled placebo group. However, one must understand that only the higher dose of the third cohort was predicted to have a physiological effect to begin with. Therefore, it is not surprising that the lower doses were similar to placebo. Surprisingly, when one analyzes the higher dose cohort 3 there are actually very encouraging dose and concentration related trends on dyspnoea response. In fact, when the cohort 3 placebo group was isolated from the other cohorts the response was statistically significant (p-value = 0.03) with 51% in the treatment group improving compared to 37% in the placebo group, representing a 41% improvement in treatment effect.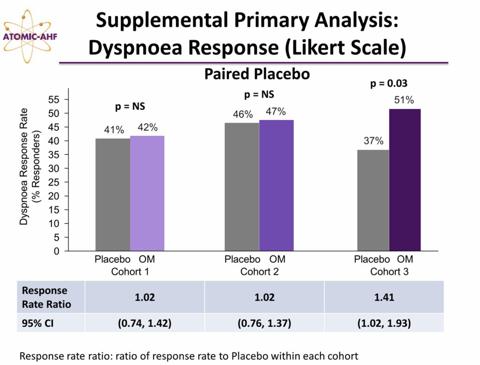 This result is very encouraging as most thought the short time of treatment would not reveal any indication that dyspnoea was improving. In accordance, Dr. Teerlink expressed his optimism in the results and highlighted that the study "…was not powered or designed around the efficacy endpoint."
For Amgen and Cytokinetics, the main focus of the trial was to evaluate several secondary endpoints that assess dose related trends and safety to help fine tune the dose for a more extensive Phase III trial. Again, omecamtiv mecarbil appears to be functioning as expected, especially at the physiological higher dose in cohort 3. The incidence of worsening heart failure within 7 days of treatment was 17% in the placebo group compared to 9% in the cohort 3 treatment group. In addition, systolic ejection time increased in a concentration dependent manner in patients with heart failure in the same manner as seen previously with healthy volunteers. Most importantly, the drug was deemed safe, even at the highest concentration, with a similar rate of adverse events observed between placebo and treatment groups.
Increasing heart rate and arrhythmias are a big concern when using compounds that improve cardiac performance. A very interesting result from the trial was the finding that there was a reduction in Supraventricular Tachyarrhythmias and Ventricular Tachyarrhythmias, rapid heart rhythm originating at the atrioventricular node and ventricular tissue respectively, in patients treated with omecamtiv mecarbil compared to placebo. In fact, Supraventricular Tachyarrhythmias were reduced 50% in treated patients compared to controls.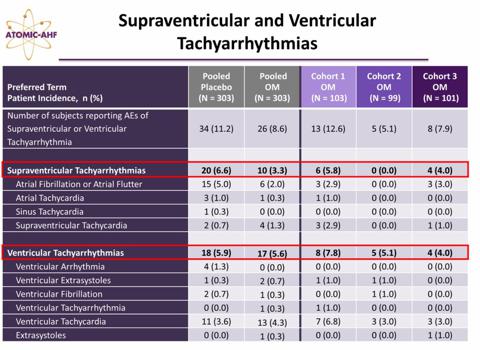 Dr. John Murray, Professor of Medical Cardiology at the University of Glasgow, was especially interested in the reduction in atrial arrhythmias and heart rate findings. The reason he finds this data so appealing is because drugs that increase heart rate almost always increase mortality and drugs that don't affect heart rates usually don't do much for treatment. Dr. Murray points out that all current drugs with favorable clinical outcomes reduce heart rate as seen in this omecamtiv mecarbil trial.
Ultimately, the trial was a success. It illustrated what both Amgen and Cytokinetics wanted to see. First, the IV drug was safe and well tolerated. Second, the drug functioned in heart failure patients as it did in previous studies with healthy controls, and third there was a trend towards improving dyspnoea relief and reducing worsening heart failure. This data will be paired with the COSMIC-HF data to determine the progression to Phase III, which I anticipate will occur. The additional $25 million investment by Amgen in Cytokinetics to expand the rights to omecamtiv mecarbil to Japan in the middle of June after it knew the results of this trial reaffirms my confidence that it is pleased with the data.
I seriously believe this is a clinical trial result that Wall Street has misinterpreted. This is illustrated by the comments from those intimately involved with knowledge of the program following the results.
Dr. Sean Harper (Executive Vice President of Research and Development at Amgen) - "Although ATOMIC-AHF did not achieve its primary efficacy endpoint, we are encouraged by the data from this study."
Robert Blum (CEO of Cytokinetics ) - "We are pleased with the results from ATOMIC-AHF."
Dr. John Murray, MD (Professor of Medical Oncology, University of Glasgow) - "So all in all, as a Phase 2 trial this looks really as promising as I think that you can get at this stage in the development of drug for acute heart failure and I've looked at many other sets of Phase 2 data that haven't looked quite as encouraging... I do see this drug having immense potential in an area where there is a huge unmet need."
Dr. John Teerlink, MD (Professor of Medicine, UCSF) - "We are pleased to see as much efficacy signal as was apparent, and the study provides essential data to inform the dosing regimen for future Phase 3 trials of the intravenous formulation."
Echoing analyst Leerink Swann, who maintained an Outperform rating on the stock and $20 price target, and Simos Simeonidis of Cowen & Co., the 25% haircut received after the results were made public gives investors a unique opportunity to catch shares at a cheap price. Dr. Teerlink summarized his enthusiasm of the omecamtiv mecarbil results stating:
"Omecamtiv mecarbil is probably one of the most interesting new chemical entities in cardiovascular medicine now and consequently, expectations are very high in the scientific and lay communities. Physicians have struggled for decades to develop agents that improve cardiac function without increasing arrhythmias or mortality; omecamtiv mecarbil has the potential to be such an agent."
It is important to note that Dr. Teerlink is a member of the FDA cardiovascular advisory committee.
As is typical with media coverage in biotech, unseemly articles detailing the results were released before the data and goals of the study were completely understood by those not familiar with the history of the trial. As much as I respect the general media's opinion (sarcastic), I think I'll make my investing decisions based on the favorable outcome opinion of the two cardiologists involved in the study, with over 50 years combined experience and who are experts in analyzing heart failure clinical trial data.
With a very promising pipeline -- including the skeletal muscle activator Tirasemtiv, which has been granted fast track status by the FDA and is currently in Phase II trials for ALS treatment -- high profile partnerships with both Amgen and Astellas, and on the path to a Phase III trial with omecamtiv mecarbil, I believe the stock is significantly undervalued with a $225 million market cap. I expect the stock to bounce off these low levels back to the $10 range, representing a ~25% increase, in the coming weeks as investors begin to properly digest the data and realize the market was wrong on this one.
Disclosure: I am long CYTK, and I have increased my position following the recent release of Phase IIb data. I wrote this article myself, and it expresses my own opinions. I am not receiving compensation for it. I have no business relationship with any company whose stock is mentioned in this article.