Realty Income (NYSE:O) announced last night that Tom Lewis will be retiring and John Case will take over as CEO. From the press release:
Realty Income Corporation announced that its Board of Directors has appointed John P. Case to the position of Chief Executive Officer of the company. Mr. Case, who has served as President and Chief Investment Officer, succeeds Tom A. Lewis, who decided to retire as the company's CEO. Mr. Lewis, who had been CEO since 1997, will remain at the company until early next year to assist with the transition, and will continue to serve as Vice Chairman of the company's Board of Directors. With this appointment, Mr. Case becomes only the third CEO in Realty Income's 44-year history.
During the course of Mr. Lewis' tenure at Realty Income, the equity has returned 15% annually (with dividends reinvested) versus 5.5% for the S&P500 (NYSEARCA:SPY). To give you a feel of the performance, here is a snapshot of the price, dividend yield and the yield on the ten year Treasury during Mr. Lewis' tenure: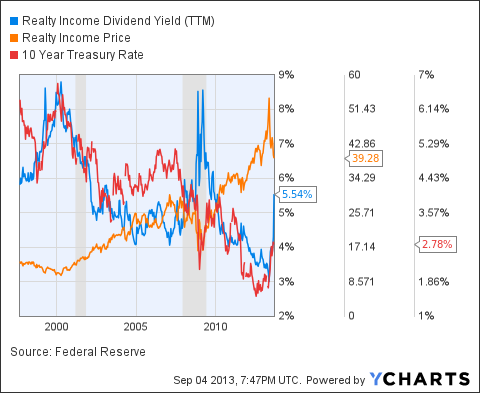 O Dividend Yield (TTM) data by YCharts
Approximately a year ago, I penned an article stating why I was selling Realty Income's shares. Since that time, they have underperformed the Vanguard REIT Index ETF (NYSEARCA:VNQ).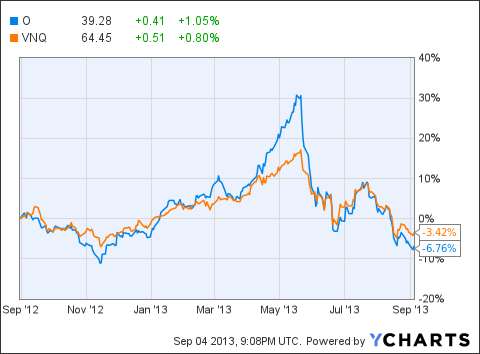 In my article, I stated:
Bottom Line: While I admire Realty Income and the REITs management, love is for people and pets, not positions. I have done well with my investment in the company and hope to be involved in the equity again, but current valuations make me nervous and as a result, it is time to sell the position.
Keep in mind that this is one year out of many the company has been publicly traded. As I stated above, I like the company and its management, just not its price.
I was hoping that the stock would sell down on the news of Lewis' departure and allow me to pick it up cheaper, but that didn't occur. Realty Income has never truly been a one-man show, and it has decent bench strength available. As a matter of fact, the equity was up today, showing the market's confidence in the REIT.
So the question remains "is Realty Income worth the premium?" My answer continues to be "NO." A snapshot of the REIT versus its peers National Retail Properties (NYSE:NNN), Lexington Realty Trust (NYSE:LXP), American Realty Capital Properties (ARCP) and Agree Realty (NYSE:ADC):

Click to enlarge
The REIT certainly isn't cheap. Given its relative price, has it outperformed its peer group over the last year?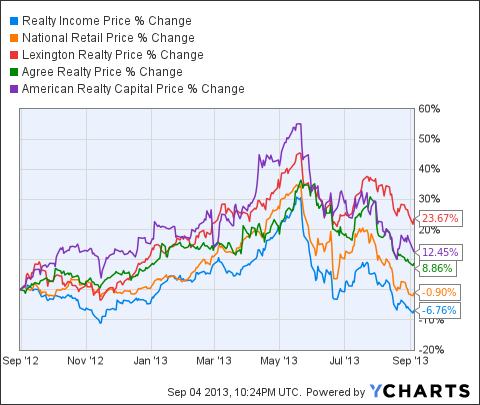 No, it has underperformed its triple net peers. Importantly, however, over the longer-term - say, five years - it has outperformed its peers significantly: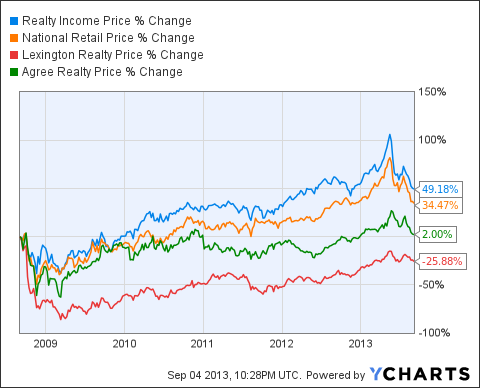 This outperformance is a testament to its business profile, conservative financial profile and, obviously, management.
Let me put forth the following points:
The REIT has changed its focus to investment grade tenants (lower cap rates),
Management has changed at a pivotal time from a business environment point of view (rising rates, falling cap rates...) as well as a changed landscape (portfolio buying, not property)
Realty Income still has a conservative financial profile.
Again, I have to ask "Is Realty Income worth their premium?" Again, I have to answer "NO." Now, I know this will draw fire from the die hard Realty Income investors, but as with a year ago, I think it needs to be said.
Bottom line: I still like Realty Income, I just wouldn't buy the shares at these levels.
Disclosure: I am long O. I wrote this article myself, and it expresses my own opinions. I am not receiving compensation for it (other than from Seeking Alpha). I have no business relationship with any company whose stock is mentioned in this article.
Additional disclosure: Long O preferred.