Himax Technologies Inc. (NASDAQ:HIMX) is a fabless semiconductor solution provider dedicated to display image processing technologies. It is significantly undervalued with a PEG of .2254, minimal debt, and a 1-year forward P/E of 10.29.
HIMX 6-Month Chart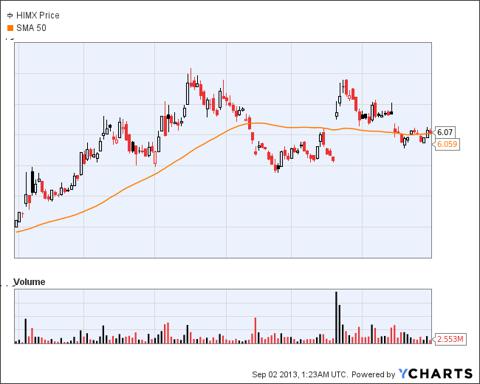 Click to enlarge
Himax Technologies' small and medium flat panel displays are experiencing demand growth due to the fast growing smart phone sector and increasing popularity of tablet devices. Himax's largest revenue driver since 2011 has been steadily increasing. The continued growth of the tablet PC and smart phone segment provide excellent prospects for continued revenue expansion (+32% Y/Y). In my opinion, the tablet/smartphone market will continue to see growth as the hardware used to develop these products continues to evolve and consumers purchase new devices to replace older models. Himax has pointed to increased price competition in the low end market for these devices.
Himax Technologies Inc. provides speculative action providing an excellent opportunity for aggressive price appreciation. Google (NASDAQ:GOOG) recently purchased a 6.8% stake in Himax Display Inc. (HDI), one of Himax Technologies' subsidiaries, which is focused on liquid crystal on silicon chips (LCOS), which are used in the production of wearable computing such as Google Glass. Google also retained the right to purchase up to a 14.8% stake in HDI. The catalyst:
Google Glass is expected to be released in 2014.
Himax Technologies Inc. pays a ~4% dividend. It is not often that you get to get paid to speculate. Further, the stock provides a value play on Himax's tablet and smart phone products, as well as its flat panel display businesses, which admittedly seems to be shrinking (-19% Y/Y). Himax provides exposure to the Chinese smart phone market, which is expected to grow tremendously.
Is this the quiet before the storm? On December 31, 2009, Cirrus Logic (NASDAQ:CRUS) was trading at 6.82 per share. From that point it rallied to $44.18 because of its relationship with Apple (NASDAQ:AAPL) and its integration into the iPad/iPhone:
Cirrus Logic December 31, 2009-December 31, 2012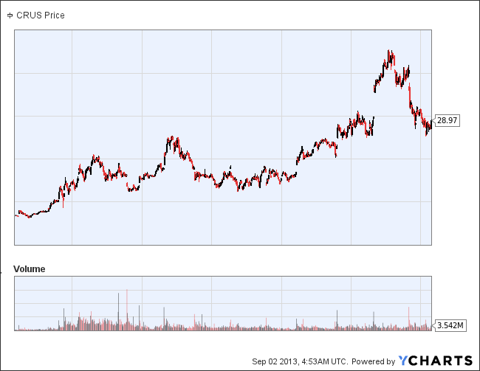 CRUS data by YCharts
Cirrus Logic develops high precision integrated circuits for audio and energy products. A large percentage of its profits (between 75%-90%) come from one customer, Apple, who uses Cirrus' audio chips in its mobile devices. As a result of this one small component, Cirrus Logic's price appreciated
Himax produces a Liquid Crystal on Silicon Chip (LCOS). The LCOS chip is an integral part of wearable computing devices, thus a main component in the Google Glass hardware ecosystem. Google invested specifically in Himax to work on developing this chip. The upcoming growth of the wearable computing market is going to open up the door for LCOS technology, Google or no Google. It was pointed out that they could be used in glasses for the new Xbox (*warning* internet rumor used to convey potential, not confirmed fact). As a result, Himax will have some pricing power and other potential customers for its LCOS product, allowing it to expand margins.
Himax as a Derivative of Google
Here is a graph of Google's PEG Ratio and Himax's PEG Ratio: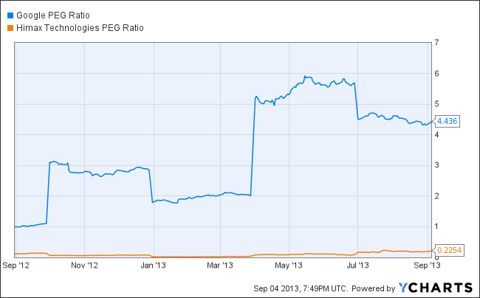 Click to enlarge
The difference between the two is rather large, but considering the significance, I believe, the market will place on the success of Google Glass, it provides a humongous amount of leverage on Google stock. If your main investment thesis on Google involves Google Glass' succeeding, Himax is a cheaper option considering you will not pay for the search engine/advertising and Android segments of Google's business. However, there is more risk with Himax.
Risks
Himax stops paying its dividend.
Google Glass fails, triggering a sell-off.
The wearable computing trend is ahead of its time.
Himax and Google terminate their relationship.
Himax is unable to produce product at a rate to keep up with glass demand.
More competitive LCOS technology is developed.
Extremely low profit margins on LCOS.
Fat tails can be awesome but also can cause a lot of heartache.
Overall market risk/Icarus Risk.
Conclusion

Himax Technologies Inc. is a company involved in the three most widely adopted devices in the past 10 years: the flat panel television, the smart phone, and the tablet computer. It is now in the position to profit from the next device, the wearable computer, via its LCOS technology.
Disclosure: I am long HIMX, AAPL. I wrote this article myself, and it expresses my own opinions. I am not receiving compensation for it (other than from Seeking Alpha). I have no business relationship with any company whose stock is mentioned in this article.