Shares of mortgage real estate investment trusts (REITs) have been battered since May of this year primarily due to concerns over Federal Reserve tapering and an increase in interest rates. As interest rates have backed-up over the last few months due to Federal Reserve tapering fears, mortgage REIT dividends have been reduced and book values have fallen. After significant market value declines, I believe it is the right time for investors to add to their holdings or initiate new positions in certain mortgage REITs. Since May 2013, the iShares Mortgage Real Estate Capped (NYSEARCA:REM) - an index of mortgage REITs is down over 20%.
"Tapering"
Since May 22, 2013, financial markets have become obsessed with the impact of "tapering." Market participants are expecting that the Fed will bring its current pace of $85 billion per month in bond purchases to $60 or $65 billion within the next few FMOC meetings. These meetings are to take place on September 17-18, October 31, and December 17-18. The term tapering simply references the reduction in the purchases. Most simply, if the Federal Reserve reduces the amount of bonds it purchases - all else equal - bond yields will have to rise as a new buyer must absorb the bonds no longer being purchase by the Federal Reserve.
Market participants reacted to Chairman Bernanke's tapering comments by "rushing to the door" to sell bonds - pushing bond yields higher. Most market participants know that yields are to a certain extent artificially low due to Federal Reserve intervention. Investors in the market did not want to be left "holding the bag" and since a number of players are highly levered (e.g. REITs and Banks) - market participants were forced to reposition their portfolios. Laurie Goodman of Amherst Securities believes that the position squaring has largely been completed.
According the Amherst Securities, if the Fed wants to purchase the same amount of bonds on a percentage basis, they must taper the bond buying program.
According to Laurie Goodman:
If the Fed fails to taper by the fourth quarter of 2013, the central bank will be absorbing 75% of gross deliverable agency supply. If the Fed wants to hold purchases at the same percent of supply as it current does, it must cut new purchases by 40%. Amherst Securities does not believe the market is adequately building this in, which suggests to them that investors should maintain a positive bias on the mortgage basis, and any substantive weakness resulting from talks of tapering should be viewed as a buying opportunity.
Two Harbors
I am adding positions to my mortgage REIT portfolio. Two Harbors Investment Corp. (NYSE:TWO) is at the top of my list. TWO has the flexibility as a hybrid REIT to take advantage of opportunities in both Agency and non-Agency securities, residential mortgage loans and other residential assets. As a mortgage REIT the company has elected to be taxed as a REIT for U.S. federal income tax purposes. This tax status requires that TWO distribute at least 90 percent of REIT income to stockholders on an annual basis. TWO is externally managed and advised by PRCM Advisers LLC, a wholly-owned subsidiary of Pine River Capital Management L.P. TWO maintains a $16.1 billion portfolio of agency and non-agency securities.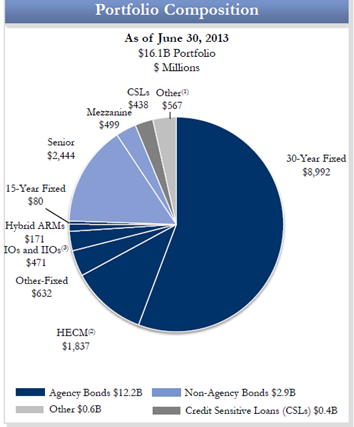 Book Value
As of June 30, 2013, the company's book value was $10.47. TWO's common equity recently traded at $9.51 or a 9.1% discount to book value. Historically the company has traded at a modest premium to book value. In the second quarter of 2013, the company declared a dividend of $0.31 per share. On an annualized basis, the yield equates to 13.0% at the current share price. Investors who listened to the company's quarterly conference call, heard management indicate that they are highly focused on preserving TWO's book value. The company's book value fell 6% in the quarter significantly outperforming the majority of its peers, which experienced book value declines of 10% - 20%. TWO management took an aggressive stance on guarding the company's book value against interest rate increases - primarily by increases its hedges. Outlined in the chart below, management estimates that a 100 bps increase in rates would lead to an increase in FV increase of 9.9%, implying higher interest rates would bolster book value. As outlined below the company made significant strides in Q2 to change the interest rate sensitivity of the company's book.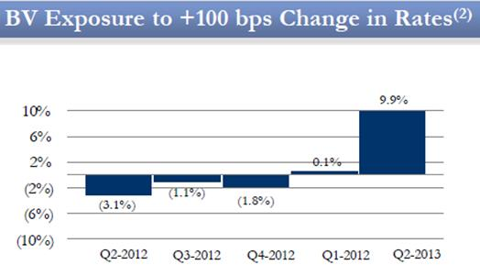 Agency Strategy
TWO maintains a $12.5 billion portfolio of Agency securities. TWO has implicit or explicit prepayment protection of 98% of its portfolio. Outlined below is TWO's book of agency securities. For instance, high loan-to-value securities and low balance loans typically experience lower prepayment rates.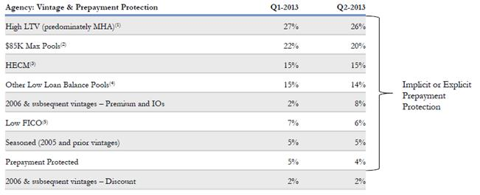 Non Agency Strategy
TWO $2.9 billion non agency strategy is a subprime focused strategy. Non-Agency underlying performance continues to improve as delinquencies are declining, home prices are rising. The increase in rent to own strategies including Silver Bay Realty Trust Corp. (NYSE:SBY), a spinoff of TWO are driving up the demand of "distressed" lower priced single family homes. The average loan size of TWO non-agency collateral is $237,000 with an average loan-to-value of 76.7%. Based on the LTV, the average home price is approximately $309,000.
As investors and home buyers acquire low priced "distressed" homes, TWO's non-agency assets should increase in value. The combination of easy monetary policy fueling low mortgage rates, strong demand from institutional rent-to-own money managers coupled with low inventory has led to price appreciation on a nationwide basis.
Conclusion
While the Federal Reserve's discussion of tapering has impact bond prices and yields, mortgage REIT investors have sold off shares of once loved mortgage REITs. Patient investors should look to add TWO Harbors to their portfolio due to the relative strength of their agency and non-agency (subprime focused) book. Investors will receive an update from the company on September 10 when management presents at Barclays Global Financial Services Conference.
Disclosure: I am long TWO, AGNC, EFC, MFA. I wrote this article myself, and it expresses my own opinions. I am not receiving compensation for it (other than from Seeking Alpha). I have no business relationship with any company whose stock is mentioned in this article.