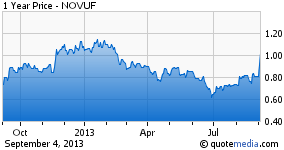 On Tuesday of this week I received news that I had been waiting for since late 2012. My largest holding Novus Energy (OTC:NOVUF) announced that the company had been sold to Yanchang Petroleum:
CALGARY , Sept. 3, 2013 /CNW/ - Novus Energy Inc. ("Novus" or the "Company") (NVS.V) is pleased to announce that it has entered into a definitive agreement (the "Arrangement Agreement") with Yanchang Petroleum International Limited ("Yanchang Petroleum International") and Yanchang International ( Canada ) Limited ("Yanchang Canada ", and, together with Yanchang Petroleum International, the "Purchaser Parties") for the purchase of all of the issued and outstanding common shares of the Company (the "Common Shares") at a cash price of C$1.18 per Common Share. The total transaction value, including net debt and transaction costs, is approximately C$320 million. The transaction is to be completed by way of a plan of arrangement under the Business Corporations Act (Alberta) (the "Arrangement"). The consideration offered for the Common Shares pursuant to the Arrangement represents a 40% premium over the closing price of the Common Shares on the TSX Venture Exchange on August 27, 2013 , the last trading day of the Common Shares prior to the subsequent halt thereof, and a 44% premium over the 1-month volume weighted average trading price of the Common Shares on the TSX Venture Exchange.
My average cost on the shares of Novus that I own is $0.79, so with a $1.18 purchase price I would realize a 50% gain. That sounds good, but to be honest I've never felt so disappointed while making so much money because I think this share price of $1.18 is lacking.
On August 26, I looked at what a realistic sale price for Novus might be. Based on past transactions in the Viking where Novus operates I thought that $1.18 would be well below an acceptable range.
Following the announcement of the sale, the Calgary Herald quoted an oil industry equity analyst who had this to say about the price Novus received:
"The transaction implies $79,000 per boe/d on current production and $14 per boe on 2012 2P reserves, about a 35 per cent discount to the average of the last seven transactions in the Dodsland Viking over the past 1.5 years"
A 35% discount to the average of the last seven transactions! That sounds pretty bad. When you look at it on a per share basis it looks even worse. Check out the numbers:
Price Yanchang is paying for Novus - $320 million
Add another 35% to this to match the average of the last seven transactions - $432 million
Deduct Novus debt and transaction costs involved - $100 million
Proceeds for shareholders at average of the last seven transactions - $332 million
Divide By Shares Outstanding - 193 million
Price per Share At the Average of the last seven Viking transactions - $1.72
That is a lot higher than $1.18 per share. Why are the Novus Viking assets worth 35% less than the average transaction value over the past one and a half years?
I couldn't come up with a good answer for that. And then I kept reading the Calgary Herald article and saw this:
"This is Yanchang's first foray into Canada and their first big international deal. They wanted to get into a real stable, low political risk jurisdiction and they've decided Canada is the place to be," said Novus CEO Hugh Ross in an interview.

Novus management will stay with the company, he said, adding he has been assured that a specific budget will be available to fund growth but declining to say how much that will be.

"We're going to be quite an acquisitor. We're going to grow fairly aggressively through our drilling programs and through aggressive acquisitions."
That is interesting. As a shareholder I'm expected accept a sale price that is 35% below what has been the going rate for Viking assets. That is a fairly bitter pill to swallow.
Novus management meanwhile will have this discounted price soothed by the fact that they get to now run a much larger company for Yanchang (aggressive acquisition program). I bet working for Yanchang is an exciting opportunity for management, and I also bet that it might be a pretty lucrative opportunity.
Generally managing a much larger entity involves a much larger pay cheque. Think of the performance based compensation that might be attached to sourcing attractive oil acquisitions for the Chinese company.
And it isn't as if management and the Board of Directors were loaded with shares of Novus. Here are the details of Board share ownership from the last information circular:
Hugh G. Ross - President and Chief Executive Officer
Shares owned - 1,838,000 (1.0% of the company)
Michael H. Halvorson - Director
Shares owned - 2,708,333 (1.4% of the company)
Harry L. Knutson - Director
Shares owned 414,253 (0.2% of the company)
Al J. Kroontje - Director
Shares owned - 1,419,922 (0.7% of the company)
Larry C. Mah - Director
Shares owned 420,000 (0.2% of the company)
That is a pretty paltry number of shares considering this is a small cap company. If CEO Ross who will continue on with Yanchang after the Novus sale building a much bigger company were to receive an additional $0.20 for his Novus shares in a sale that would mean 1.8 million shares x $0.20 = $360,000 for him.
I bet his opportunities with Yanchang are much more lucrative for him than say $360,000 and a slightly better sale price for Novus would have been. I have to wonder whether this Yanchang deal at $1.18 per share is the best deal for Novus shareholders, or is it the best deal for Novus management? Trust me, that is a question that I'm not the only one asking.
This price for the Novus assets seems too low. Maybe a domestic company like Raging River (OTC:RRENF) or (OTC:SPGYF) will step in and offer a deal that is better for shareholders and what is closer to what these assets seem to be worth.
After all, if we couldn't get a fair price for the assets today, why did we have to sell them? There is no reason Novus couldn't have waited a year and tried again then.
Disclosure: I am long OTC:NOVUF. I wrote this article myself, and it expresses my own opinions. I am not receiving compensation for it (other than from Seeking Alpha). I have no business relationship with any company whose stock is mentioned in this article.