The Kinder Morgan family of companies, which consists of Kinder Morgan Inc. (NYSE:KMI), Kinder Morgan Energy Partners (NYSE:KMP), and Kinder Morgan Management (NYSE:KMR), recently came under pressure from the "independent research firm" Hedgeye. As some may recall, Hedgeye is the same group that made bearish calls on upstream MLPs such as Linn Energy (LINE) and BreitBurn Energy Partners (BBEP).
Hedgeye's bearish case against Kinder Morgan is frankly confusing. As of this writing, the only thing the firm has done is basically send out a couple of tweets stating that they have added "short" Kinder Morgan as their new "Best Idea." In another tweet, the firm referred to Kinder Morgan as "a house of cards." The firm mentioned that it would have full report out on Kinder Morgan on September 10.
The main point made by Hedgeye in their tweets seems to be that Kinder Morgan relies on its upstream, or E&P, segment for about 20% of its earnings. The firm also noted that Kinder Morgan's combined market cap of about $78B well exceeds its tangible equity of $1.6B.
While Hedgeye was correct in its Linn Energy bearish call, the firm has still had its fair amount of incorrect calls. Infamously, back in May of 2010, Hedgeye made a call where it suggested to "SELL ALL U.S. STOCKS NOW." Yes, that is a direct quote, caps lock and all.
At the time, the S&P was trading below 1070. Investors following this advice would have left the market at a very poor time and missed out on about 55% of upside.
Regarding Hedgeye's bearish call on upstream MLPs, Hedgeye may have been throwing out the baby with the bathwater. As shown below, with the exception of Linn Energy, these stocks have mostly recovered from the Hedgeye induced bear attack, even Linn Energy junior BreitBurn.
However, investors in Kinder Morgan did receive some good news. Late in the trading day, Deutsche Bank came out with a vigorous defense of Kinder Morgan. Deutsche Bank noted that Kinder Morgan's CO2 business is only about 18% of KMP's 2013 EBITDA, down from 30% in 2010. Deutsche Bank projects that this segment will become less and less important, dropping to about 15% of EBITDA by 2015. Regarding hedges and DCF, Deutsche Bank noted that KMP reports actual cash generated from its production and does not include non-cash impacts from hedging activities, unlike some of the upstream MLPs. Deutsche Bank also notes that KMP has been "extraordinarily clear" regarding its maintenance capital requirements, showing future production declines. It should be noted that Deutsche Bank is clearly bullish Kinder Morgan, having a buy rating and price targets of $48 and $102 for both KMI and KMP respectively.
My take on Kinder Morgan is fairly simple. Kinder Morgan is primarily a midstream MLP, with legacy E&P assets. These E&P assets are mostly older, mature oil wells, with low rates of decline. As Hedgeye has not yet come out with its full report, it is difficult to see why they are worried about these assets. As noted above, they represent about 18% of FY 2013 EBITDA and are not really the main focus for Kinder Morgan.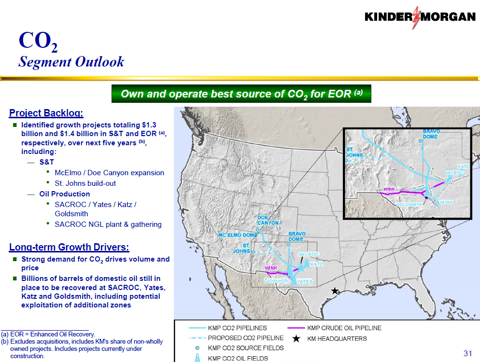 Click to enlarge
(Click to enlarge)
Where Kinder Morgan is focused is on its midstream operations. Since 1997, the company has invested over $40B in growth capex, with the vast majority (86%) going towards midstream assets.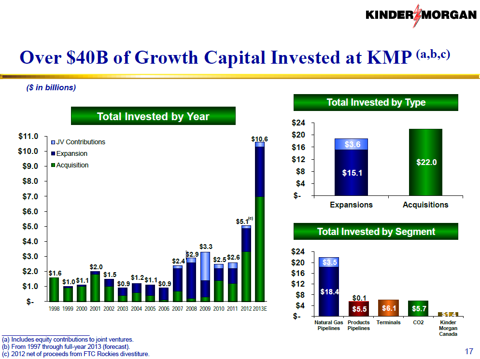 Click to enlarge
(Click to enlarge)
Looking forward, Kinder Morgan has a backlog of over $14B in organic projects, with only about 19% going towards its upstream assets.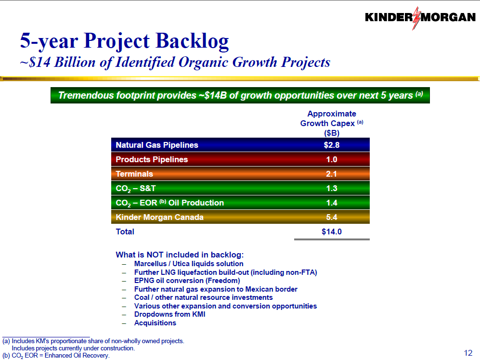 Click to enlarge
(Click to enlarge)
In general, Kinder Morgan has been very successful in generating returns. As shown below, the individual segment's ROI for Kinder Morgan has been very stable over the years. Also note that the upstream segment has actually seen its ROI slowly increase, from 23.5% in 2009 to 28.7% in 2012.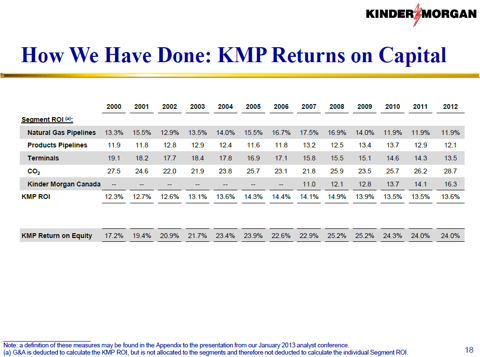 Click to enlarge
(Click to enlarge)
Do note that my analysis above mostly looks at KMP while somewhat ignoring KMI. While KMI does own some physical assets, mostly El Paso pipeline waiting to be dropped down, the vast majority of its returns originate from KMP, either through IDRs or direct limited partner distribution payments.
Conclusion
Kinder Morgan own real, physical assets. Pipelines are crucial energy infrastructure, requiring vast sums of capital to build out. However, once in place, they provide a steady return, oftentimes with inflation related price hikes written into the contracts.
It is quite shocking that a few bearish tweets can send shares of a company of Kinder Morgan's size down so dramatically, with it being the third largest energy company in North America by EV. KMI in particular was hit hard, ending the day down over 6%.
While some may worry that other bears will "pile on," I think this is a classic buying opportunity for long-term focused investors. However, be prepared for volatility. As Linn Energy unitholders can attest, when it rains it pours.
Disclaimer: The opinions in this article are for informational purposes only and should not be construed as a recommendation to buy or sell the stocks mentioned. Please do your own due diligence before making any investment decision.
Disclosure: I am long KMI, VNR, QRE, MEMP. I wrote this article myself, and it expresses my own opinions. I am not receiving compensation for it (other than from Seeking Alpha). I have no business relationship with any company whose stock is mentioned in this article.