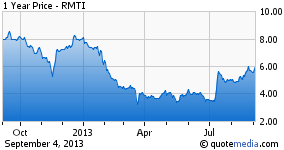 For those of you following the CRUISE-1 and CRUISE-2 studies: on Wednesday, September 4, 2013 Rockwell Medical (NASDAQ:RMTI) announced the top-line results from their Phase III (CRUISE-2) efficacy study of SFP, the Company's late-stage, investigational iron-delivery drug for the treatment of iron deficiency in chronic kidney disease patients receiving hemodialysis. I had informed followers of my positive opinion going into the data Wednesday morning and have held this opinion through the results. There is much more to this story as I will detail later in the article.
First Let's Examine Some SFP Background Info
Rockwell's lead drug candidate is called Soluble Ferric Pyrophosphate (SFP) and is a unique iron compound delivered to the hemodialysis patient via dialysate, replacing the 5-7 mg of iron lost during a dialysis treatment.
SFP is introduced into the sodium bicarbonate concentrate on-site at the dialysis clinic, which is subsequently mixed into dialysate. Once in the dialysate, SFP crosses the dialyzer membrane and enters the blood where it immediately binds to apo-transferrin and is taken to the bone marrow, similar to how dietary iron is processed in the human body. SFP delivers iron to the bone marrow of dialysis patients in a non-invasive, physiologic manner during their regular dialysis treatment, using dialysate as the delivery mechanism.
As announced in the completed clinical trials, SFP has successfully demonstrated it can safely and effectively deliver sufficient iron to the bone marrow and maintain hemoglobin, without increasing iron stores (ferritin). ESA dose may be significantly reduced by SPF administration, and this is the game changer, in my opinion.
Additionally, SFP has completed the efficacy trials of its Phase III clinical study program (CRUISE-1 and CRUISE-2). SFP is expected to address an estimated $600M U.S. market.
Reduction of ESA Use-The Game Changer
If the company is correct in stating that ESA use can be reduced by as much as 35% with the delivery of its unique SFP iron compound, the dialysis industry will save hundreds of millions of dollars per year. The health risks that accompany ESA administration will also be reduced pro rata. Some experts project this savings for $1 billion per year, so if conservatively calculate $500M per year in savings, this would be a huge success. What would this do to the bottom line of dialysis centers who use it?
What Investors Should Expect Next
Calcitriol Vitamin D Injection
Rockwell is preparing to launch its FDA approved generic drug Calcitriol (active Vitamin D) injection, to treat secondary hyperparathyroidism in dialysis patients. Calcitriol is indicated for the management of hypocalcemia in patients undergoing chronic renal dialysis. It has been shown to significantly reduce elevated parathyroid hormone levels (PTH). Reduction of PTH has been shown to result in improvement of renal osteodystrophy. Upon FDA manufacturing approval, Rockwell intends to launch Calcitriol, addressing an estimated $350M U.S. market.
Rockwell Medical To present at the Annual Stifel Nicolaus Healthcare Conference on September 11, 2013 in Boston
Date: Wednesday, September 11
Time: 10:20 am Eastern Standard Time
Location: Philips Room, The Four Seasons Hotel, Boston
Four Abstracts Have Been Accepted for Novel SFP Iron Delivery by the American Society of Nephrology (ASN) for Kidney Week 2013 in Atlanta
Rockwell announced that four individual abstracts have been selected by ASN's Program Committee for poster and oral presentation at the Kidney Week 2013 Annual Meeting, November 7-10 in Atlanta, Georgia.
The following abstracts will be presented:
Soluble Ferric Pyrophosphate Administered via Dialysate Reduces ESA Requirements in CKD-HD Patients with ESA Hypo-response (Oral Presentation)
Soluble Ferric Pyrophosphate Administered via Dialysate, Reduces ESA and IV iron Requirements while Maintaining Hemoglobin in CKD-HD Patients (Poster Presentation)
Soluble Ferric Pyrophosphate Administered via Dialysate Shows no Acute Safety Signals (Poster Presentation)
Structural, Physical and Functional Characterization of Soluble Ferric Pyrophosphate a Novel Iron Compound for Pharmaceutical Applications (Poster Presentation)
Rockwell is expected to provide further information, including date, time and presenter prior to the ASN annual meeting.
Rockwell's Pipeline Is Compelling
Rockwell's renal drug therapy pipeline supports disease management initiatives to:
1) Improve the quality of life and care of dialysis patients--a fast growing market
2) Deliver safe and effective therapy
3) Decrease drug administration costs
4) Improve patient convenience
Additional Information
1) Company guidance: Sales and profits are expected to move higher looking forward, and investors should expect the R&D burn rate to decrease upon completion of clinical development (initiatives).
2) Cash on hand: Rockwell had $41 million in cash at the end of the quarter
3) Shares outstanding: About 39.9 million shares outstanding.
4) Institutional Holders: 25.5% and increasing
5) Number of Institutional Holders: 75; New Positions--21; Decreased Positions--10
6) Short position is: 5,881,700 or 17.6% of the float
Buyout Potential Is Real
In the past 30 years of trading I have been fortunate enough to be involved in several stock buyouts. I strongly believe that the key to owning a buyout candidate relies largely on
1. Market acceptance
2. A strong pipeline
3. A strong need for the product
4. A strong potential for growing market share
5. The ability of the company's products to fit with the business strategy of the acquirer
Possible suitors for Rockwell would be DaVita (NYSE:DVA), Fresenius (NYSE:FMS), Takeda or AMGEN (NASDAQ:AMGN), all key players in the kidney dialysis market.
In Conclusion
Following the clinical date released on SFP, I expect Calcitriol to increase sales and profit margins considerably while strengthening the existing business. Rockwell's strong data also supports Soluble Ferric Pyrophosphate with the possibility of setting a new standard of care for hemodialysis patients.
SFP is a "game changer" and will significantly raise the bar in the IV iron therapy market for dialysis patients. I still anticipate that we will see an $11 - $12 price on the stock once investors discover the potential that this company brings to the dialysis market and upgrades follow.
Disclosure: I am long RMTI. I wrote this article myself, and it expresses my own opinions. I am not receiving compensation for it (other than from Seeking Alpha). I have no business relationship with any company whose stock is mentioned in this article.