This article is about Avino Silver & Gold Mines Ltd. (NYSEMKT:ASM) ("Avino," hereon). Avino has a market capitalization of just $42 million, or $53 million fully diluted. It is currently in the process of mining, developing, and exploring its Avino silver mine in Durango, Mexico. It also owns three exploration properties in Canada.
Despite the company's low valuation it has already commenced production at the San Gonzalo vein at its Avino mine. It is on pace to produce roughly 600,000 ounces of silver this year, and it has already demonstrated its ability to turn a profit: $170,000 in Q4 of 2012, 90,000 in Q1 of 2013, and an astonishing $1.4 million in Q2 of 2013 despite the fact that silver traded at around $20/ounce for much of the quarter.
Furthermore, the company has an extensive pipeline of projects in development. It plans on bringing the Avino vein, which is just south of the San Gonzalo vein at the Avino Mining District, back into production next year after a 13 year hiatus. If the company is able to produce at the level it hopes to it will produce over 2 million silver equivalent ounces annually.
Avino also plans on producing at the Oxide Tailings which is near the Avino vein. Production is expected in 2016 at around 1 million ounces of silver per year, or 1.4 million ounces of silver equivalents. The cost of production here is expected to be incredibly low.
With an initial production program in place and a pipeline of production that can put Avino on par in terms of production with other producers the shares appear to be highly under-valued at $1.55 each, and investors who are bullish on the silver price should consider taking a position in Avino at the current valuation. However there are a couple of risks.
The primary risk is the uncertainty regarding production levels and costs, particularly at the company's biggest vein--the Avino vein. The company has not yet released its capex estimates, or its production cost data for the Avino vein. However I am quite confident that the Avino vein will be relatively inexpensive to bring into production given the existing infrastructure. Further, I think that it will be able to produce profitably at the current silver price. Below I estimate production costs using very conservative figures, but ultimately I am just guessing, and my figures could be way off. If they are they are probably underestimating the mine's potential cash flow. But there is a chance that the mine's costs are much higher than my numbers indicate, in which case the company's most valuable asset is worth far less than I believe it is.
More generally there is uncertainty regarding production in that the company has no mineral reserves, which are mineral resources that have been determined to be economical to mine. As a result the economic feasibility of the company's Avino mine and its satellite mines is somewhat questionable. While we have data points from the San Gonzalo mine that indicate that the company can turn a profit, the fact remains that there is some uncertainty regarding production costs, and as a result investors should be conservative in their estimates, as I have tried to be below.
With these caveats in mind Avino's potential upside more than outweighs the risks.
The Avino Mine and its Satellites
The Avino mine consists of three resource clusters that are close to one another in Durango, Mexico.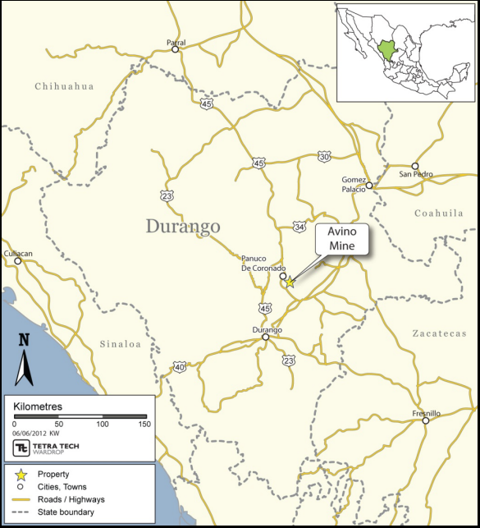 Click to enlarge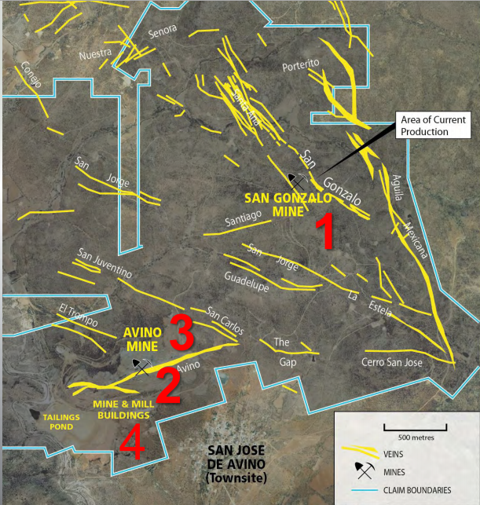 Click to enlarge
A: The San Gonzalo Mine System
The San Gonzalo vein is the only producing vein that Avino currently has.
Most of its resources are silver, although it has some gold. Specifically, it has:
2.8 million measured and indicated silver ounces at 297 grams per tonne at a cutoff grade of 150 silver equivalent grams
8.2 million ounces of inferred silver resources at 234 grams per tonne at a cutoff grade of 250 silver equivalent grams
18,550 ounces of gold at 1.96 grams per tonne at a cutoff grade of 150 silver equivalent grams
49,550 ounces of gold at 1.42 grams per tonne at a cutoff grade of 250 silver equivalent grams
The details are provided on the following table.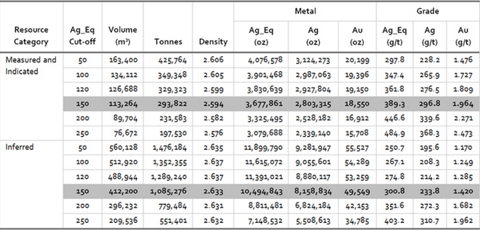 Click to enlarge
Production commenced in the fourth quarter in 2012. Thus far year to date (through the end of June) the company has produced 309,000 ounces of silver, or 372,000 silver equivalent ounces with cash costs of around $12/ounce, or $20/ounce "all in" (which includes administrative expenses, mine repairs, taxes, and interest). However the company's most recent earnings report suggests that the company is succeeding in bringing production costs down at San Gonzalo, as it was able to turn a nice profit with very low silver prices. In fact cash costs collapsed to just $9/ounce, and all in costs were just $17. Given the speculative nature of Avino as an investment I will stick with $20/ounce for my production cost estimate when I calculate the company's cash flow below. However if the company can keep costs down at San Gonzalo, this figure is not doing it justice.
A': Exploration at San Gonzalo
In its attempt to increase resources at its San Gonzalo operation Avino has found some very promising drill holes that, while small in size, may be indicative of substantially more resources than the above chart suggests.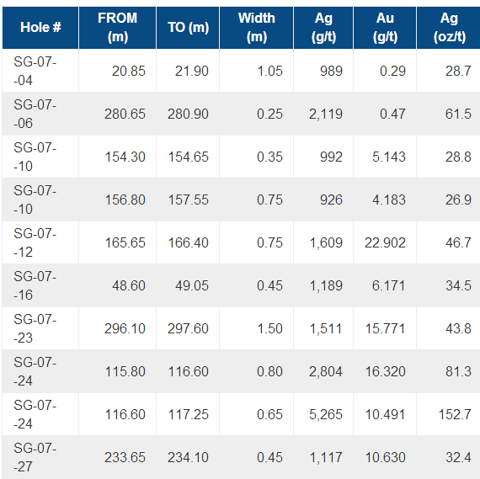 Click to enlarge
While these results do not indicate that the resource estimate at San Gonzalo can be extended, they are very promising and should lead the company to explore further.
B: The Avino Vein
The Avino vein is located southwest of the San Gonzalo vein. The company produced here many years ago but it stopped in 2001 due to the low silver price. With silver prices higher now it plans on restarting production. While it is a very promising opportunity, especially given that much of the needed infrastructure is already in place, the company is very vague on the development and production details, which I try to estimate very conservatively below.
The Avino vein has a sizeable resource base. Assuming with the company that a 100 gram per tonne silver equivalent cutoff will be used, the vein has:
10.8 million ounces of indicated silver resources at 79.2 grams per tonne
72,207 ounces of indicated gold resources at 0.528 grams per tonne
30,914 tonnes of indicated copper resources at 0.727%
7 million ounces of inferred silver resources at 68.3 grams per tonne
75,858 ounces of inferred gold resources at 0.732 grams per tonne
17,719 tonnes of inferred copper resources at 0.55%
The details of this data, along with resource estimates at different cutoff grades, are provided on the following table.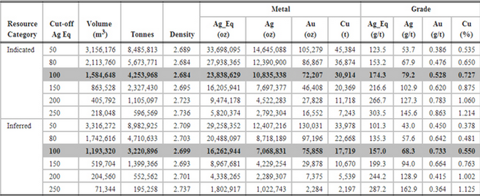 Click to enlarge
Production is expected to begin in the first half of 2014, and the company hopes to bring it up to 1,500 tonnes of ore per day, or 540,000 tonnes annually assuming a 360 day year.
Unfortunately the company does not provide any operating cost data, or capex estimates in its July 19, 2013 NI 43-101 technical report. Furthermore, it does not provide any recovery rate estimates, or the percentage of silver that is present in the ore mined that will actually make it to market.
However, I believe that the Avino vein provides a lot of value to the company even if we make extremely conservative assumptions regarding various production metrics. First, given that the company uses a 100 silver equivalent gram per tonne cutoff grade, we can conservatively assume that the company believes that it will be profitable if it mines at this cutoff grade. At $24/ounce silver the value of ore at 100 grams per tonne is around $80/tonne. Therefore we can conservatively assume that this is the break-even all-in production cost.
Second, we can assume conservatively that the company will have a low--75%--recovery rate for silver. This means that the break even point might be closer actually $60/tonne, but since the low recovery rate is conservative in determining the amount of production, but more aggressive in determining costs, I will compromise and use $70/tonne. At 175 silver equivalent grams per tonne, the company can bring about 131 silver equivalent grams to market per tonne of ore mined. At $24/ounce silver and 540,000 tonnes of production annually, the property can produce $17.4 million in cash flow annually, or about 2.3 million ounces at $16.5/ounce.
While this is primarily speculation, the conservative nature of these projected figures leads me to believe that if I have erred in any way that this number should be higher than it currently is.
C: The Oxide Tailings Resource
The Oxide Tailings Resource is located 500 meters west-southwest of the main shaft of the Avino Mine. Currently the company estimates that it has 6.7 million ounces of inferred silver resources at 91.3 grams per tonne, and 39,530 ounces of inferred gold resources at 0.54 grams per tonne assuming a 50 gram per tonne silver equivalent cutoff grade.

Click to enlarge
Keep in mind that inferred resources are the least certain regarding geological accuracy in mining jargon.
Despite the fact that the Oxide Tailings only has inferred resources, Avino has already released a preliminary economic assessment, in which it is evident that there is a short life (4.7 years) mine here that will produce just over 1 million ounces of silver and 6,600 ounces of gold annually, or 1.4 million silver equivalent ounces (gold/silver ratio of 58.33).
Capex is expected to be around $29 million, which can easily be funded by the cash flow from the Avino vein. Cash costs are estimated to be $12.75 per tonne of ore mined, $6.3 million annually assuming 1,370 tonnes per day for 360 days, or $4.5/silver equivalent ounce, or about $13/ounce "all in." Thus while production here will not occur for several years (probably not until 2016), it should be very profitable and beneficial to Avino shareholders
Avino Silver & Gold Mines' Canadian Exploration Properties
Avino's Canadian exploration properties do not appear to fit in the company's portfolio given its activity in Mexico. However it is possible that they contain resources. Further, given Avino's small size, it would not take such a large discovery at one of these properties to move the needle and increase shareholder value. Even so I think it may be best if the company were to sell these properties to fund the further development of its Avino veins.
A: Minto
Minto is an exploration property in British Columbia.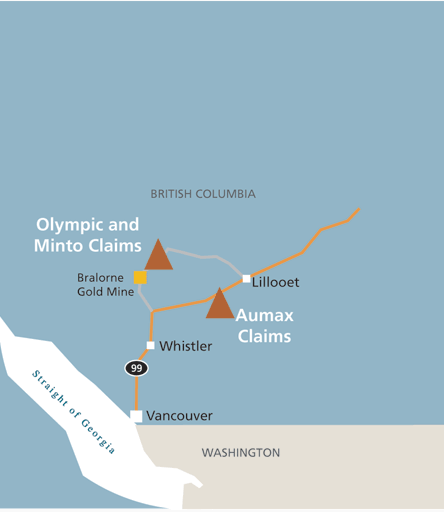 It has been drilled in the past (2006) with very promising results suggesting that there is potentially a gold mine here with some zinc (the property's website also says that there is silver, but there is no silver in the drill results).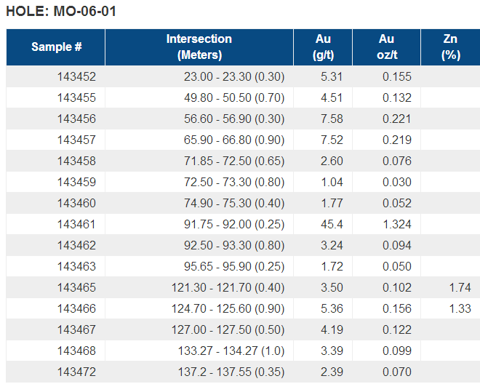 Click to enlarge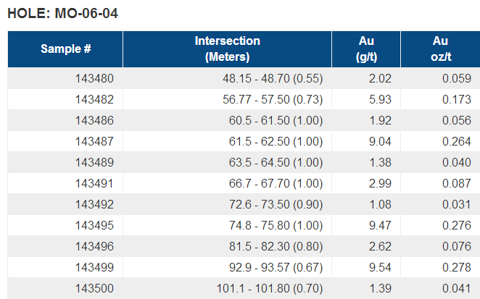 Click to enlarge
This is very high grade gold that, if extrapolated, would imply that there is an economically feasible mine here. But there simply is not enough data to make such a conclusion. I expect that this property will be the first of the three Canadian exploration properties that Avino focuses on once it is able to divert capital and labor away from its Avino mines, if it chooses not to sell it. There is a lot of potential here, but how much is still unknown.
B: The Eagle Property
The Eagle property is an early stage exploration property in the Yukon.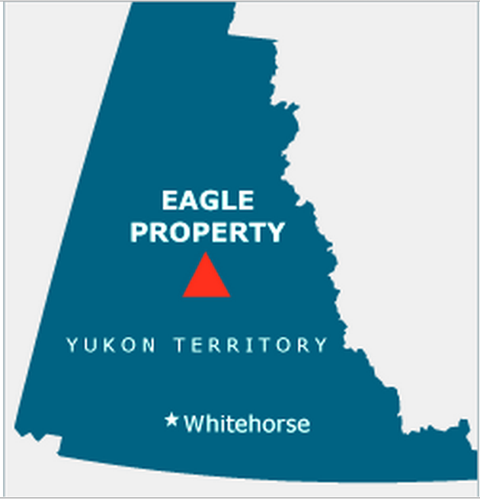 Click to enlarge
The property does not have any NI 43-101 compliant resources as of yet, however it been drilled. Drilling has indicated that the property may contain some gold, silver, zinc, indium (used to make plasma screens), and lead to a lesser extent.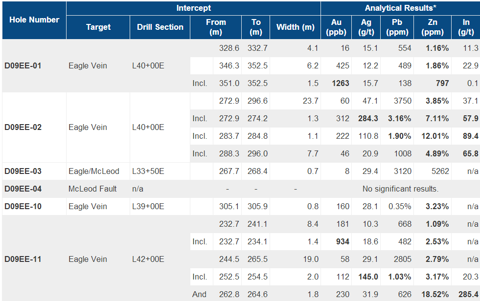 Click to enlarge
There is enough metal here to suggest that Avino continues exploring in hopes of discovering a poly-metallic mine, but there is no guarantee that there is a mine. However given the company's silver and gold focus I am not sure if this property fits into its portfolio, even if it decides to retain its Canadian properties. A possibility is that it sells the property and retains a royalty on the gold and/or silver production.
C: Olympic
Olympic is a very early stage exploration property in British Columbia, near Minto. There has been some drilling done here in the 1980s, and some more again in 2004, but there are no significant drill holes that indicate that there is a mine here. Given this, and the fact that the property is just 662 hectares (6.62 square kilometers), it adds virtually no value to the company.
Avino's Cash Flow Potential
Avino has incredible cash flow potential relative to its current valuation assuming it is able to bring the Avino and Oxide Tailings veins into production as planned. It is for this reason that Avino is a an excellent speculation stock for silver bulls.
Avino will potentially have three producing mines:
San Gonzalo: 750,000 ounces of silver-equivalent production at $20/ounce
Avino: 2.3 million ounces of silver-equivalent production at $16.5/ounce
Oxide Tailings: 1.4 million ounces of silver-equivalent produced at $13/ounce
Thus it is conceivable that the company will produce almost 4.5 million silver equivalent ounces annually at about $15.8/ounce. But since the Oxide Tailings mine will not be in production until 2016, and given its short life, it is prudent to calculate the company's cash flow without it. With just San Gonzalo and Avino the company will have about 3 million ounces of production at about $17/ounce.
With these figures, the following table estimates Avino's future cash flow in both scenarios.
| | | |
| --- | --- | --- |
| Silver Price | Cash-Flow Without the Oxide Tailings | Cash-Flow With the Oxide Tailings |
| $25/ounce | $24.8 million | $41.4 million |
| $30/ounce | $40.3 million | $63.9 million |
| $35/ounce | $55.8 million | $86.4 million |
| $40/ounce | $71.3 million | $108.9 million |
| $50/ounce | $102.3 million | $153.9 million |
| $70/ounce | $164.3 million | $243.9 million |
Given these estimates, it is evident that the company can realistically produce more cash flow than its current $53 million fully diluted valuation even if silver prices don't rise all that much. This means that if we put a 10-multiple on the stock's cash-flow then Avino can be a 10-bagger by 2016 even if the silver price averages $25/ounce. Furthermore, these figures do not take into consideration a rosier scenario, which would include one or more of the following:
The Avino vein is cheaper to mine than I calculate. Given the conservative nature of my estimates this is realistic, maybe even probable.
Avino is able to expand San Gonzalo, and therefore it can increase production there.
Avino is able to maintain its lower, $17/ounce, all in cost of production at San Gonzalo. The $20/ounce "all in" figure is based on the first half of this year, but the second quarter saw production costs drop significantly. This would add $2.25 million to each of the above figures. Further, if this is the case then Avino is inexpensive on a price to cash flow basis without any additional production assumed.
These positive scenarios are well within reach. There is no guarantee that they can be achieved, especially given the uncertainty regarding the company's mining of the Avino vein. However, it does not take a high probability of success in order for silver bulls to consider taking a position in Avino given its cash-flow potential relative to its market capitalization.
Risks
A: The Price of Silver
The price of silver has performed terribly over the past two years, having declined from $48/ounce to around $23/ounce. While there is significant technical support at around $18/ounce - $20/ounce the downtrend that began in May 2011 is still intact.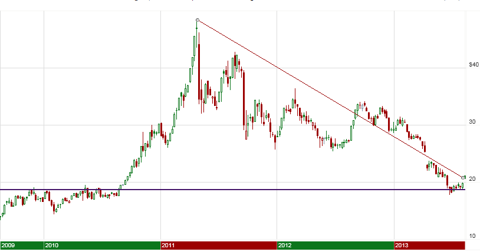 Click to enlarge
Most silver producers cannot, or can barely turn a profit at the current price, and this is a reason that the silver price has likely reached or is near a bottom. The fact that silver has risen over 20% from its $18.61 low is another good sign that this is the case.
B: Avino's Size
Most of Avino's value is in one property, and while there are potentially three mining operations here anything that prevents mining at the company's Avino Mine would wipe out most of its valuation.
C: The Company Has No Mineral Reserves
Mineral reserves, as opposed to resources, have been demonstrated to be economical to mine. Resources are said to be there, but there is no geological evidence that they can be mined economically. Many companies choose to operate without taking the costly step of defining resources as reserves such as Gold Resource Corp. (NYSEMKT:GORO), Trevali Mining (OTCQX:TREVF), and Great Panther Silver (NYSEMKT:GPL). There is no problem in doing this, but as an investor I always want to be especially cautious in my estimates in valuing such companies, as there is a heightened risk that their extraction costs will be higher than they currently are, or projected to be.
D: Avino's Market Capitalization
Avino's market capitalization is under $40 million. This is a double-edged sword. On the one hand, even if the company has production and substantial mineral resources, one has to wonder why the company's valuation is so low. While I believe that the company's shares are extremely undervalued relative to their potential, I could be wrong. On the other hand the low valuation of Avino is in itself is a factor that keeps investors away. Thus the company may be under-discovered, or simply avoided by investors who refuse to buy or are prohibited in buying low market capitalization companies. For those who are willing to take a chance on such a small company the lack of interest in the shares may be creating an opportunity for additional upside that is simply not present in larger companies.
Conclusion
There are no opportunities among silver miners that I know of that are more compelling than Avino. First, Avino has the potential to be a major silver miner with possibly 4.5 million silver equivalent ounces of production assuming that it is able to bring both the Avino vein and the Oxide Tailings vein into production.
Second, despite its low valuation, Avino already has some production, and it has demonstrated its ability to reduce production costs and to operate profitably in a depressed silver price environment when many of its established peers failed to do this. If we compare Avino's Q2 results with those of company's such as Pan American Silver (NASDAQ:PAAS), Silver Standard Resources (NASDAQ:SSRI), and Endeavour Silver (NYSE:EXK), only Avino made money. Even First Majestic Silver (NYSE:AG), which prides itself on its low production costs, only made $160,000 on sales of over $48 million. The company's $0.05 EPS figure, if annualized, suggest that the company trades at just 7.5-times earnings at $20/ounce silver. At $23/ounce silver its earnings would double and it trades at just 3.75 times earnings
If we combine these two points, it becomes apparent that the company can move its development pipeline forward with the cash flow from San Gonzalo, and it can avoid a dilutive secondary offering. While we don't know the capex price tag for the Avino vein, the fact that the infrastructure exists from the turn of the century implies that it will not be very high.
Finally, the company has some exploration potential, and it has the cash flow needed to explore more aggressively, especially once the Avino mine starts producing next year. For a $42 million company one large discovery can dramatically move the share price higher.
While some investors might be put off by such distractions as the company's miniscule valuation, its lack of mineral reserves, or the fact that it has exploration properties up in Canada that do not appear to fit in its portfolio, Avino's cash flow potential overshadows these points. Thus investors who are bullish on the price of silver and who do not mind owning a company with a $42 million market capitalization should accumulate Avino shares.
Disclosure: I am long ASM. I wrote this article myself, and it expresses my own opinions. I am not receiving compensation for it (other than from Seeking Alpha). I have no business relationship with any company whose stock is mentioned in this article.