As the Gold and Silver miners start to attract an increasing amount of both institutional and retail money, a higher percentage is likely to be funneled through the Gold Miners index (NYSEARCA:GDX). This is a great buy for many people, as it reduces overall mining risk, thus making both institutions and retail investors alike seek this as a way to gain leverage to the precious metals in a much more conservative manner than selecting one or two individual miners.
This has been more noticeable in much more popular industries, such as financial services, oil service, etc. as much of the money that flew the market during the most recent crash was mainly a combination of forced liquidation by hedge funds and other various investment institutions. The selling of individual equity ETF positions in turn caused a lot of selling or downward price pressure.
Gold and Silver will undoubtedly offer high returns over the next 5 to 10 years well in excess of what any benchmark index could offer. Though the GDX is small for the time being, I think there will be large sums of money headed there as it will prove a lucrative place to be as the precious metals far outpace the rate of inflation and the individual miners continue to see their operating margins increase from an already high level, currently hovering around 60-65% (with gold and silver at current prices). The GDX's components weigh the largest gold producers far more heavily than the few mid-tier miners with the junior miners almost completely absent. But the new mining ETF (whose description and components are mentioned below) will return much higher rates of return as they boast many overlooked, undervalued , high-growth miners, many of which are likely to be bought out over the next year or two.
I believe that because only the senior and large mid-tier producers are incorporated in the only current mining ETF (at least those traded on US exchanges) this funnels money away from the emerging juniors despite the superior valuations. I also believe another contributing factor is the hesitancy for all investors alike, to have a much larger degree of concern with the inherently more risky operations of the junior miners. This is especially true during transition from exploration to production.
This is why I think the new junior mining ETF will ultimately prove very popular, especially among older investors who remember many exploration and junior miners providing over 1,000% returns back in the late 70s and early 80s. Though the funds that flow in the GDX may not provide enough investment to move the overall complex, it will at least draw attention to some of the individual components. It will also provide investors the opportunity to be more heavily weighted in silver miners - Silver Standard Resources (NASDAQ:SSRI) and Coeur d'Alene mines (NYSE:CDE) account for the top two components by weight while reducing overall mining risk.
The components mentioned below, which I think make up a great basket of juniors miners with great exposure and leverage to both gold and silver, should outperform the GDX by a wide margin over the entire course of the the coming second leg of this 15-20 year commodity bull market.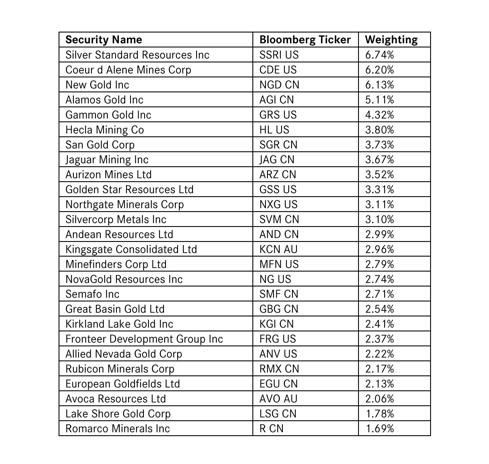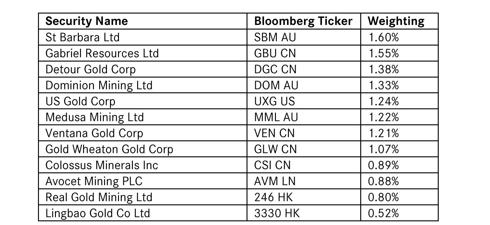 Disclosure: Long SSRI , CDE