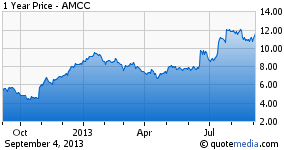 Applied Microcircuits Corporation (NASDAQ:AMCC) is one of those technology industry workhorses that you've probably never heard of. It provides connectivity solutions for computer networks and data centers; in other words, the backbone of the Internet.
The demand for data center infrastructure is certainly increasing. The demand for new solutions to decrease the size and power usage of digital warehouses is also there. Applied Microcircuits seems to have the capabilities to provide some of those solutions.
Growth Potential in the Cloud
Applied Microcircuits is well positioned to take advantage of the growth in cloud computing and data centers. The company has some intriguing solutions that might translate into increased cash flow in the near future.
Its X-Gene All in One Server Processor uses a 64-bit arm processor to provide networking and storage solutions. If it lives up to its hype, the X-Gene could be a real money maker for Applied Microcircuits. Basically, the X-Gene is designed to be a server on a chip to replace big banks of servers in data centers with a few smaller machines.
It also provides reduced power usage. Electricity usage is one of the biggest costs related to data center operations. The New York Times estimated that Data Centers consumed 30 billion watts of electricity worldwide in 2012.
Among other things, X-Gene is designed for web servers, media streaming and big data analytics; three of the fastest growing cloud applications. The demand for data center infrastructure is certainly increasing; Cisco Systems estimates that cloud data center traffic will increase by 64% between 2013 and 2016. Traditional data center traffic will increase by 36% in the same time period. So the market for this new technology is certainly there.
Applied Microcircuits Lacks Cash
Applied Microcircuits has some impressive technology, and it is definitely cheap. The problem is that the company lacks the cash to take advantage of the opportunities in front of it.
Applied Microcircuits reported a free cash flow of -$18.09 million on June 30, 2013. That would indicate the X-Gene is not leading to increased sales and that the company may not have the resources for continued research and development.
Applied Microcircuits isn't the only chip maker in trouble right now. Advanced Micro Devices (NYSE:AMD) reported a loss of $63 million on the same date.
To be fair Advanced Micro has been concentrating on building chips for desktops. As we all know, the demand for desktops is in free fall right now. That gives Applied Microcircuits a big advantage for its core market is net infrastructure not PCs.
So Is Applied Microcircuits a Bargain?
Many investors are probably wondering if Applied Microcircuits is a classic value buy. After all, it is a good company with a good product that appears to be seriously undervalued by the market. More importantly, it is going through a really rough stretch right now.
The answer to that question is probably no because Applied Microcircuits' revenues are really low when compared to some of its competitors. Applied Microcircuits posted revenues of just $208.5 million on June 30, 2013, while Advanced Micro Devices posted revenues of $4.67 billion on the same day. On the same day Altera (NASDAQ:ALTR) posted revenues of $1.76 billion.
To increase its cash flow, Applied Microcircuits is going to have to greatly increase its revenues, and I just don't see that happening. The growth in data centers is not translating into increased revenues for Applied Microcircuits. The demand for its products just doesn't seem to be there.
Definitely Not a Buy
Applied Microcircuits looks like a takeover target because it has some really impressive technology but lacks the resources to capitalize on it. The most likely scenario is that a larger company that lacks cloud computing and server processor capability will buy it up.
A takeover would probably be the only thing that would boost Applied Microcircuits' share value at this point. The problem is that few of its competitors have the resources for a takeover.
Even though it has a very low share price right now, Applied Microcircuits is definitely not a value buy at the moment. The company simply hasn't been able to maintain the level of cash flow that would make it a value buy.
Applied Microcircuits is definitely not a good buy right now. It lacks the cash to be a real value and the potential for a speculative play. Even though it is cheap, it would be a wise move to stay away from Applied Microcircuits at this time.
Disclosure: I have no positions in any stocks mentioned, and no plans to initiate any positions within the next 72 hours.
Business relationship disclosure: The article has been written by an Analyst at ResearchCows, ResearchCows is not receiving compensation for it (other than from Seeking Alpha). ResearchCows has no business relationship with any company whose stock is mentioned in this article. Any analysis presented herein is illustrative in nature, limited in scope, based on an incomplete set of information, and has limitations to its accuracy. The author recommends that potential and existing investors conduct thorough investment research of their own, including detailed review of the company's SEC filings, and consult a qualified investment advisor. The information upon which this material is based was obtained from sources believed to be reliable, but has not been independently verified. Therefore, the author cannot guarantee its accuracy. Any opinions or estimates constitute the author's best judgment as of the date of publication, and are subject to change without notice.