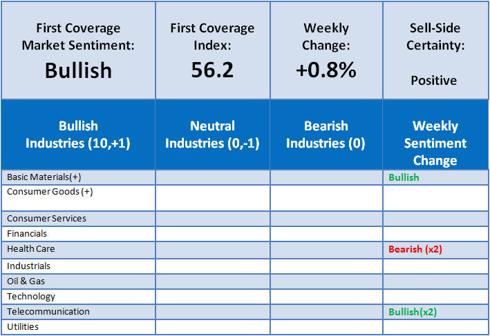 We're Batting 1.000…anyone else worried?
Well, it's taken us a while to get here, but for the first time since we started tracking sell-side sentiment over two and a half years ago, there is bullish sentiment associated with every single industry. No Neutrals, no Bears, just one hundred percent rose-colored glasses across the board.
For those who can remember what seems like a different world, but was just a mere seven months ago, it was constant thoughts of despair and economic devastation. Every piece of data that emerged was taken as negative, and the market couldn't support itself from one day to the next.
It's remarkable how we got here from there and worth a couple paragraphs before we delve into the implications of today's reports.
The catalyst for the rally wasn't a data point but a change in how the sell-side and other market participants decided they were going to view data. In late February, there was a perceptible shift in the conversations that were being had on Wall Street, and it led to an environment where good news was actively being sought and not just desired. Within two weeks of that sentiment shift, the Citi memo leaked and those two sticks caused the spark that set us off to the races.
"Quid, Me Anxius Sum?"
But now, seven months later, we are faced with a quandary.
If a bull market traditionally climbs a wall of worry, the obvious question is what happens when the entire industry takes an Alfred E. Newman disposition, shrugs their shoulders and acts the equivalent of 'What, Me Worry?'
Now that we're perfect…and by that we mean every single industry has a bullish sentiment associated with it, there's only one way we can end up going from here, but the question is clearly…when?
Sceptics amongst us might assume that sentiment proxies are most usable at the extremes and traditionally as contrary indicators. Some might think that now, based on the current extreme bullishness, it would be likely that this market is poised to turn dramatically. After all, the old axiom is that the market typically will move in the direction that hurts the most people, and if this market did turn bearish, then many investors, not just our user base, would be more surprised than at any time in the past year.
But, before you go and short the S&P 500, it might be worth it to realize that while traditionally, sentiment readings have been based on surveys or post-trade metrics as a derivative indicator, what we're talking about on a weekly basis is actually based solely on the very conversations that are happening on Wall Street every day. And, those are conversations that well-paid professionals are banking their reputations upon.
On top of that, it would be best to recall that this indication of sentiment has worked extremely well at predicting market movement over the last two and a half years while almost all other historic market sentiment indicators tend to fail during most market conditions and only really do work as contrary indicators at extremes.
These next few weeks will be a true test of whether sentiment as both a market driver and an indicator is a gauge that can work as well at the extremes as it can in more moderate times. If it can, then this market is poised to continue its rally well into the fourth quarter of 2009, if not then once again, group think is still one of the worst traits a market professional can succumb to.
Stocks to Watch.
Over the last week, the following stocks had the largest bullish and bearish sentiment shifts amongst the sell-side.
Bullish: