One of my favorite bits of bloodthirsty Wall Street behavior is the feeding frenzy when a hedge fund goes down. The first thing everyone does is check the fund's known positions, figure out where the fund is in deepest -- the biggest positions in the least liquid stocks -- and then shorts the crap out of those stocks, expecting that said flailing hedge fund will have to sell.
With the preceding macabre thought in mind, here is a (for amusement only) table I put together over the weekend of Galleon's largest positions as measured by days to trade out of positions (as of 6/20/2009). I have updated the table to include in the final column the performance of these ten stocks on Monday of this week. As you can see, the top three stocks by days-to-trade all had a crummy day yesterday.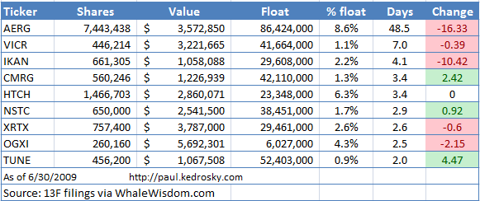 [Update]
I updated the table to take out AMD, which as a convertible position is more difficult to interpret. Again, a reminder, that this data is as of 6/30/2009, so Galleon may have traded out of all of these positions long ago. It's just interesting that its two most awkward positions had bad days yesterday after the revelations.