Oil and gas production in Africa has surged significantly due to oil discoveries, approvals and increasing footprints of oil and gas majors in this region. In West Africa, Ghana has been a key driver for surging oil production, while in East Africa, oil discoveries in countries as Mozambique and Kenya have played an important role. Moreover, rising crude price and current fear of war against Syria will further move upside to crude oil prices. This will create further monetizing opportunities and grow realized oil price. In this article, I have analyzed one of these companies, which is underpriced compared to its competitors and is developing by leveraging its footprints in Africa. Moreover, its valuation is attractive and investors looking for handsome returns can benefit by investing in this petroleum player.
Benefits of crude price rise
In July 2013, Anadarko Petroleum (NYSE:APC) announced its second quarter result. The company registered a year-over-year growth of 25% in drilling and production activities from the U.S. With this improvement in the U.S., the company's overall sales activities also rose and reached 750,000 barrels of oil equivalent, or BOE per day. Anadarko's total sales is expected to reach 284 million BOE in this year. The company generated revenue of above $8 billion from its crude oil and condensates in the last year. Buyers of crude oil largely gauge the performance of a company by looking at its oil reserves, and Anadarko has large reserves of around 2.6 billion BOE. In the last year, average price of crude oil remained at around $101 per barrel, which is expected to move up to $103 per barrel in this year due to increasing demand from the emerging countries and certain political risks. Additionally, Anadarko is expected to experience a rise in its crude oil and condensates sales of around 8%, to 93 million barrels. These developments will help Anadarko to raise its revenue to $9.5 billion in this fiscal year by the production of crude oil and condensates.
On the other hand, Anadarko's asset portfolio is expected to increase, majorly due to the approvals. In West Africa, Ghana contributed 106,000 barrels of oil per day in the second quarter of 2013, and it is anticipated that the company will ramp up the production further by increasing handling capacity. The result of this move will reflect in the year-end result for Anadarko. Moreover, it also got the approval to carry out development in Tweneboa, Enyenra and Ntomme, or TEN from the Government of Ghana in the second quarter of 2013. Production is expected to start from early 2016, which will give boost to oil reserves and production of the company.
Mozambique on the roll
The company sold its 10% stake recently to ONGC Videsh, an Indian state owned company for around $2.64 billion recently, and this all cash deal will be settled by the end of this fiscal year. However, the company will continue its functions in Area 1, in which Anadarko still has 26.5% stake, after this sell-out. To give you a hint about reserves in Mozambique, I must say that in the past three years, around $150 trillion cubic feet of gas was found near Mozambique. I think Anadarko will emerge as one of the largest companies present in that region, once it sets up the required infrastructure to carry LNG to the emerging countries of Asia. I assume that the company will target the ever-increasing hunger of China and India for oil and gas. However, cost to build infrastructure will remain a challenge; estimated infrastructure cost will be around $15 billion in this region. The company might construct LNG terminal with other players present in this region, but I think it will be difficult for the company sitting at a debt of more than $14 billion.
Valuations:
Company

PE

PEG

Debt to equity

Ratio

Expected EPS growth this year

Anadarko

27.05

1.26

0.61

188.9%

ConocoPhillips

10.75

2.30

0.45

15.20%

Chevron

9.76

2.15

0.14

(-0.90%)
Source: Finviz
Valuations of the company prompt me to say that there is a mixed bag of factors associated with the company. It has P/E of 27.05, while its peers in the industry ConocoPhillips (NYSE:COP) and Chevron (NYSE:CVX) has relatively low P/E. Moreover, Debt-to-Equity is also high in case of Anadarko, as it has around 35% higher Debt-to-Equity than ConocoPhillips, and it is more than quadruple when compared to Chevron. These valuations may scare investors wanting to invest in this company, but I think one cannot rely upon just these factors. Hence, I have taken two more indicators and historical stock performance, which are significant to look at. By analyzing PEG ratio of Anadarko, I must say that the stock is underpriced, as it has PEG ratio of 1.26, which is the lowest of all the three companies. In addition, EPS of the company is also expected to grow in this fiscal year, while its competitors are nowhere near to its 188.9% EPS growth.
Stock Price Movement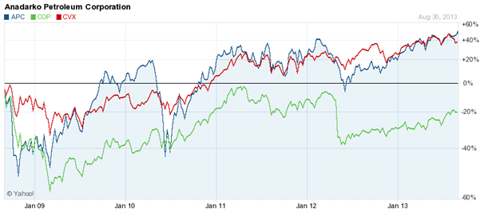 Source: Yahoo! Finance
Stock price of Anadarko has historically outperformed ConocoPhillips and Chevron in the last five years, which is one more feather in the cap of Anadarko.
Street's expectations and recommendations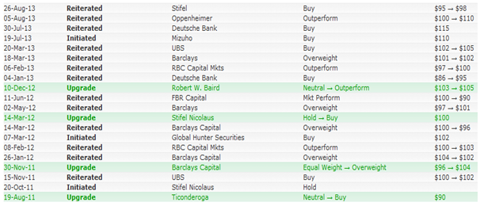 Source: Finviz
One cannot grow in isolation and hence, I considered expectations of other analysts on the Street to support my view. Most of all investment advisors on the Street have a "buy" or, "outperform" rating on the stocks, and there is no "sell" advice on the stock. Additionally, on an average, these investment firms have a price target of above or around $100 a share, which is roughly 8-9% more than the current level of $92.
Conclusion:
By analyzing this stock from fundamentals, valuations and market point of view, I think investors can initiate their long on this stock at the current level, and those who already own this must continue holding. Hence, I recommend a "buy" on this stock.
Disclosure: I have no positions in any stocks mentioned, and no plans to initiate any positions within the next 72 hours. I wrote this article myself, and it expresses my own opinions. I am not receiving compensation for it (other than from Seeking Alpha). I have no business relationship with any company whose stock is mentioned in this article.