By Neal Rau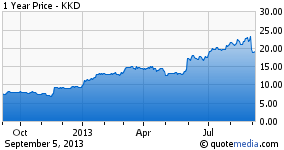 On Friday the doughnut chain's quarterly results fell short of Wall Street's expectations, and Krispy Kreme Doughnuts (KKD) dropped as much as 15%. The stock had tripled in the last 12 months, as the company had delivered 19 consecutive quarters of same-store sales growth. The questions for investors now is, whether Friday's decline, and Tuesday's follow through selling, is a buying opportunity, or the start of a downtrend in the stock.
Krispy Kreme's new management team is a major reason why the stock has rebounded from $1.15 per share four years ago, to about $20 per share. This quarter brought high expectations from investors, and falling short on earnings likely pushed short-term investors to sell. Overall, it was not a bad quarter. Same store sales increased by 10%, and the company reaffirmed earnings guidance for the year, while estimating earnings per share will be between 59 cents and 63 cents. According to the Stock Traders Daily report, the stock is close to testing long-term support. The stock price over the next few weeks will likely tell investors if the uptrend can continue, or if competition is catching up.
Krispy Kreme has some tough competition right now. The biggest competitive threat could be Starbucks Corporation (SBUX), the largest coffeehouse chain that grows bigger every year, with well over 19,000 stores around the world. Starbucks also has its sights on similarly dominating the coffee scene in high-growth Asian markets. On July 23, Krispy Kreme announced an agreement with existing franchisee Lotteria Co. for 60 new store outlets in South Korea over the next five years. The company is focusing on growing franchises from 500 to 900 internationally by 2017, and from 240 to 400 in the U.S. Krispy Kreme recently introduced specialty coffee drinks like mochas and lattes in an attempt to attract Starbucks and Dunkin Brands Group Inc. (DNKN) customers.
Krispy Kreme actually beat Dunkin' Donuts in revenue for the quarter, and they did it without having nearly as many stores, as sales through other venues helped them edge out the company's rival. Dunkin' Donuts has a big advantage with diversification, as stores offer ice cream, sandwiches and coffee. Krispy Kreme is attempting to diversify its products as well, because the company is aware that doughnuts are responsible for about 87% of its overall sales. It has recently offered new coffee blends and its Chiller line of frozen beverages, as an attempt to diversify.
If Krispy Kreme can add diversification and continue to expand, the future looks bright. Diversification looks to be a key factor as the Krispy Kreme brand's popularity increases product offerings, and expands in domestic and international markets. Nevertheless, the stock was trading lower again on Tuesday and close to testing long-term support. We buy near support, and if support holds, we expect the stock to trade higher. As a rule, we set stops near support to control risk. If support breaks, the otherwise positive bias that exists now according to the real time report issued by Stock Traders Daily would dissolve regardless of what happens to the business model. When we buy stocks price is what matters. Treat long-term support as inflection accordingly.
Disclosure: I have no positions in any stocks mentioned, and no plans to initiate any positions within the next 72 hours.
Business relationship disclosure: By Neal Rau for Stock Traders Daily and neither receives compensation from the publicly traded companies listed herein for writing this article.