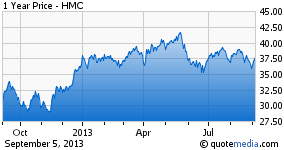 China and India are the fastest growing economies of the world and second and third largest countries (by area) in Asia. Combined, the countries produced 27.83% of the vehicles manufactured in the world in 2012. In 2009, China overtook the USA as the world's largest vehicle producing country. By 2016, India is expected to become the third largest automotive market in the world. Honda (HMC) has operations in both countries and expects to harness the growth opportunities.
Increased competition in the Chinese market
The Chinese market is considered the most lucrative region for the car manufacturers. It has a low vehicle ownership ratio of 85 per thousand people and a GDP growth expectation of 7.5% for 2013. Despite the strong demographics, increasing political tensions between China and Japan over the claims of the mineral rich disputed islands Senkaku and Diaoyu led to anti-Japanese sentiment among Chinese residents. This led to an outbreak of violent activities against Japanese companies with operations in China. Honda witnessed a 3% year over year decline in vehicle sales to 367,718 units in the region for the first half of 2013.
Apart from the political tensions, company is also facing some technical problems in its Siwei CR-V SUV model. It has recalled all 408,000 Siwei CR-V vehicles, which were manufactured between March 2, 2010 and August 30, 2012. It recalled the vehicles to fix a defective front shock absorber piston rod that was prone to breakage in certain conditions. This will hamper Honda's efforts to boost its image among Chinese customers, which is currently struggling.
Honda's predicament led to opportunity for Ford (F), which has been responsible for snatching a considerable market share in China. Ford witnessed a 47% year over year increase in its sales to 407,721 units for the first six months of this year. Moreover, Ford announced to launch 15 new models by 2015.
To counter this increased competition from Ford, Honda is planning to launch 12 new models by 2015, out of which five new models will be specially developed to meet the taste of Chinese residents.
Apart from new models, Honda has to focus on the luxury car segment in China. In 2012, the market for luxury cars in China reached 1.25 million. Luxury car sales are expected to rise to 2.25 million by 2016. General Motor (GM) has a strong hold in this segment with its Cadillac cars. To take advantage of this growing trend, General Motors received approval from the Chinese government to invest $1.3 billion for a plant to produce Cadillac cars with a capacity 150,000 units. Honda has planned to manufacture its Acura brand with its Chinese partner, Guangzhou Automotive Corporation, in an answer to General Motors Cadillac cars and grab market share in this growing, under penetrated market.
(We also recommend GM. Please read: If You Ain't Another Tesla Lover, You Should Be Buying GM)
In 2012, Honda's automobile sales from China declined by 3% year over year to 603,000 units, or 3.1% of overall auto sales in China last year. It is difficult for the company to achieve rise in auto sales for the present fiscal year, but automobile sales in China are expected to rise by 7% to 20.6 million units by the end of 2013. If Honda achieves around 3.1% of automobile sales it achieved in 2012, its unit sales would rise to 638,600 units in the present fiscal year, a 5.9% rise year over year.
Seeking growth opportunity from India
Honda is also concentrating on emerging markets like India, which has a vehicle ownership ratio of just 20 per one thousand people. Although revenue from India contributes very small fraction of Honda's total revenue, it expects a huge demand from the region. India's passenger vehicle production has been increasing at a compounded annual growth rate, or CAGR, of 14% over the last 4 years, which led to production of 3.14 million units in 2012.
Diesel run vehicles are preferred in India due to a subsidy in diesel prices provided by the Indian government. In the current fiscal year, India's government is set to provide subsidy of $15 billion in diesel prices. Honda launched its first diesel run model in India, Amaze, which generated 6515 unit sales in July alone and has a very reasonable base price of $9000 for the Indian residents. The company witnessed a 156% rise in unit sales to 11,233 units in July as compared to the same period in 2012. Honda's sales from the Indian market in the first four months of the current fiscal year ended July 2013 surged by 65% year over year to 40,350 vehicles.
In the last fiscal year ended March 2013, Honda sold 73,483 units in India, 37% rise from the previous fiscal year. Honda has already achieved 55% of this sales volume in the first four months of this fiscal year. Additionally, Honda sold 30,000 units of Amaze cars in this period, and 80% of these customers are first time customers for Honda. These developments in such a short time prompt us to believe that Honda can achieve more than 37% growth in vehicle sales for the present fiscal year.
High P/E backed by constant dividend payment
Honda currently has a P/E of 15.06, much higher than the average P/E of the four largest vehicle manufacturers in the U.S that stands at 12.82 and includes Ford, Toyota, General Motors and Honda. Ford and General Motors have a P/E of 10.84 and 12.56 respectively, which is below the average P/E and makes them lucrative stocks as per the current valuations, but high P/E companies are expected to generate revenue at a higher pace than their peers.
Currently, Honda has a better dividend yield of 5.30% annually, much better than Ford's 2.40% and General Motors didn't give dividends. Honda's future prospect looks solid with its operations in emerging market such as China and India. We consider it a growth stock and recommend buying.
Disclosure: I have no positions in any stocks mentioned, and no plans to initiate any positions within the next 72 hours. I wrote this article myself, and it expresses my own opinions. I am not receiving compensation for it (other than from Seeking Alpha). I have no business relationship with any company whose stock is mentioned in this article.