Pacific Sunwear of California Inc. (NASDAQ:PSUN), better known by its store name, PacSun, is a clothing retail chain with 800 stores across America and Puerto Rico. It sells both California lifestyle wear and skate/street wear, thereby competing with American Eagle Outfitters (NYSE:AEO), Abercrombie & Fitch (NYSE:ANF), Zumiez (NASDAQ:ZUMZ), and Vans.
PacSun made a definitive bottom at $1.36 in late December 2012, and a subsequent 52-week high at $4.50 on August 5th. It took a dive from that high after an interesting earnings report on Thursday, August 29th, after the close.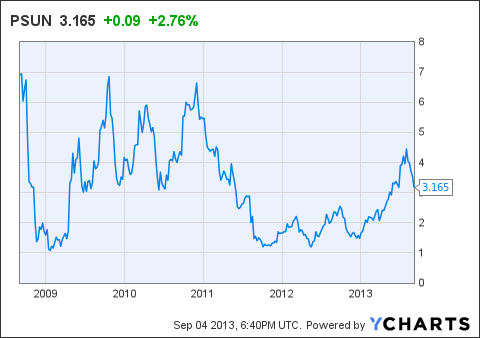 PSUN's unique financial position will cause its stock price to trend sideways with significant support and resistance at $3 and $4.50, respectively. I believe this for four reasons:
1) Quarterly revenue and gross profit, accounting for seasonality, have stabilized since early 2011, and according to management, are expected to fall within previous seasonal oscillations in Q3 2013.
Quarterly revenue seasonally oscillates between $230mil and $170mil. YoY revenue growth is expected to be between +1% and -3%, leaving it well within this range.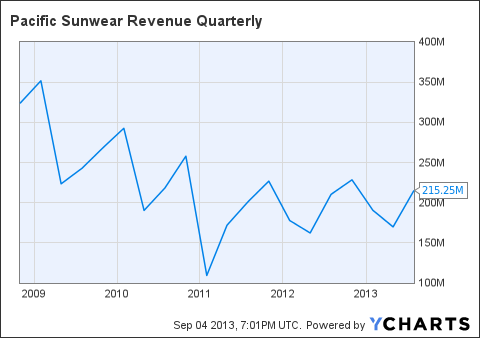 Gross profit seasonally oscillates between $65mil and $45mil. It is expected to decrease $13mil YoY, leaving it within this range at $48mil.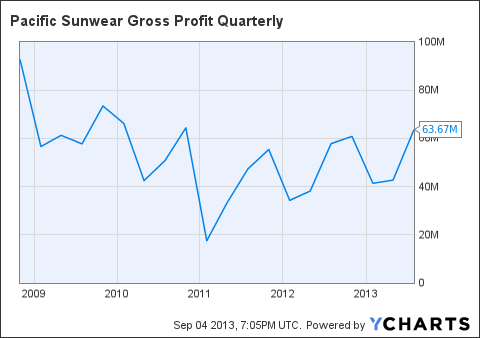 2) Increasing gross margins in the current quarter are a result of both seasonality and an additional week added to fiscal 2013. The company reported a 220 basis point YoY increase in gross margins, but gained 120 of those points from an addition of a week to its fiscal calendar. The gross margin increase shows, as stated by the management, that some effort was taken to improve it. This change is ultimately trivial.
3) PacSun is 30+ years old and in the stages of optimization. In an effort to boost margins and comparable store sales, it will be closing 20-30 stores this quarter with intentions to report small decreases YoY revenue and non-GAAP EPS. It can afford to do this since it has 800 stores and need not carry laggards.
4) PacSun's share price has been supported largely by the management's optimism about non-GAAP EPS, which has been slightly increasing in recent quarters due to marginal comparable store sales increases. This optimism is undeserved, as PacSun's official EPS includes "losses on derivative liability," which was $21 million dollars in Q2 2013, bringing their non-GAAP EPS from $0.03 to a GAAP loss of $0.28 per share.
Our guidance for non-GAAP loss per share from continuing operations also excludes the quarterly impact of any change in the fair value of the derivative liability due to the inherently variable nature of this financial instrument. -- Michael W. Kaplan, Chief Financial Officer, Principal Accounting Officer and Senior Vice President
This derivative liability will prevent PacSun from reporting positive GAAP EPS in the coming quarters because as PacSun's share price increases, the derivative liability records exponentially greater losses to the company. The derivative liability was established in late fiscal 2011 when the share price was under $2. In the first half of fiscal 2012, when the stock price was bounded between $1.36 and $2.50, the derivative liability resulted in a loss of $1.9mil. In the first half of fiscal 2013, when the stock was bounded between $2 and $4.50, the liability cost $30mil, dealing a crippling blow to PacSun's EPS.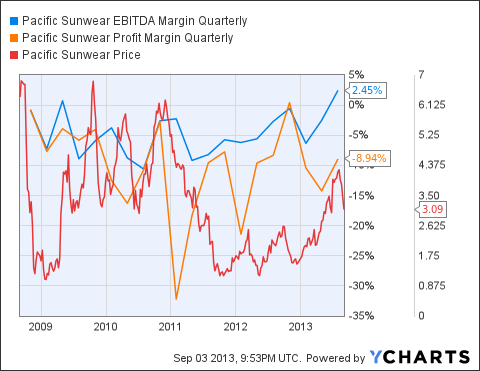 This relationship is reflected in the difference between PacSun's GAAP profit margin and GAAP EBITDA profit margin (EBITDA is approximately synonymous to the management's idea of non-GAAP EPS in this case.) Starting in 2011, the difference is generally greater when the stock price is higher.
If PacSun's management performs well, it will be rewarded with an increased stock price, which results in exponential losses on its derivative liability, forcing PacSun to report negative GAAP EPS. Therefore, PacSun's share price cannot sustainably exceed its previous 52-week high of $4.50, where the company reported a $21mil quarterly loss on its derivative liability. Conversely, the market's reaction to the recent Q2 2013 report shows that there are ample buyers at $3, a strong historical support level.
Capitalize:
Sell an out-of-the-money strangle in this situation. Sell an equal number of March $5.00 calls and $2.50 puts. Also, noting that the stock is at the lower bound of the predicted range and that this straddle cannot result in double liability, go long an equal number of shares of PSUN until it reaches the resistance point of $4.50.
To Conclude:
PacSun's share price will likely remain between $3 and $4.50 for the next 3 quarters. A 2-3 month long position and a 6 month short strangle are each favorable at this time.
Disclosure: I have no positions in any stocks mentioned, and no plans to initiate any positions within the next 72 hours. I wrote this article myself, and it expresses my own opinions. I am not receiving compensation for it (other than from Seeking Alpha). I have no business relationship with any company whose stock is mentioned in this article.