The rally continues in the oil and natural gas E&P names with all-time highs hit again yesterday. Winners and losers are being picked out based on location but we still are amazed at what some areas are fetching on a per acre basis (both good and bad). There is still value out there for those who know where to look, but some of the best shale plays are now getting to where we view the acreage as fairly valued. What we mean by this is fairly valued for today, not that there is not any future upside down the road. The key for investors now is to focus upon these names with acreage which will be increasing in value and also seeing production increases. We have highlighted numerous names over the years but there are still more out there where the risk/reward scenario is attractive. It is a great time to be in these names and we think that the party can continue for a few more years.
Chart of the Day:
We have watched as copper has pulled back in the past few trading sessions and we are trying to figure out what it means. Is the world this worried about economic growth slowing due to tapering? Or does it have more to do with Syria or a run which went too far too fast?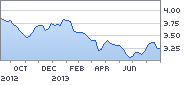 Source: CNBC
Commodity prices this morning are as follows:
Gold: $1388.60/ounce, down by $1.40/ounce
Silver: $23.44/ounce, up by $0.025/ounce
Oil: $107.98/barrel, up by $0.75/barrel
RBOB Gas: $2.8534/gallon, down by $0.0109/gallon
Natural Gas: $3.714/MMbtu, up by $0.031/MMbtu
Copper: $3.2365/pound, down by $0.0045/pound
Platinum: $1488.10/ounce, down by $6.60/ounce
Oil & Natural Gas
Very few people have the ability to set our inbox on fire, but Jim Cramer did that with his discussion of potential takeover targets in the oil and natural gas E&P names. Most of our readers wanted to know our take on two names he pointed out, Kodiak Oil & Gas (NYSE:KOG) and SandRidge Energy (NYSE:SD), which we have discussed over the years in our commodity articles. Kodiak we actually discussed recently in that fashion but still think that they have a bit of a dark cloud over them because of their failed sale this past year. It should not matter, but in business it does. SandRidge is a different story. Yes the price is manageable for a number of players, but the assets are gassier than previously expected and the company is now essentially focused on one growth play which is not in the top five plays to be involved in on anyone's list that we have seen. If someone is going to buy SandRidge it will only be after the company has effectively proven solid reserves and shown that considerable liquids are located throughout their acreage in both Oklahoma and Kansas.
Now Concho Resources (NYSE:CXO) was a name we like because of their focus on the high value targets. Many of the emails we received overlooked the name, but we think that was a mistake. Yes the market capitalization would prevent the big gains from solid drilling results that one could reasonably expect with both SandRidge and Kodiak, but the company is one of those juicy targets that big oil would salivate over because of its ability to quickly boost reserves and production numbers in one deal.
Diamondback Energy is a name which has been on a run that nearly everyone can be impressed with. The chart is a thing of beauty since the IPO rising from the lower left to the upper right while staying within a tight, upward bound, trading range. Watch for the next breakout.
Source: Yahoo Finance
For those who do like Concho but want exposure to a smaller name in the same types of plays, we would recommend our long-time favorite Diamondback Energy (NASDAQ:FANG), which hit a new 52-week and all-time high yesterday. The company recently announced (see press release here) the purchase of an additional 12,500 net acres in Midland County which will increase their exposure to the Permian (half of the mineral leases purchased are already operated by Diamondback, so this is a consolidation move with acreage the company is intimately familiar with). The price was on the high side with the total price tag being $440 million, but the company is getting producing assets and inventory in a very 'oily' play. This remains a buy in our opinion and could very well be an attractive takeover target for a number of names out there based on its market capitalization.
The name has been on fire lately, but right now we think that the shares are worth somewhere in the $35/share area and that investors and the market are not fairly valuing the assets. There is value to be realized here, either via JV agreements, share price increases or an outright buyout.
Source: Yahoo Finance
Our wild card right now to get taken over is Chesapeake Energy (NYSE:CHK) though. It is a company which has enough assets to keep one of the 'Big Oil' names occupied for some time developing the properties while also offering a solid mix of oil, NGL and natural gas production possibilities. When one looks at possible takeover candidates one of the top questions is how much more value could you realize from those assets than is currently being derived from the owner and when you look at Chesapeake the answer everyone seems to come up with is a lot. If a deal is to be done we would expect it in the next 12-18 months. After that timeframe one would have to suspect that the buying opportunity was missed.
Disclosure: I have no positions in any stocks mentioned, and no plans to initiate any positions within the next 72 hours. I wrote this article myself, and it expresses my own opinions. I am not receiving compensation for it (other than from Seeking Alpha). I have no business relationship with any company whose stock is mentioned in this article.
Additional disclosure: Author does own shares in Gulfport Energy (NASDAQ:GPOR) which has a significant holding in Diamondback Energy (FANG).