The performance of the S&P 500 has been poor in the month of September. But, investors willing to step into historical weakness with a longer outlook have been handsomely rewarded by the end of November.
For those with cash, September weakness has served as a great buy opportunity.
The S&P 500 has finished November higher than it starts September in 9 of the past 10 years, generating an average and median return of 1.95% and 4.07% respectively. The Dow Jones and S&P 400 Mid Cap ETF's have been similarly strong.
Source: Seasonal Investor Database

Drilling down further, one of the best industries for upside over the coming three months is consumer goods (NYSEARCA:XLP). The consumer goods ETF has gained ground through November in 9 of the past 10 years, increasing by an average and median 2.64% and 3.18% respectively.

These 3 consumer goods stocks are worth buying this month
There are 3 stocks within the consumer goods sector that should be on your radar this month. Diageo (NYSE:DEO), Philip Morris (NYSE:MO) and Nike (NYSE:NKE) have each posted solid returns over the next 3 months, suggesting September is a good time to be looking to buy.
1. Leading liquor brands and emerging markets support Diageo
Diageo is expected to see EPS growth of 14% next year, outpacing its large cap consumer goods peers. A good portion of the company's success is coming from Johnnie Walker. The company shipped 1 million more cases of the well known Scotch in 2012 than it did in 2011, bringing total shipments to 18 million. According to IWSR, Diageo boasts 28 brands that are being sold in at least three global regions and have sales of at least 20,000 cases per region. Johnnie Walker had the top spot in IWSR's 2013 World Class Brands ranking. Four of the top 10 brands ranked by IWSR are owned by Diageo, including Ciroc -- a premium vodka brand reinvigorated by artist Diddy --, Buchanon's and Captain Morgan. The company also owns premium vodka brand Smirnoff, which owns 6.5% share of the global vodka market. Expanding Diageo's reach in fast growing markets such as India --where it acquired a controlling stake in the country's biggest liquor company United Spirits -- and China -- where the company has acquired a leading baijiu liquor brand --- gives plenty of growth opportunity.
Source: E.B. Capital Markets, LLC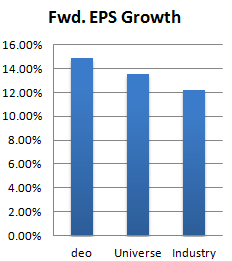 Over the past decade, investors have sent shares of Diageo up an average 7.6% in the three months ending November. The stock has gained in 9 of the past 10 years, generating a median return of 10.7% with a standard deviation -- a measure of volatility -- of 11.39%.

2. Altria Group offers more than just an impressive forward 5.7% dividend yield.
Altria has always been good about returning money to shareholders and this year is no different. The company recently upped its dividend by 9.1% to $0.48 per share. That marked the 47th time the company has boosted its dividend over the past 44 years.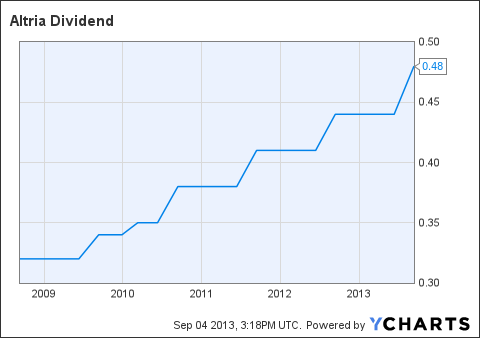 MO Dividend data by YCharts
Altria is also ramping stock buybacks, lifting its authorization from $300 million to a billion. The friendly behavior is supported by rising operating cash. The company reaffirmed expectations for 7-9% earnings per share growth this year at a recent Barclay's conference. The strength comes thanks to stability in its tobacco brands -- led by gains in smokeless -- and ongoing growth for its wine brands, which include Chateau Ste. Michelle, Columbia Crest, and 14 Hands. Case volume at Ste. Michelle was up an especially notable 4% year-over-year and the more recently launched 14 Hands saw case volume growth of 50% in Q2. It's also thanks to ongoing cost cuts, which the company expects to total $400 million annually.
Altria's shares have gained in 9 of the past 10 3-month periods ending November, generating an average and median return of 6.61% and 5.97%, respectively.

3. Earnings growth is running ahead of sales growth at Nike, supporting buybacks
When companies mature, shareholders like to see earnings growth outpace revenue growth. It shows management is cost conscious and that larger scale is benefiting margins. By that benchmark, Nike is doing nicely. In the full fiscal 2013 that just ended, Nike's earnings per share were up 11% as global revenue climbed a respectable 8% to $25 billion. The company finished the fiscal year strong, with 9% ex-currency top line growth and 27% diluted earnings per share growth.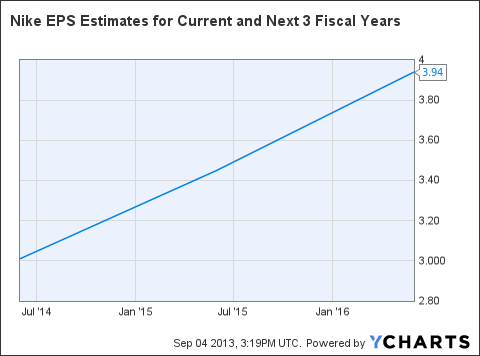 NKE EPS Estimates for Current and Next 3 Fiscal Years data by YCharts
Those results came despite weaker demand in Western Europe and China. The main driver of the quarter's earnings success was a 1.1% lift in gross margin to 43.9% and the company's repurchase of 4.2 million shares last quarter. Those buybacks will continue as the company exhausted its 2008 authorization to buyback $5 billion in stock and shifted to its 2012 authorization to repurchase $8 billion in shares. Going forward, if improving economic data recently released for Western Europe and China continues, Nike will continue to post solid mid to high single digit sales growth, bullish for future earnings.
Since 2003, Nike has finished November higher than it starts September 9 times. Shares have returned an average and median 12.03% and 14.79% in the period, respectively.

Overall, those three stocks provide investors with solid seasonal tailwinds and catalysts likely to support upside. Whether its investing in liquor, wine or running shoes, these consumer goods plays should provide shareholder friendly upside into fall.
Disclosure: I have no positions in any stocks mentioned, but may initiate a long position in NKE over the next 72 hours. I wrote this article myself, and it expresses my own opinions. I am not receiving compensation for it (other than from Seeking Alpha). I have no business relationship with any company whose stock is mentioned in this article.