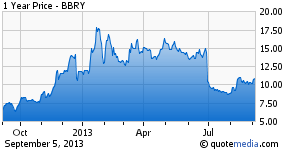 There is one big difference between BlackBerry (NASDAQ:BBRY) and just about every other smartphone maker out there. The main difference is that BlackBerry mainly produces high-end devices for the enterprise and corporations, whereby just about every other device manufacturer mainly makes devices for general consumer use. Yes other devices can also be used in the enterprise, but the bulk of the efforts and mind-frame is geared towards consumers.
The difference between customer type, is that while consumers wait overnight outside stores to get the latest devices, corporations take their sweet time to upgrade or to commit to something new. Even more so when they decide to move to another ecosystem.
As a result and by default, BlackBerry device sales (especially the Q10) are never front-loaded and for the most part will develop over a long period of time. Corporations don't just trade up to a new device before most of the bugs are out, or before several OS updates are out. When they do upgrade or commit, they want to be sure the transition goes as smooth as possible. The timing of such an upgrade might make a difference in their corporate performance and productivity.
That's one of the reasons (among many) that BlackBerry has not registered the sales the market was expecting. Analysts have been use to vast front-end sales from device makers, ignoring the fact that BlackBerry is not a consumer company and that enterprise customers don't have the same mind-frame as consumers.
Another thing enterprise customers don't like is uncertainty. Especially as far as support and service is concerned. One such example is the recent news from Bloomberg that Morgan Stanley (NYSE:MS) put off upgrading to BlackBerry's latest platform and devices, over the uncertainty of the company's future.
One big question for the enterprise customer is, if BlackBerry were to be bought out, will it be the same company as before, or will the buyer close down the devices business as we have heard lately? This is a critical point, because there is no use spending millions to upgrade to new devices, only for these devices to become obsolete in a very short time.
So on the one hand BlackBerry's enterprise business by default takes time to develop and on the other, there is a lot of uncertainty in the market pertaining to the future of the company at the present time. And I am sure if we look around, we will find hundreds (if not thousands) of companies in the same dilemma that Morgan Stanley is in.
Can you imagine for example how Apple (NASDAQ:AAPL) iPhone5 sales might have been if Apple's future was in doubt? Can you picture the trajectory of Google's (NASDAQ:GOOG) Android OS, if the market thought Google was a goner? I personally think Nokia (NYSE:NOK) failed to perform to expectations mainly because there was so much uncertainty about the company.
And there lies the mistake that BlackBerry's current management has made. Beside the many marketing blunders, they have created uncertainty at a critical time when the company was in the middle of a major transition, by opening a discussion about the future the company and creating anxiety about the company's future in the marketplace, where there was none before.
And personally speaking, if I were on the BlackBerry board, I would want to have Thorsten Heins' head for this, because the handling of this transition has been nothing less than amateurish.
I mean it's as if the company was put up for sale just so the executive team can get their golden parachutes. I could understand Thorsten Heins getting a performance bonus if the company were to be sold at $30 a share, but why should he get anything if all of a sudden a buyer comes in at $10 a share?
The bottom line is that this company does not have a problem. Smartphone sales will keep increasing (over one billion this year) and no matter what, BlackBerry will get its share. Also, BlackBerry does need to be number one in the space. It could make good money being number four in the space, as long as it concentrates on the enterprise customer, something that current management has managed to alienate, by creating uncertainty about the company.
Disclosure: I have no positions in any stocks mentioned, and no plans to initiate any positions within the next 72 hours. I wrote this article myself, and it expresses my own opinions. I am not receiving compensation for it (other than from Seeking Alpha). I have no business relationship with any company whose stock is mentioned in this article.