It's not often that I take the time to check out stock tips that are disseminated to me anytime I'm at a restaurant minding my own business with a margarita, and such should have been the case with Pacific Healthcare Organization (OTCQB:PFHO) when it was mentioned to me at my local Scottsdale dining establishment. PFHO was pitched as a "diamond in the rough play" on the OTC markets. "Sure," I thought to myself, "another penny stock promo or company with no fundamentals." I added it to my watch list the next morning and forgot about it.
That was in March of this year, and I couldn't have been any more wrong in my initial interpretation of this company. PFHO recently caught my attention, and here's why:

Click to enlarge
Since the time I was first told about it, the stock has nearly doubled. So, now this company has my undivided attention. I started to look into the company, and found that there really might be an opportunity for growth here.
First things first, from Pacific Healthcare Organization's website:
Pacific Healthcare Organization, Inc., through its subsidiaries, engages in managing and administering health care organizations (HCOs) and managed provider networks in the state of California. The HCOs are networks of medical providers established to serve the workers' compensation industry.

Pacific Healthcare Organization, Inc., through its two HCOs, offers injured workers a choice of enrolling in an HCO with a network managed by primary care providers requiring a referral to specialists; or a second HCO, where injured workers do not need any prior authorization to be seen and treated by specialists. The company was formerly known as Clear Air, Inc. and changed its name to Pacific Healthcare Organization, Inc. in January 2001. Pacific Healthcare Organization, Inc. was incorporated in 1970 and is based in Newport Beach, California.
On Wednesday, August 14th of this year, the company appeared to put out it's first press release in years, signaling dramatic gains in net income and revenues across the board. In other words, it looks like the company has some results to brag about, and they might just be starting to brag. The CEO cited the company's Q2 financial results as seeing "solid growth in revenues". The company is deriving their revenues from their main business of providing a range of services primarily to California employers and claims administrators. The press release states, with my underlines emphasized:
The Company reported net income of $288,543, or $0.36 per basic and fully diluted share for the second quarter ended June 30, 2013 compared to net income of $186,382, or $0.23 per basic and fully diluted share, for the second quarter ended June 30, 2012. For the first six months of 2013, the Company reported net income of $492,428 or $0.61 per basic and fully diluted share, compared to net income of $342,753 or $0.43 per basic and fully diluted share for the first six months of 2012.

Total revenues for the second quarter 2013 were $1,592,608, compared to $1,123,911 for the same period in 2012, an increase of $468,597 or 42 percent. For the first six months of 2013, the Company recorded total revenue of $2,976,718 compared to total revenues of $2,189,368 for the same period in 2012, an increase of $787,350, or 36 percent.

Cash provided by operations increased to $382,259 during the six months ended June 30, 2013, from $143,531 for the same period in 2012, an increase of $238,839 or 166 percent.

"We are encouraged by the effects of our strategic planning and believe that we are now beginning to reap the benefits of expanding our marketing efforts in the form of solid growth in revenues. With our achievements in our second quarter we should yield satisfactory results in the remaining quarters of the year. Of course, we cannot be certain that our growth rate will continue at the current rate and we continue to simplify and align our operations to better adapt to market fluctuations," commented Tom Kubota, chief executive officer.
The insider transaction history of the company, albeit not too lengthy, is also one that someone investing long would like to see. CEO, Tom Kubota, has purchased shares as low as $1.75 in 2012 and as high as $9.25 in May of 2013, showing that he appears to have enough confidence in his company to not sell off his 600% gains from 2012, but rather to continue to invest in his growing company. Insider transaction history can be viewed at PFHO's Yahoo Finance page, located here. This is a major vote of confidence for people who might be asking whether or not it's too late to take a stake in the company after it's runup.
The fundamentals of the company' s balance sheet also look pretty strong. The company is carrying about 2.6 mil in assets with about $686,000 in liabilities. The company's current cash position is approximately $851,000. Total stockholder equity as well as company assets have risen quarter over quarter for the past four quarters.
(click to enlarge - all numbers in thousands)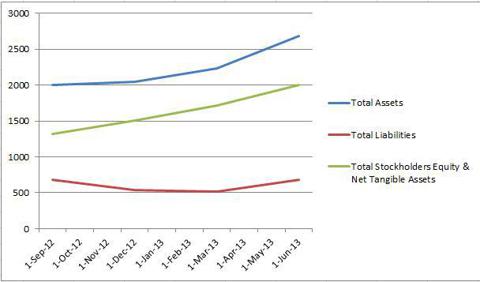 Click to enlarge
Even more impressive than the company's recent quarter-over-quarter results is a two and a half year snapshot looking back into just how much PFHO has improved of late. Let's look at how the company has grown both EPS and revenue, in conjunction with enrollees over the past couple of years.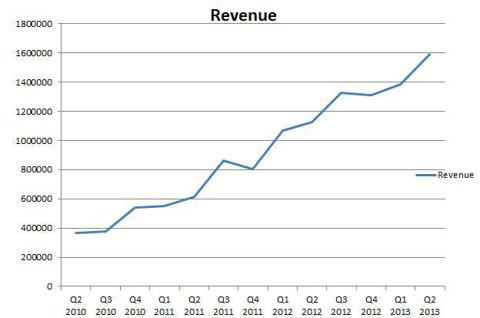 Click to enlarge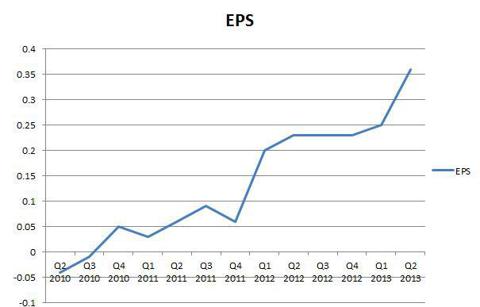 Click to enlarge
Going up? Here's the raw data behind those impressive looking charts, courtesy of our great friends at Microsoft Excel:
| | | | | |
| --- | --- | --- | --- | --- |
| Quarter | EPS | Revenue | Enrollees | $ per Enrollee |
| Q2' 13 | $0.36 | $1,592,608 | 550,000 | 2.90 |
| Q1 '13 | $0.25 | $1,384,110 | 537,000 | 2.57 |
| Q4 '12 | $0.23 | $1,311,000 | 516,000 | 2.54 |
| Q3 '12 | $0.23 | $1,326,801 | 442,000 | 3.00 |
| Q2' 12 | $0.23 | $1,123,911 | 403,000 | 2.79 |
| Q1 '12 | $0.20 | $1,065,457 | 388,000 | 2.75 |
| Q4 '11 | $0.06 | $803,893 | 370,000 | 2.17 |
| Q3 '11 | $0.09 | $864,397 | 348,000 | 2.48 |
| Q2 '11 | $0.06 | $613,677 | 318,000 | 1.93 |
| Q1 '11 | $0.03 | $549,826 | 288,000 | 1.91 |
| Q4 '10 | $0.05 | $542,550 | 286,000 | 1.90 |
| Q3 '10 | -$0.01 | $379,151 | 254,000 | 1.49 |
| Q2 '10 | -$0.04 | $346,400 | 245,000 | 1.41 |
In addition to the company's main metrics really starting to look impressive, PFHO has also started to garner some eyes on it from local California media. The company was named #8 in the Orange County Business Journal's list of fastest growing public companies: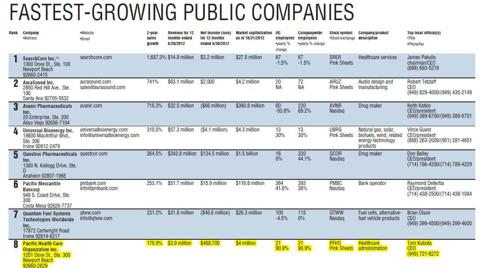 Click to enlarge
Like every company, PFHO comes with risks. The company lists their main risks in their last 10-Q:
In the current economic environment, we anticipate businesses will continue to seek ways to further reduce their workers' compensation program costs. Even though the HCO and MPN programs have been shown to create a favorable return on investment for employers, (as our services are a significant component of the employers' loss prevention programs), it can be a challenge to justify our fees to our customers. In order to convince employers that HCO and/or MPN fees are well-spent, we must continue to provide a framework for expeditiously returning employees back to work at the lowest cost. As a result, we may experience some client turnover in the form of existing employer clients seeking to terminate or renegotiate the scope and terms of existing services. We also anticipate our market may shrink as some employers seek to reduce their costs by managing their workers' compensation care services in-house.
However, this is clearly the case of a company that is going to be poised for an uplist in the future, should they continue in the direction they are heading. If that happens, the door for analysts and institutional investors opens up a bit wider, making the company an attractive buy, even at its current price. Since there isn't a ton of liquidity in this stock, there isn't a lot of forward looking speculation priced into it. In other words, there might still be time to add this one to your portfolio "before the world finds out". Best of luck to all investors.
Disclosure: I have no positions in any stocks mentioned, and no plans to initiate any positions within the next 72 hours. I wrote this article myself, and it expresses my own opinions. I am not receiving compensation for it (other than from Seeking Alpha). I have no business relationship with any company whose stock is mentioned in this article.