Let's compare the largest REITs in the US by sector and see what parallels we can draw, and identify the best opportunities.
Simon Property Group (NYSE:SPG)
Market Cap: $45 billion; 325 properties; 240 million square feet (approximately).
Year End Summary (2012): Has acquired more than $33 billion in acquisitions since 1995 and was very busy in 2012 investing about $4 billion in strategic international acquisitions, including around $2 billion in France's (REIT equivalent) Klépierre, which develops, owns and / or manages over 30 high-quality shopping centers across over a dozen continental European countries (mostly in France & Belgium with a quarter in Scandinavia, and the rest in Central & Southern Europe; the acquisition of Farrallon Capital interest in a 50/50 JV, comprising approximately 26 (already managed properties: 13 Mills, 10 Malls & 3 Community / Lifestyle centers for approximately $1.5 billion; the purchase; and formed a JV with CalPerS & Miller Capital Advisory to own the Shops at Mission Viejo and Woodfield mall.; and acquired interests in 3 Premium Outlets in San Francisco, Dallas and in Florida; and invested another $300 million three other development projects.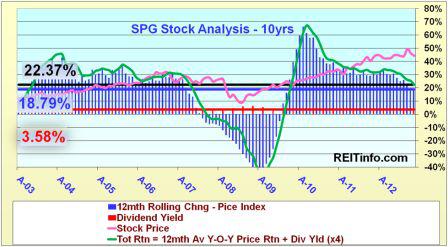 Equity Residential (NYSE:EQR)
Market Cap: $18 billion; 420 properties concentrated in the North-East and West Coast with 120,000 units (approximately).
Year End Summary (2012): Acquired Archstone for approximately $9 billion (with a portfolio of about 22,000 apartments and half-a-dozen development projects, partially funded by envisaged disposal of about $4 billion "non-core" assets. Completing its refocusing agenda of targeting a younger demographic in urban locations in high quality multistory properties.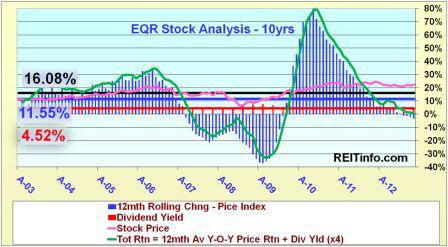 Boston Properties (NYSE:BXP)
Market Cap: $15 billion; 170 properties with 60 million square feet of space, concentrated on New York, Boston, Princeton, San Francisco & Washington (approximately).
Year End Summary (2012): Acquired 3 large properties for about $1.4 billion and announced a similar number of development projects, bring the total to approximately $2.3 billion with around 3.6 million square feet of space.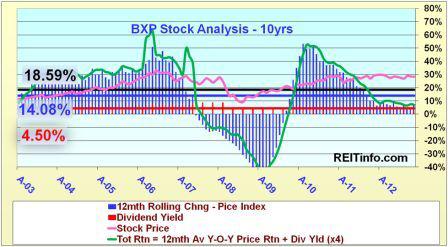 Prologis (NYSE:PLD)
Market Cap: $17 billion; 3,000 logistics facilities and 4,500 tenants, 550 million square feet of space, and operations in over 20 countries (approximately).
Year End Summary (2012): Following the 2011 merger with AMB, the company announced that it was well on course to dispose of approximately $2.9 billion worth of 'non-core' (mostly) US assets, increasing its international weighting to about 85% (and envisaged to go a bit higher). In 2012 it made about $550 million of acquisitions and announced many more new development projects, bring the total to about $1.9 billion (mostly design-and-builds).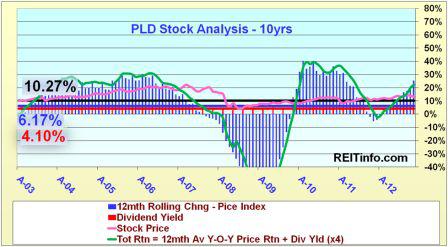 Host Hotels & Resorts (NYSE:HST)
Market Cap: $13 billion; over a hundred hotels with about 55,000 rooms, including growing portfolios in Asia (especially Australia), Europe, and South America (especially Brazil).
Year End Summary (2012): Acquired a landmark property in Washington and almost half a dozen others in Western Europe for a bit over a $1 billion, and selling a handful of other for close to $450 million.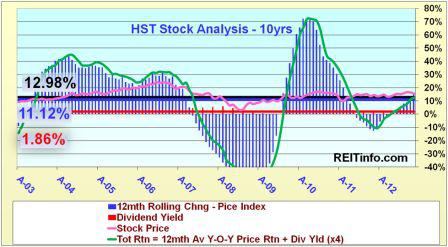 HCP, Inc. (NYSE:HCP)
Market Cap: $18 billion; 1,160 properties and 10,000 beds/units (approximately).
Year End Summary (2012): It is listed on the S&P 500 Dividend Aristocrats Index for having continuously increased dividends for over 25 years, and grew its assets to almost $20 billion - from almost $17.5 billion - and continued to improve the energy efficiency of its properties.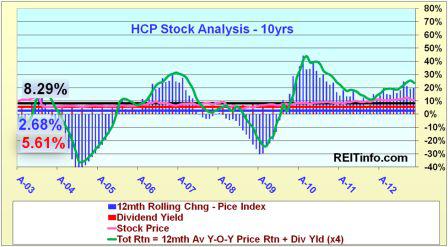 Vornado Realty Trust (NYSE:VNO)
Market Cap: $15 billion; over a hundred shopping centres and almost as many offices, with over 100 million square feet of space (mostly in New York and Washington DC); and almost a third of Toys-R-Us and 6% of JC Penny. In 33 years, cash-flow from the core business had never declined in pure dollar or same-store terms (until last year).
Year End Summary (2012): Bought 10 and sold 23 properties for in the region of $1.25 billion as it disposes of non-strategic, non-geographic assets; sold almost half of its JC Penny holding and sought investors for its Toys-R-Us interest.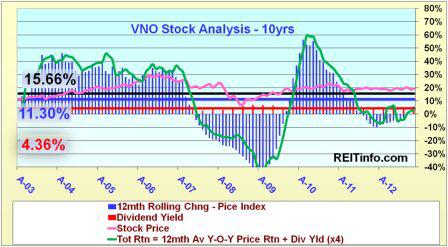 Sovereign Self Storage (SSS)
Market Cap: $2 billion; over 400 "Uncle Bob's" facilities with over 30 million square feet of space and 270,000 units (approximately).
Year End Summary (2012): Has acquired almost a hundred new stores in the last 2 years; same store revenue and occupancy over 5% (the largest in the company's 25+ year history); spending over $20 million on up-grading over 30 stores annually.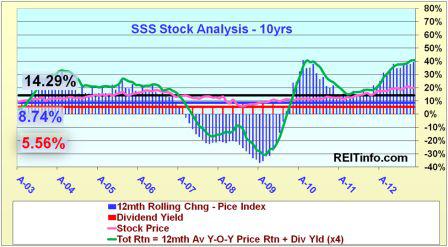 Valuations
Now let's look at the financials and analyse. The first valuation uses the latest Quarter's available data to estimate a Net Operating Income; inflating it by the rate of inflation (Link); capitalising it at our estimate of indicative Market Cap rates; and deducted debt to derive an estimate of net asset value per share. On this basis, Simon, Host, Healthcare Properties & Vornado all seem attractively priced.
The second valuation projects the dividends growth over the past Quarter/year/5 years (combined), forward 5 years, to estimate indicative fair share value today at a 5% discount rate to indicate the present worth of the shares. Healthcare Properties are the stand-out stock, with the others seemingly trading at a substantial premium (data analysed end-August 2013 from Yahoo Finance).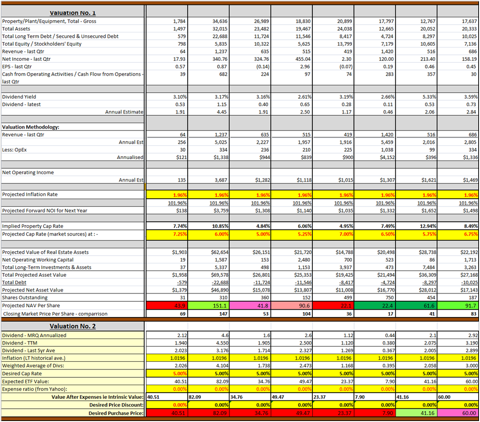 Source: REITinfo.
Having compared the largest REITs in each sector we can see:
Average dividend yields are 3.35% (with HCP the only REIT paying more than 5%).
Average P/E are over 35 and dividend payout ratios high.
Average Dividend / (P/NAV) ratios of only just over 1 (with the exceptions of Prologis & HCP).
Each sector faces its own challenges going forward, but Healthcare has the obvious advantage of demographics and an increasingly squeezed public purse which should lead through to increased demand for private sector services and hence facilities. On this basis, our interpretation of the financial data would indicate that HCP is the best value of the stocks at the moment, because of the above and its EPS/Price but it would be essential to compared it with its peers before considering any investment decisions further.
Analysis

Source: REITinfo.
Disclosure: I have no positions in any stocks mentioned, and no plans to initiate any positions within the next 72 hours. I wrote this article myself, and it expresses my own opinions. I am not receiving compensation for it (other than from Seeking Alpha). I have no business relationship with any company whose stock is mentioned in this article.
Disclaimer: This article is intended to provide information to interested parties. As I have no knowledge of individual circumstances, goals, and/or portfolio concentration or diversification, readers are expected to complete their own due diligence before purchasing any stocks mentioned or recommended, such as a more in depth look at the companies accounts, including (but not limited to) debt profiles and operational strategies. We do not hold any positions in any of these stocks.