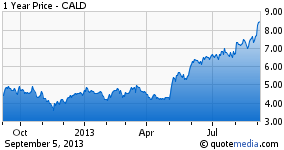 CallidusCloud (NASDAQ:CALD) offers differentiated software-as-a-service applications. Initially some might compare it to salesforce.com (NYSE:CRM), but the product offerings are different.
The share price's uptrend and the differentiated cloud computing offerings were reasons to be somewhat excited about the prospects of Callidus. But, during the course of researching the company there were too many yellow flags for my liking.
It is for that reason that I think investors shouldn't be long shares of Callidus. I don't think it would be appropriate to go into details about the yellow flags but it is important that I write that I found yellow flags. Hopefully, I am wrong about this company and Callidus becomes a mega cap that trades in the S&P 500.
Recent Developments
CallidusCloud was presented with the gold Stevie award in the Most Innovative Company of the Year category.
Callidus Software Inc. unveiled a new suite, Big Sales Data Analytics, of solutions combining big data technology with pioneering analytics and visualization to enable real-time exploration of granular data and improve sales and channel decisions.

Business Summary
Callidus Software is a leading provider of cloud software. CallidusCloud enables organizations to drive performance and productivity across their business with its Hiring, Learning, Marketing and Selling clouds.
CallidusCloud provides packaged integration with salesforce.com, NetSuite (NYSE:N), Dynamics, and Oracle (NASDAQ:ORCL), which enables organizations' sales and marketing teams to seamlessly access Callidus' applications from the organization's Sales Force Automation/Customer Relationship Management systems.
The Hiring Cloud accelerates the sales selection and hiring processes so managers can interview numerous sales candidates more rapidly, while reducing the risk of costly hiring mistakes.
The Marketing Cloud is comprised of LeadFormix, which is a Marketing Automation platform that enables sales teams to rapidly identify and reach decision makers, and close deals faster, and Enablement, which is a cloud and mobile solution designed to align marketing and sales to provide playbooks, collaboration portals, content management and reporting.
The Selling Cloud is comprised of Commissions (which automates the modeling, design, administration, reporting, and analysis of commissions and incentive programs based on customer-defined key performance indicators), Sales Performance Management (which enables businesses to set targeted coaching plans tailored to the individual sales professional), MySalesGame (which combines gamification and social technology to create an innovative platform that provides tools necessary to create meaningful and sustainable organizational behavior change), Incentive Compensation Management (which is a solution designed specifically for the needs of the insurance industry), Configure-Price-Quote (which is a cloud and mobile solution intended to make the quoting and selling process simpler, faster, and cheaper), and WorkFlow (which is a cloud and mobile solution that automates business processes with workflow and promotes collaboration).
The Learning Cloud is comprised of Litmos Learning Management System (which enables companies to quickly deploy training content to their staff and channel partners over the cloud), and Rapid Intake Content Authoring (which is a tool for course developers to collaboratively create courses once and publish to both desktop browsers and mobile devices in one joint package).
Callidus' principal competition comes from Oracle Corporation. Callidus faces competition from International Business Machines (NYSE:IBM) in selling, and Abobe Systems (NASDAQ:ADBE) and SAP AG (NYSE:SAP) in learning. The firm also faces competition from numerous small, in terms of scale, rivals.
Cloud computing is a highly competitive industry. Callidus is attempting to fill gaps between CRM, HCM, and ERP, but those gaps could close. Thus, I don't think Callidus has a wide economic moat. That said, Accenture (NYSE:ACN), Cognizant, Deloitte, PWC, and Tata Consulting Services are among its Global System Integrators, which provides Callidus with distribution advantages.
Callidus provides differentiated offerings relative to salesforce.com, Workday (NYSE:WDAY), SAP and Oracle.
Callidus Software's revenue declined during the recession. GAAP revenue resumed growth in fiscal 2011. The firm hasn't generated an operating profit since 2003. Callidus had $59 million of debt and $27 million of cash at the end of the calendar second quarter. It also has a spotty record of being cash flow positive.
For calendar 2013, I'm forecasting revenue of $106 million, which is the lower end of management's guidance, and I'm forecasting the operating loss in the $15 million to $20 million range, which is below management's guidance. Management's operating income forecast seems wildly optimistic given the first-half performance, and I don't see enough evidence that it is possible for Callidus to report an operating loss in the $13 million to $14 million range.
For calendar 2014, I'm forecasting revenue of $117 million with an operating loss between $20 million and $25 million.
Disclosure: I have no positions in any stocks mentioned, and no plans to initiate any positions within the next 72 hours. I wrote this article myself, and it expresses my own opinions. I am not receiving compensation for it (other than from Seeking Alpha). I have no business relationship with any company whose stock is mentioned in this article.