Lucas Energy (NYSEMKT:LEI) recently reported that it sold $3.33 million of stock at $1.17 per share to Ironman Capital. This was at a ~5% discount to the closing price of Lucas Energy stock the previous day. This is significant because it further removes the overhang of potential future dilution which may have been a factor in the stock trading at a large discount to its proved reserve value. It is also meaningful because Ironman is well known in the energy investing community. Its president, Bryan Dutt, was responsible for huge investment wins in Energy XXI (EXXI) and Harvest Natural Resources (NYSE:HNR) in the 2009-2010 period (based on conversations with management at those companies).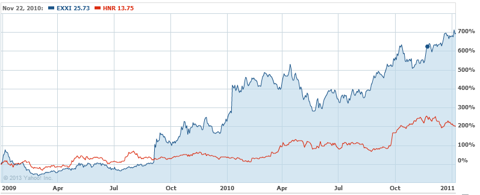 Lucas today has a lot in common with EXXI and HNR in early 2009. It trades at a large discount to its proved reserve value, it has substantial growth potential, it has traded down substantially from previous stock price and valuation highs, it has management that is aligned with shareholders through stock ownership and incentive plans, and now it has Bryan Dutt as one of the largest shareholders.
Here is what Lucas' CEO had to say about the transaction in the press release Lucas put out: ""We are pleased to have Ironman, a highly-regarded energy specialist, as an investor in our company," said Anthony C. Schnur, Chief Executive Officer of Lucas Energy. "This transaction is consistent with our strategy to finance our growth with a series of capital raises. Under our 'grow into growth' strategy, we plan to develop our reserves in stages, beginning with lower-cost opportunities to enhance production and moving toward higher-producing targets."
And Bryan Dutt went on record saying: "We believe there is tremendous inherent value in LEI which could be unlocked by this financing."
Neighbors such as EOG (NYSE:EOG) and Sanchez (NYSE:SN) continue to release excellent wells adjacent to Lucas' land, which is held by production.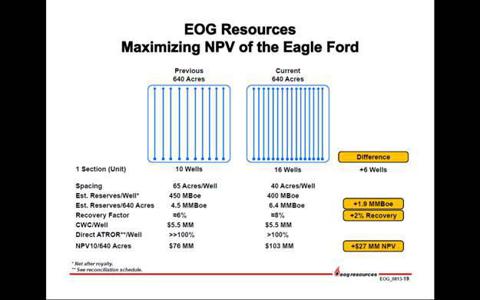 The upside from the combination of redevelopment of the Austin Chalk and Eagle Bine, as well as from the potential development of the Eagle Ford along the lines of EOG's and Sanchez's wells, could send Lucas' market value closer to its proved reserve value, and could drive the proved reserve value up further.
One feature of the transaction that makes it particularly interesting to potential investors in Lucas is that it was a straight-equity deal, with no warrants, no liquidation preference, etc. This means that investors can buy the same shares Ironman bought, currently trading for only a few pennies more than the price Ironman paid for them. Obviously past performance is no promise of future returns, but Ironman has done very well, and investors inclined to follow high performing fund managers into stocks could find Lucas stock appealing here.
Lucas is a small company, and investing in the stocks of small companies incurs additional risks. I was on the board of Lucas and left the board in March 2012 to pursue other endeavors. i have no ongoing business relationship with Lucas or any other company mentioned in this article.
Disclosure: I am long LEI, EXXI. I wrote this article myself, and it expresses my own opinions. I am not receiving compensation for it (other than from Seeking Alpha). I have no business relationship with any company whose stock is mentioned in this article.