Our fundamental view on the department store industry hasn't changed much after the second quarter. Kohl's (NYSE:KSS) sales gains were surprising, but if we look at the two-year trend of stacked comps (last year's quarter plus this year's quarter), Nordstrom (NYSE:JWN) continues to easily outperform its peers.
Ultimately, we believe improving margins in the department store industry will be difficult. Even if a firm is able to gain some additional gross margin, investments in technology will likely increase capital spending.
Overall, we view the cohort as fairly valued. Fundamentally, we think Macy's (NYSE:M) will continue to outperform Kohl's due to its superior online shopping experience, but Nordstrom appears to have the most growth opportunities as it looks to expand on the East Coast and into Canada.
Still, we'd wait for more favorable valuations and improving technical/momentum indicators to get interested in adding any department store to the portfolio of our Best Ideas Newsletter at this time.
Kohl's
Middle-income oriented retailer Kohl's posted mediocre second quarter results on August 15. Total sales were up 2% year-over-year to $4.3 billion, largely in-line with consensus estimates. Earnings advanced 4% year-over-year to $1.04 per share, also in-line with consensus expectations. Free cash flow year-to-date is $478 million, equal to 5.6% of total revenue.
Same-store sales growth turned modestly positive to 0.9% during the second quarter, after experiencing a steep decline during the previous quarter. Strength was mostly driven by e-commerce, with sales increasing 28% year-over-year. In fact, same-store sales were down 0.7% year-over-year without the boost from e-commerce. We believe driving traffic remains relatively difficult at Kohl's, though we are pleased to see continued strength from e-commerce. Management also signaled out stellar performance from its four largest national brands [Carter's (NYSE:CRI), Lee, Levi's, and Nike (NYSE:NKE)] as a growth driver.
On the cost side, margins stabilized, with gross margins increasing 2 basis points year-over-year, to 39.1%. However, we didn't see quite the same margin expansion that Kohl's experienced during its previous quarter, nor was it in-line with the 10-20 basis point expansion management had previously forecasted. Interestingly, the aforementioned strength from national brands that could be contributing to the same-store sales growth is likely weighing on the firm's gross margin. CEO Kevin Mansell didn't seem particularly confident about gross margins going forward, saying on the conference call:
"And the margin implications of that, obviously, a lot depends on what classification categories they're in, how they impact the overall mix. But I think the key thing that we're focused on, Chuck, is really driving traffic because if you go through the numbers we just laid out for the second quarter, we had basically a one comp. But it was driven not by increases in traffic. And we need to get increases in traffic long term. And I do think that one of the components of that has to be a really strong national brand portfolio."
Kohl's did a nice job keeping SG&A spending constrained at 23.3% of sales. With gross margins not looking to expand considerably in coming periods, keeping fixed costs low will be paramount to maintaining operating margins.
The firm's third quarter guidance wasn't great, with Kohl's anticipating earnings per share of $0.83-$0.92 (the top end was in-line with the Street's expectations). Same-store sales growth is expected to total 0-2%, with total top-line growth of just 1-3%. Management also reduced the high-end of its full-year earnings range by 10 cents to $4.15-$4.35 per share. By no means do we think this guidance is great.
Macy's
Moving up the chain a bit, competitor Macy's second-quarter results, released August 14, were slightly disappointing. Sales declined modestly, falling 0.8% year-over-year to $6.1 billion, below consensus expectations. Earnings per share increased 7.5% year-over-year to $0.72, also below consensus estimates. Free cash flow totaled $389 million, equal to 2.8% of revenue.
Macy's same-store sales surprisingly declined 0.8% year-over-year. CFO Karen Hoguet was quick to blame the U.S. consumer, saying on the conference call:
"We believe that much of our weakness is due to the health of the consumer and the fact that consumers seem to be choosing to make purchases in non-department store categories such as cars, housing and home improvement. Since we're the first to report sales and earnings, it is frankly hard to judge how much of a role the economic conditions played, but we think it was significant."
Hoguet's implication that consumer spending is a zero-sum game somewhat ignores a few of the economic realities. Second quarter credit expansion suggests consumers added revolving (credit card) debt, implying that consumer spending increased. While we have seen both automotive and housing-related sales strengthen, we aren't so sure that it came at the expense of retailers.
The firm's gross margins held up relatively well during the second quarter, declining just 10 basis points year-over-year to 41.8%. SG&A experienced 20 basis points of deleveraging, jumping 20 basis points year-over-year to 33% of total sales. Management attributed the margin decline to higher markdowns to clear seasonal inventory. Given the lukewarm summer, we wouldn't be surprised if the weather was a primary culprit.
Management briefly commented on its relationship with Finish Line (NASDAQ:FINL) saying that it has nearly 100 locations and that the locations are performing well. We don't think much can be taken from this, so we wouldn't automatically assume the partnership is a game changer.
Looking forward, management reduced its full-year guidance to same-store sales growth of 2-2.9% (was 3.5%) and earnings per share of $3.80-$3.90 (was $3.90-$3.95). The earnings reduction certainly isn't positive news, but it also doesn't imply a terrible second half.
Nordstrom
At the high-end of the retail market, Nordstrom posted decent second quarter results on August 15. Total revenue rose 6.3% year-over-year to $3.2 billion, while earnings per share jumped 24% year-over-year to $0.93, both figures roughly in-line with consensus estimates. Year-to-date, free cash flow equaled just 2% of total revenue at $120 million.
For the next few years, management has hinted at weakening free cash flow growth as Nordstrom invests heavily in new stores. Same-store sales growth of 4.2% in the period wasn't bad, but management attributed 250 basis points of this growth to a shift of the anniversary sale into the second quarter. Full-line stores saw weakness persist, with same-store sales declining 0.7%. This decline was largely offset by a 37% surge in direct-to-consumer sales. We love how management remains focused on making Nordstrom an omni-channel shopping experience, and President of Stores Erik Nordstrom reinforced this fact, saying on the conference call:
"Customers -- they want to shop how they want to shop. Our job isn't to dictate how they want to shop. Our job is to serve them as best as we possibly can. And we've had a number of years, where we've had strong mobile channel capabilities. And we find that during sale time, in particular, customers like to use online, both to shop directly and our percentage of our business goes up online during sale events, but they also like using the web as a tool for their store shopping."
Management understands Nordstrom's place in shopping, and we feel the firm is better positioned than peers to battle any online competition going forward.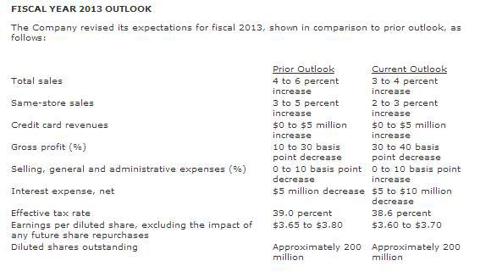 Click to enlarge
(Click to enlarge)
Image Source: Nordstrom
Still, a wonderful long-term vision can become obscured by short-term realities, and Nordstrom cut its forecasts for sales, gross margins, and earnings per share for fiscal year 2013 (shown above).
All in, we remain on the sidelines with respect to firms in the department store industry and point to opportunities in our actively-managed portfolios.
Disclosure: I have no positions in any stocks mentioned, and no plans to initiate any positions within the next 72 hours. I wrote this article myself, and it expresses my own opinions. I am not receiving compensation for it (other than from Seeking Alpha). I have no business relationship with any company whose stock is mentioned in this article.