*All examples in this report are hypothetical interpretations of situations and are used for explanation purposes only. The views in this report reflect solely those of the authors and not necessarily those of CME Group or its affiliated institutions. This report and the information herein should not be considered investment advice or the results of actual market experience.
As we look at the calendar for September, the striking observation is the potential for more turbulence in the US Treasury market, even though we have already seen considerable volatility since May when the debate about the potential exit from quantitative easing started in earnest. Here is what is coming down the pike:
6 September 2013: US Employment Data Release for the month of August
As we head into the fall of 2013, the markets and members of the Federal Reserve's FOMC (Federal Open Market Committee) are watching the US labor markets. If the data released for August confirms a consistent pattern of net job creation, then an early exit from the Fed's QE program is much more likely. Currently, the US unemployment rate stands at 7.4%, substantially below the 8.2% level of one year ago, and is on a glide path toward 6.5% for the second half of 2014. Monthly net job growth has been running at an average of 173,000 for the last five months, which is more or less consistent with around 2% real GDP growth. Real GDP data, however, saw some major revisions, released on 31 July, and they painted a somewhat different and more complex picture of the economy over the last two years. Specifically, 2012 real GDP growth was revised upward from 2.2% to 2.8%. This is a big revision, and had it not been for super-storm Sandy causing a weak Q4/2012, the growth rate would have probably printed a 3% handle for 2012. Going into 2013, Q1 was revised down to only a 1.1% annualized growth rate and Q2 was 1.7%. This first-half 2013 data suggests the impact of the modest tax hike on New Year's Day and the implementation of $85 billion of sequestration-mandated government expense cuts was much larger than was previously thought. It now looks like the fiscal austerity knocked a percent or more off real GDP growth for 2013, taking the economy back below a 2% growth rate path when it was heading for a 3% trend. Our base case scenario is that 2% real GDP growth in the second half of 2013 is consistent with 175,000 to 225,000 net new jobs per month.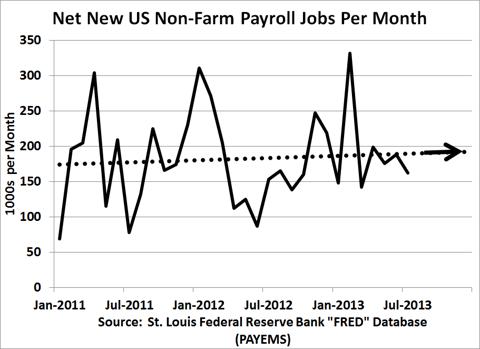 18 September 2013: Fed announces first QE Tapering Plans (or not)
Against the background of labor market and related economic data, the Fed has been telegraphing that it will start considering reducing its asset purchases and eventually ending quantitative easing. Most Fed watchers have formed a consensus that an important announcement about QE tapering plans will be made at the September FOMC meeting. There is considerable difference of opinion, however, about how quickly the Fed will taper its Treasury bond and mortgage purchases. The Fed seems intent on making sure the market knows it could increase or decrease purchases in the months ahead, depending on how the data evolves. The Fed is also focused on communicating that its target federal funds rate will stay near zero through the QE exit process and for an extended period beyond. Here is what the Fed said in its press release of 31 July:
"the Committee (FOMC) decided to keep the target range for the federal funds rate at 0 to 1/4 percent and currently anticipates that this exceptionally low range for the federal funds rate will be appropriate at least as long as the unemployment rate remains above 6-1/2 percent, inflation between one and two years ahead is projected to be no more than a half percentage point above the Committee's 2 percent longer-run goal, and longer-term inflation expectations continue to be well anchored."
Our own perspective is somewhat more nuanced than the typical market commentary. While the Fed has couched its decision about ending quantitative easing mostly in terms of the labor market, we believe that the Fed is also very much concerned about what it perceives as a very fragile recovery in the US housing market. The challenge in the housing market has been that a large percentage of sales involve 50% or more cash, and that only the very best of credits can get a mortgage. Moreover, Fannie Mae and Freddie Mac are under government pressure to reduce their asset size. The Fed has stepped into the fray and currently purchases $40 billion of mortgage-backed securities each month. We do not believe that these purchases have a material impact on the price of mortgage-backed securities, as we see the benchmark 10-year US Treasury yield as far and away more important for mortgage pricing. Even if the Fed's MBS purchases do not lower mortgage yields, they are taking the pressure off Fannie Mae and Freddie Mac by superimposing the Fed as the country's primary long-term buy-and-hold investor in mortgages.
If the Fed provides a little more clarity following the next FOMC about its QE plans, and this seems likely even with the usual data-dependent caveats about future plans, we would not be surprised to see a distinction made between the tapering plans for US Treasuries and the plans for mortgage-backed securities. Specifically, we see the Fed tapering its purchases of long-term (10-year maturity or longer) Treasuries faster than its purchases of mortgage-backed securities. Indeed, in terms of the impact on the US Treasury market, we prefer to monitor the Fed's holdings and new purchases of longer-dated Treasury securities instead of the total size of the quantitative easing program. Put another way, the long-dated Treasury securities purchases are what matter for influencing market yields, not the MBS or short-term Treasury purchases.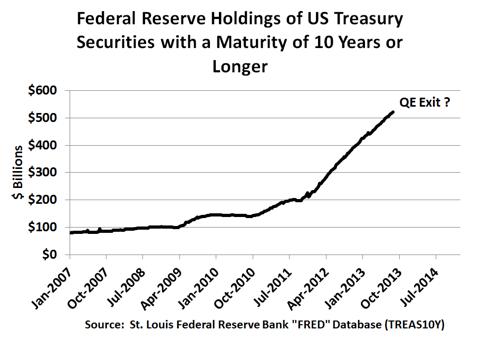 30 September 2013: Budget Debate Threatens Government Shutdown
Not one, but two fiscal policy crises loom, and either one could shut the federal government down. Congress needs to pass a continuing resolution to fund the government before the new fiscal year (FY2014) starts on October 1st. As well, the debt ceiling will be hit around mid-October, and that requires legislation to avoid a government shutdown, too.
We would point out, though, that the budget situation has been improving along with the US job market, and at a much faster pace than most of the Washington and media pessimists ever thought possible. The US budget balance for the past four fiscal years (FY 2009 through FY 2012) has averaged a deficit of just under $1.3 trillion. FY 2013, which ends on 30 September 2013, is likely to show that the budget deficit has declined to "only" $720 billion, or about 4.3% of nominal GDP, down from 9.8% of GDP in FY 2009.
The progress in reducing the budget deficit is coming because the economy is much healthier than some of the headline data suggest. One can see this in the tax data. US residents and companies are paying taxes in much greater amounts, and paying more taxes is a very positive sign that individuals and companies are making more money. US federal tax revenues are up about 13% for fiscal 2013 over the previous year.
Also, and in no small way due to the sequester legislation, federal expenditures are likely to be -1.5% lower in FY 2013 compared to FY 2012. The trillion dollar budget deficits really were a function of the depth of the recession, and now that the economy is improving, these big federal budget deficits are shrinking at a good pace.
Interestingly though, the improvement in the budget deficit picture in no way appears to impact the Congressional debates about the authorizing spending for FY 2014 or raising the debt ceiling. Politicians appreciate that a hard deadline that might lead to a self-made financial crisis (i.e., a government shutdown) makes a great excuse to battle over any issue. Today's issue just happens to be healthcare, not the deficit. Some Senators and Congressmen want to make this round of the budget debate a fight over the funding and implementation of the Affordable Health Care Act, or Obamacare, as it is known.
In Washington's polarized atmosphere, and with bitter partisanship in the US Congress, anything is possible. One simply cannot rule out a short-lived government shutdown. What is important for the markets to remember, however, is (1) that any government shutdown will be temporary, and (2) that the reality is that the budget deficit is getting smaller every year now. Even with only modest economic growth in 2014 and 2015, the budget deficit as a percent of GDP may soon decline to what has historically been seen as more comfortable territory -- that is, 3% of GDP.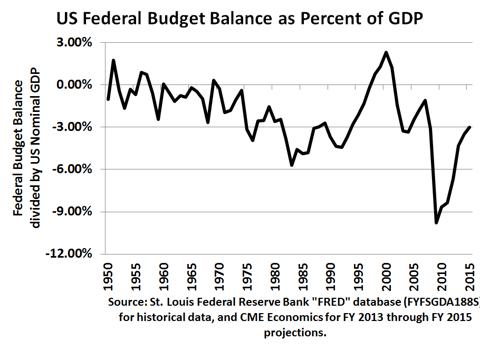 Disclosure: I have no positions in any stocks mentioned, and no plans to initiate any positions within the next 72 hours. I wrote this article myself, and it expresses my own opinions. I am not receiving compensation for it. I have no business relationship with any company whose stock is mentioned in this article.