Retailer Urban Outfitters (NASDAQ:URBN) posted solid second quarter results as sales gains helped lift gross margins. Revenue jumped 12% year-over-year to $759 million, a touch below expectations, but solid in what has turned into a lackluster second quarter for retailers. Earnings per share increased 21% year-over-year to $0.51 per share, easily exceeding consensus estimates.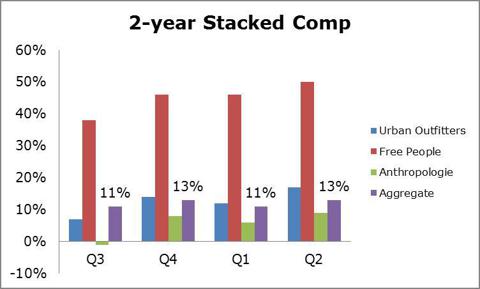 Click to enlarge
(Click to enlarge)
Performance at Urban Outfitters was strong across all stores, with same-store sales growth of 38% at Free People, 9% at Anthropologie, and 5% at Urban Outfitters. As we can see from the above chart, the two-year trend at Free People continues to outpace the rest of the company. Sales accelerated at the women's clothing store, even as the company faced more difficult comparisons.
The Free People brand has successfully differentiated itself from Urban Outfitters, and in our view, appeals to the more attractive young professional crowd rather than the fickle teen buyer. Even more impressive, Free People's business is almost exclusively in North America, and the brand could have international growth potential. CEO Richard Hayne commented on potential growth, noting on the conference call:
"Free People now is entering both the European market and the Asian market, and they're leading with their wholesale offering. And I think that makes a lot of sense, and they seem to be having success at it with a couple of trials, these pop-up shop trials, that we've had in Asia and the very recent pop-up shop that we've had in Selfridges in London. So we're pretty confident that that's going to be successful."
Anthropologie is also experiencing positive growth, as we can see the two-year stacked comp has been positive in the past three quarters. Not long ago, it seemed the brand had lost a bit of its luster, but we think the improving housing market is lifting the brand's fortunes, especially since many of its products appeal to young home buyers.
With Anthropologie and Free People outpacing growth at the core Urban Outfitters brand, Urban Outfitters received an increase in gross margins, which were up 170 basis points year-over-year to 39.3%. Management cited improvements in initial mark-ups (IMUs) and reduced discounting as margin drivers, though the firm is seeing a larger percentage of its sales mix shift online (meaning some gross margin gains can be eaten up by increased shipping costs). Nevertheless, management is confident that margins will continue to expand in the back half of the year and even into fiscal year 2015.
Overall, operating margins jumped 150 basis points year-over-year to 15.7% of sales, as the slight increase in SG&A was relatively immaterial compared to gross margin expansion.
Although Urban Outfitters doesn't give specific guidance, management anticipates 50 basis points of gross margin expansion, SG&A growth in the teens (on a percentage basis) and 40 total stores openings during the second half of fiscal year 2014.
Valuentum's Take
Given the strength of Urban Outfitters' second quarter results, we understand the market's exuberant reaction. The combination of growing sales and expanding margins is rare during this modest retail sales growth environment, and more importantly, the combination tends to reward shareholders with growth in earnings and free cash flow.
Importantly, Urban possesses exposure to a several diverse sectors; housing, young professionals, and Internet savvy buyers. We plan to take a look at our valuation model and make adjustments where necessary, but we don't intend to add shares to our Best Ideas portfolio.
Disclosure: I have no positions in any stocks mentioned, and no plans to initiate any positions within the next 72 hours. I wrote this article myself, and it expresses my own opinions. I am not receiving compensation for it (other than from Seeking Alpha). I have no business relationship with any company whose stock is mentioned in this article.