This article focuses on the limitations of the smartphone camera today versus a standalone camera or digital SLR, and speculates about the future. I am going to skip over the technology common to both like backside illuminated image, image stabilization, etc.
The Sensors in Smartphone Cameras Today
Most flagship smartphone cameras today come with a camera lens which focuses light onto a camera sensor that range from 1/3" to 1/4" diagonally and 4 to 13 megapixels.
This translates into individual pixels are around 1.1-1.4 um, which is approaching the width of a wavelength of light. There are significant obstacles to continue to shrink the size of a pixel and still be able to resolve light. Anandtech has an ecellent article that explains that even at current pixel sizes and ideal optics, we can not resolve past 3um under ideal conditions and current cameras are oversampling and have a lot of noise because of it.
Pushing The Limits of Sensor Size in a Smartphone
The exception to the 1/3" to 1/4" sensors is Nokia (NYSE:NOK) who has released two larger sensor phones most recently the Nokia 1020 which has a 41 megapixel 1/1.5" sensor. Because of this, Nokia is the undisputed king in terms of image quality when it comes to smartphones. The downside is that the thickest part of the 1020 is 14mm which is nearly twice as thick as an iphone 5.
As I am writing this, Sony is announcing the Xperia Z1 which comes in between the Nokias and the rest of the pack with a 1/2.3" sensor. They has to slightly increase the thickness of the Xperia Z1 to 8.3mm in order to accommodate this camera. Here is an image that shows the difference in sensor size.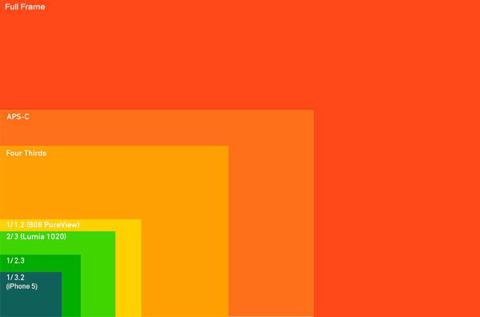 Click to enlarge
Who Makes These Image Sensors?
Major manufacturers of the smartphone camera include Sony (NYSE:SNE), OmniVision (NASDAQ:OVTI), and Samsung (OTC:SSNLF). Sony currently has the lead in terms of revenue and average selling price, but OmniVision is selling more units. A recent article from bloomberg breaks down their market share.
Sony's revenue from the chips rose to $2.45 billion in 2012 from $1.89 billion a year earlier, garnering 32 percent of the global market, according to estimates made by Techno Systems. Santa Clara, California-based OmniVision Technologies Inc. (OVTI) ranked second with 14.4 percent, followed by Samsung at 12.9 percent.
Smartphone Camera vs dSLR
Nokia is already pushing the limits of what size of a traditional lens and sensor can fit on a smartphone. Currently camera phones lag far behind what a dSLR can do, but they are quickly catching up. For a brief overview of the disadvantages watch this video. One of the main things holding a smartphone camera back is sensor size. Simply put the bigger the sensor size, the more light the sensor can collect, the better your results.
How Can Smartphone Camera's Catch Up With the dSLR?
One option which Sony is attempting is simply to attach a dSLR to your smartphone and use the smartphone as the viewfinder. The downside is that the lens of the sensor are bulky and expensive. There are also new technologies from companies like Lytro that may be able to be put into a smartphone.
I think the next logical step is to simply add more small cameras to the smartphone. This effectively allows for a greater sensor area to fit onto a smartphone without the bulk and expense of a single large sensor and lens. The images from array of cameras would have to be seamlessly computationally stitched into a single image.
Are Companies Actually Pursuing This?
Pelican Imaging has received 37 million in venture funding to build this type of computational camera. Notable investors include Nokia, Qualcomm, and Panasonic. Their technology uses an array of camera and computational imaging to focus on multiple subjects, and gives depth information for each pixel. Because they use an array of smaller cameras their sensor unit is only 3mm thick. I suggest you watch this video from Qualcomn's Uplinq conference that displays some of capabilities this type of camera could have.
Apple (NASDAQ:AAPL) patents a 3 sensor image processing system, which uses each sensor to detect chrominance or luminance instead of both. Typically light is filtered to allow only Red, Green, or Blue at each pixel. This system would not filter these colors on one of the sensors and match up color data from the other
When asked about gesture controls on upcoming mobile devices, OmniVision CFO Anson Chan gave a response that included this line:
A lot of them are considering using multiple sensors. Some are considering using one sensor and it's also combined with the type of software technology and architectural platforms that they are building off of.
What Else Could This Technology Enable?
I won't repeat any of the previously mentioned potential features of two or more cameras, but I will highlight what I believe are some of the main shortcomings of current smartphones that a multi camera smartphone could potential improve.
Kodak released the EasyShare 570 in 2006, which highlights one potential feature: Having two ore more cameras at different focal lengths would let you optically zoom on a smartphone.
With everything else being equal the greater the area of image sensors, the better the image quality and low light performance.
An array of camera could be used to decrease the depth of field and increase background blurriness. This allows the photographer to isolate the subject of the photograph.
Who Would Benefit In A Multicamera Smartphone World?
As the leader in low cost image sensors and lens sensor combination, I believe OmniVision is best positioned to take advantage of a market where there are more image sensors per device.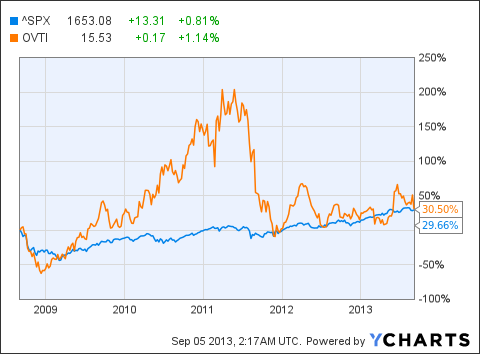 At the time of writing, OmniVision has slightly outperformed the market over the last 5 years. OmniVision suffered in 2011 when Apple's main iPhone sensor was replaced with one from Sony. More recently the stock has fallen 15% on disappointing guidance despite beating earnings estimates.
OmniVision Opportunity in the Steady State
OmniVision has a trailing P/E ratio of 13.2, a forward P/E of 9.2, a market cap of $862 million, $240 million in cash, a price / sales ratio of 0.56, and $39 million of debt.
OmniVision image sensors are manufactured by Tawain Semiconducter (TSMC), and in the most recent quarter 63% of its sensors are found in mobile phones where they have a 24% market share according to OmniVision's own fact sheet.
Even without a Multicamera smartphone, OmniVision has significant exposure to the quickly growing mobile phone segment. Its sensors have an average selling price of $1.79, and it is one of a few companies that is able to build image sensors at scale.
I am long OVTI, as I think it offers exposure to the mobile phone market at a great price. In addition, I believe the smartphone is moving towards adding additional cameras. This positions OmniVision to earn more dollars per device. This is a very long term view.
Disclosure: I am long OVTI. I wrote this article myself, and it expresses my own opinions. I am not receiving compensation for it (other than from Seeking Alpha). I have no business relationship with any company whose stock is mentioned in this article.