Over the past week, McDonald's (NYSE:MCD) has announced some changes to its menu. First, the company announced it is going to start selling chicken wings (called "Mighty Wings") on September 9, with a national roll-out by September 24. Then on September 4, the company announced it was tinkering with its beloved "Dollar Menu" to include items that cost $2 and $5. Unfortunately for shareholders, I believe these are acts of desperation rather than a show of strength.
While ably run, McDonald's has the wrong products at the wrong time. Consumers are more health and quality conscious than ever before. This is why fast-casual restaurants (i.e. Chipotle, Five Guys, and Buffalo Wild Wings) have been flourishing while fast food restaurants stagnate. After years of strong same-store sales growth, McDonald's has struggled over the past 12 months. At times sales have dropped into negative territory and in July, they were a meager 0.7%. This chart shows consumers stepping away from McDonald's: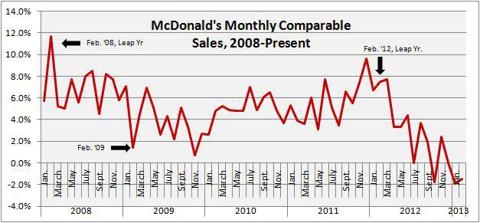 Stagnating sales have led to stagnating profits with profits down 1% year over year. The company is clearly trying to reach out to these more quality conscious consumers with recent efforts, but I am skeptical it can win new customers easily. Younger consumers who are driving the shift towards fast-casual have strongly-defined opinions around the McDonald's brand, and for many consumers, it isn't a positive one. In a sense, this is the downside of having one of the most well-known brands in the world. Negative opinions become as entrenched as positive ones, and when popular taste shifts, adapting your business is extremely challenging.
I understand the company's shift into wings because they have become amazingly popular. Last year, Americans ate more than 13.5 billion chicken wings, and that figure has been growing dramatically, benefiting restaurants like Buffalo Wild Wings (NASDAQ:BWLD). However, people go to BWLD for more than the wings; they want the sports bar experience. This is something that McDonald's doesn't offer even if its wings are as good, which remains to be seen. Consumers are moving towards restaurants that can provide an experience in addition to low cost, quality food. MCD has always struggled with that experience factor, winning by undercutting on price. The core BWLD consumer won't move to McDonald's without that experience. Redoing the stores around a sports experience would also seem like a horrible decision for MCD as it would alienate its still sizable customer base that values convenience over "frills."
Wings simply do not fit within the firm's core competency of convenience, reliability, and low cost. Most wing consumers demand an experience they cannot get at a McDonald's. Similarly, I understand adding pricier items to the Dollar Menu because higher food prices have pinched margins, making the dollar menu a challenging business. At the same time, last year's extra-value menu flopped badly because many of the firm's most frequent customers are very price-sensitive. The company even reported that test stores with the pricier menu saw the same sale totals (roughly 14% of total sales), which means they were selling fewer products. I fear that these efforts from McDonald's to move into growing restaurant segments threaten its standing among its core customer base without winning it new customers.
I am not arguing that McDonald's faces an existential threat; I just believe the company will not be able to grow as quickly as it once did, and within the United States, it faces stagnating (or mildly declining) sales as consumers shift to fast casual and healthier restaurants. Moving the McDonald's brand to fast-casual would be a gargantuan, multi-year task that would risk its standing with its entrenched convenience focused customer base. If the past week's actions are a step in that direction, I would be concerned about the firm's future. Right now, I think the best path forward for McDonald's would be to acquire a fast-casual brand as a separate subsidiary, maintaining two restaurants, one fast food, and the other fast casual. In hindsight, the decision to spin-off Chipotle (NYSE:CMG) seems disastrous.
With net income and sales flat, I believe analysts will have to trim next year's earnings forecast down from the projected $6.10 to $5.50-$5.75, reflecting weaker-than-anticipated sales. With those earnings, McDonald's is trading at 17x. Even with current expectations, MCD has a rich forward P/E of 15.6. For a company with no noticeable growth and major secular challenges as younger consumers increasingly shift to fast casual, I don't believe McDonald's merits this multiple. Giving the firm a 14 multiple, it is an $80 stock, which sounds about right. I suspect if it were to fall much lower, dividend buyers would provide support as it would yield 4% at $77. I see McDonald's upside capped at $100, a level it has struggled to maintain in the past. With an extended valuation and secular headwinds, McDonald's has 16% of downside against 5% of upside. I would be a seller of MCD and would prefer to own restaurants that have growth potential and could be acquisition targets like CMG or BWLD.
Disclosure: I have no positions in any stocks mentioned, and no plans to initiate any positions within the next 72 hours. I wrote this article myself, and it expresses my own opinions. I am not receiving compensation for it (other than from Seeking Alpha). I have no business relationship with any company whose stock is mentioned in this article.