I recently wrote about the possibility a few different companies will increase their dividend yields by way of a special dividend. After a little bit of time I thought now would be a good time to revisit some of those companies and see the likelihood of them paying a special dividend this year. Of the stocks mentioned Espey (NYSEMKT:ESP) is the one I feel has the best blend of being in a good liquidity position, having a long history of paying special dividends, and having reasonable enough financial results to warrant paying a special dividend at year end.
Espey primarily makes defense-related products and as such is heavily reliant on the defense budget decisions being continually focused on in Washington. You can read a little bit more on my valuation and thoughts on Espey in my article here. The table below shows that Espey has been very shareholder friendly in the last 5 years as the company has paid a special dividend in every year. I believe it is in a strong position to do that again this year.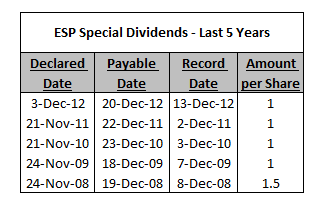 With basically the same management philosophy in place as over the last 5 years I believe Espey has the willingness to continuing paying special dividends. However, whether it will have the financial means necessary should still be investigated and in order to make some determination on that I evaluated the trend of liquidity for the company. In this instance to evaluate the liquidity I focused in on the balances of net cash and investments (net of debt, but Espey has no debt) as well as net working capital (current assets less current liabilities). These are per share balances based on diluted share count for the related time frame.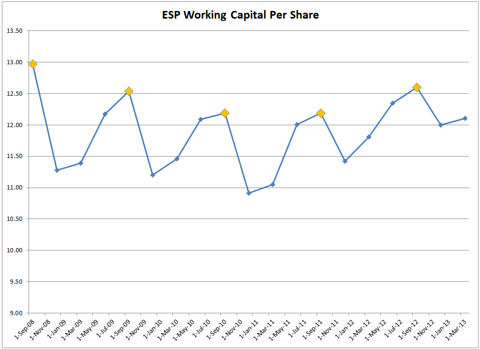 Despite some continued softness in order entry as reported in the last earnings release, the company still shows net cash and net working capital balances that are consistent with historical figures and in fact higher than some periods in which it declared special dividends. In the graphs the orange points represent the balances of net cash & investments and working capital at the last reported period before the various special dividends were announced. The other points are the other reported historical balances over time. Again, as you can see both of these indicate the company is in a similar position to other time periods from the past.
While this history is good it is also important to focus on the future expectations as the company must have some confidence in the future business in order to pay out these special dividends. As mentioned above, Espey has seen the business soften a little as governmental defense spending lessens. However, when looking at the company's backlog (see table below) in comparison to other time periods, it seems to have sufficient backlog to offer enough visibility to avoid any concerns. Obviously, there is a lot more to the future than one simple metric, but this is at least one data point.

Risks
Based on where the cash positions are today it wouldn't take a huge economic shock or a company specific financial setback to alter the path towards a special dividend. That is to say a potential risk to any special dividend being declared is that the sluggishness on defense spending continues to slow and/or the company sees a significant decline in order entry.
It is even possible that there is some economic shock that doesn't significantly alter the liquidity position that Espey has, but does impact its willingness to pay out a large amount of cash. In times of fear companies tend to want to hold on to more cash than in the more prosperous times, as they don't have a good level of visibility.
Conclusion
Taking all of this into account I am of the opinion that the company will hold true to form and pay a special dividend in the end of the year. The liquidity positions aren't as strong as the peak values of the past, but they also aren't at the trough. As well the backlog is at a similar level and assuming there is at least some level of confidence in future business, I would think there is sufficient visibility to pay a special dividend.
Honorable Mention
In addition to Espey I considered the below stocks as possibly being able to pay a special dividend. These three (you can read a little more on them in the previously referenced article) just don't have quite the strong history of paying special dividends so I am not as confident in forming an opinion as to what they will do. However, you could see their history of special dividends and some summary level comments that could help form an opinion as to what path they will take.
Atrion (NASDAQ:ATRI) develops and manufactures products, primarily for medical applications. The medical products range from fluid delivery devices to ophthalmic and cardiovascular products. The company recently announced earnings in which revenue increased 6% and diluted EPS increased 7% and in addition it recently increased its regular quarterly dividend by 14%. In the last 5 years the company has paid 3 special dividends, which you can see below in the table. While not as strong or regular as Espey this is still quite an admirable record.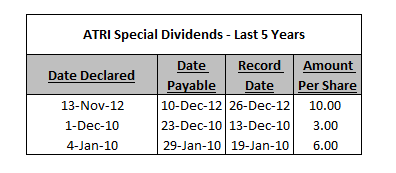 Additionally, in the table below you can find the net cash and investment per share and the net working capital per share, based on similar analysis as Espey. These are displaying the most recently reported balances in addition to the year-end balances over the last 5 years. As you can see the company is in a very strong liquidity position relative to the other historical periods presented.

In general, I would like to have a more consistent past in order to predict a special dividend coming down the pipe, but I believe if the cash continues at the current pace (or as long as the per share balances don't decline significantly) the company could have more than it has generally kept. At the same time the company did end 2011 with significant balances and didn't declare any special dividends. Based on that it is a bit hard to tell, but it seems likely that there is a good chance of getting some extra dividends (perhaps it comes later in time).
Bolt Technology (NASDAQ:BOLT) has historically dealt in products that are used in marine seismic exploration surveys to acquire seismic data. The newer part stems from a business acquired in early 2011 and deals primarily with underwater robotic vehicles. For annual 2013 the company recently announced a 10% increase in sales and a 14% increase in adjusted pretax income (adjusted for an earn-out prevision) as well as increasing the dividend from $.07 per share to $.09 per share (quarterly). Bolt doesn't have a long history of dividends, either regular or special, but the recent history is promising. As well, it has generally been good at producing free cash flow even if it could have distributed more to shareholders. The tables below show both the special dividend history as well as the history of its cash and investments and its net working capital per share.
Bolt is clearly below the very high levels of 2011 and a little off of the 2012 levels of either per share data point. As well, the company has a longer history of not paying out special dividends than it does of paying them so it is hard to really bank on 2 years being a trend. Additionally, the company has made acquisitions in the past with large cash balances so that is always a possibility as well and it would certainly be one that would preclude it from paying a special dividend. All that said, the fact that it is increasing its dividends more recently and that the business is going strong at least leaves some hope of some extra cash being declared.
Span-America Medical Systems, Inc (NASDAQ:SPAN) - manufactures and distributes a variety of therapeutic support surfaces and related products utilizing polyurethane and other foam products for the medical, consumer and industrial markets. Span has a history similar to Bolt, but a bit more established (it has a large special dividend further back than 5 years). Additionally, the company recently reported Q3 2013 revenue where revenue rose 10% and net income increased 64%. The company also increased its quarterly dividend by 12% in August.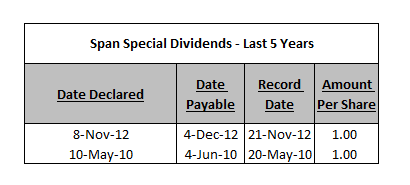 As the tables above show the company has at least some history of paying special dividends and some of that history suggests it did so with a liquidity position not much different from the last reported balances. Of course, that doesn't really indicate how the company may feel about future prospects, but I think the increase in the regular quarterly dividend is a good sign and I am leaving open the possibility of a special dividend coming later in the year.
Illiquidity risks
One very important point to remember in regards to all the stocks mentioned above is that these are all very illiquid stocks and small market caps. That can create a very difficult environment to buy shares, but also to sell shares in times of stress. From my perspective I view this as an opportunity as it allows entry points that you might not otherwise see in a more "efficient" market. As well, I am buying these for a longer time horizon so I am less concerned about the liquidity premium that I should consider in my cost of equity, but nonetheless it is a very critical point that each investor must consider and be comfortable with.
Summary
While this article focuses on the possibilities of special dividends being paid out it isn't meant to imply that this necessarily creates more value. The price of the shares should drop in an amount equal to the dividend being paid. So while this may not create any net value I do like the signal it sends as to the company's prospects and am a fan of investing in strong dividend payers.
Disclosure: I am long ESP, SPAN, BOLT, ATRI. I wrote this article myself, and it expresses my own opinions. I am not receiving compensation for it (other than from Seeking Alpha). I have no business relationship with any company whose stock is mentioned in this article.