Early this morning, GlaxoSmithKline (NYSE:GSK) reported negative top-line results from its Phase III DERMA trial with its MAGE-A3 vaccine in melanoma. The Phase III trial was designed to assess disease-free survival in GlaxoSmithKline's MAGE-A3 vaccine versus placebo in roughly 1,300 stage IIIb/c melanoma patients. Agenus' (NASDAQ:AGEN) QS-21 adjuvant is a central component of the vaccine and is being studied in 18 other investigational vaccines through a partnership with GlaxoSmithKline. While the MAGE-A3 vaccine has failed in melanoma, the trial continues and data from a subpopulation is expected in 2015.
Despite the vaccine not meeting the primary endpoint, no major safety signals have been observed thus far, which is being viewed by William Blair analysts as a positive sign for Agenus given that GlaxoSmithKline has 18 other ongoing programs containing Agenus' QS-21 adjuvant. Therefore, today's news, while disappointing, does not diminish the enthusiasm for the partnership with GlaxoSmithKline. Moreover, Agenus has no cost associated with the partnership with GlaxoSmithKline, thereby limiting the downside risk to the company.
The analysts point out that despite the failure in melanoma, they do not believe it is prudent to read through to the other programs, and they remain encouraged about the trials in non-small cell lung cancer and shingles. They believe that the Phase III MAGRIT trial with the MAGE-A3 vaccine in non-small-cell lung cancer is the most attractive of the late-stage programs. Therefore, they reiterated their Outperform rating on Agenus shares in a research report sent to investors this morning.
There are three major reasons for continued enthusiasm: First, the Phase II trial data were encouraging, with a trend demonstrated between the MAGE-A3 vaccine and the control arm. Second, the Phase III trial is the largest of its kind in non-small-cell lung cancer, which gives confidence that the trial is powered to determine the effect of the drug. Third, a more potent vaccine is being used in the Phase III trial than the one in the Phase II trial that produced encouraging results. The top-line results are expected in the first half of 2014, and GlaxoSmithKline will pay Agenus a low-single-digit royalty on worldwide commercial sales.
Additionally, Maxim analyst Jason Kolbert believes that today's drop is an overreaction and gives us four reasons:
1. The study did not meet disease free survival endpoint in these advanced melanoma patients (3B/3C) but melanoma is not lung cancer and the lung cancer patients are earlier stage (1B-3A). These cancers have drastically different times to relapse with melanoma being faster than lung cancer (9 months vs. 3 years). Immune-therapy may need time to work, time that melanoma patients just don't have. So it's erroneous to assume that QS21 is a failure yet, just because advanced melanoma patients did not broadly benefit, i.e. this does not mean that QS-21 does not work in earlier stage lung cancer patients or gene signature sub-group or patients.
2. Gene Signature is also a primary endpoint and has yet to report. Gene signature patients (those patients who may be more likely to benefit from immune therapy) were pre-specified as a sub-group with a co-primary endpoint. This group has not yet reported and the trial is still ongoing in these patients, i.e. this group may still benefit from QS-21.
3. Both cancer trials, do not necessarily portend negative results in herpes or Malaria trials, again, different disease, different patients, and very different immune systems.
4. The real upside to the Agenus story was never QS-21, it's Glioblastoma.
Conclusion:
Agenus has a number of upcoming catalysts, each of which could have a meaningful impact on the stock given current price levels. In addition to the collaboration with GlaxoSmithKline, Agenus has two wholly owned programs that are making significant clinical progress. The herpes program consists of an immunotherapeutic vaccine designed to suppress the virus in infected patients. A Phase II trial is underway and results are expected in the fourth quarter. The brain cancer program consists of two immunotherapeutic vaccines designed to target cancer cells in newly diagnosed and recurrent patients. A potentially registration enabling trial with G-200 in recurrent brain cancer recently initiated, and top-line results may be possible as early as 2015. The non-small cell lung cancer and shingles trials in collaboration with GlaxoSmithKline will read out in 2014. If any of these trials are positive, the stock could reverse from current levels.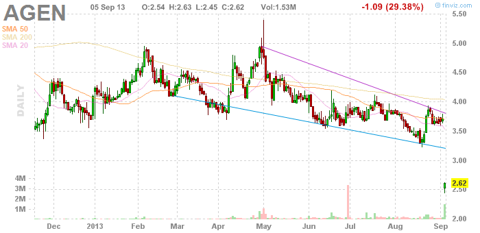 Disclosure: I have no positions in any stocks mentioned, and no plans to initiate any positions within the next 72 hours. I wrote this article myself, and it expresses my own opinions. I am not receiving compensation for it (other than from Seeking Alpha). I have no business relationship with any company whose stock is mentioned in this article.